College 'Hunks' Choose Truck Over Corporate America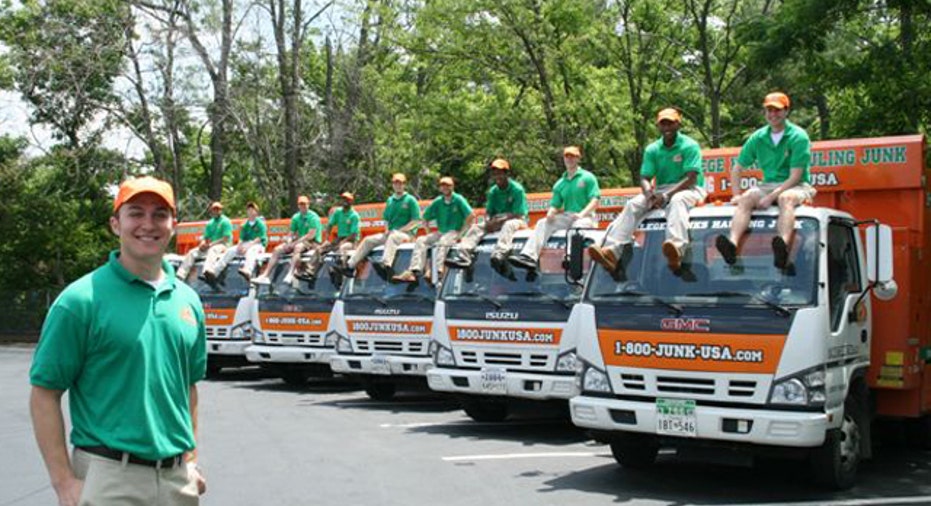 In the summer of 2003, Nick Friedman was headed into his senior year at Pomona College in California, and was looking to make a few extra dollars.
While working an unpaid internship at the IMF to pad his resume, Friedman decided to start moving furniture for cash with a buddy from high school, Omar Soliman. Soliman's mother owned a local furniture store in Washington, D.C., and the duo used her cargo truck to help move things for their slowly-growing list of clients.
"We figured we could make some extra cash," Friedman said. "We wrote our business plan senior year, and even won a $10,000 entrepreneurship grant. But it didn't occur to us to start the business until after we graduated."
Friedman and Soliman said it wasn't until the summer of 2004, when they found themselves unhappy working in corporate America, that they decided to make College Hunks Hauling Junk into a full-time business.  Today, CHHJ has 35 franchises nationwide, with headquarters in Tampa, Fla. With more than 500 employees, Friedman and Soliman have come along way from their first summer in a borrowed cargo truck.
But, don't let the 'Hunks' in the company's name fool you. Women are also running CHHJ franchises and working for the company -- out in the field and also in marketing and sales positions.
While the company doesn't publicly disclose earnings, Friedman said CHHJ was profitable its first summer, which he said was because of no overhead costs at the time.  He said the profits continued into their second year, but the company lost money in year three after investing in more equipment, space and expanding their workforce. They remained flat during the recession, and became profitable once again in 2010 and 2011, Friedman said.
Early on, Friedman said when things went wrong, it was easy to blame the people they had hired, rather than seeing what their real problem was—lack of standards and procedures for employees to follow.
"People don't fail in business—it's the systems, or lack of systems, that fail," he said. "We would blame the people we hired if something went wrong, but we eventually learned that we hadn't put a system in place for them to follow to be successful. We didn't learn that until the third year of our company, when we were trying to expand."
For those starting out, Friedman said having a set plan in place is key to success.
"We didn't want to be the two guys with a cargo van—we could see into the future what we would look like. You have to start with the strategic plan and do whatever it takes to make it a reality," he said. "In this economic climate, entrepreneurship is much more of a viable option for people. It's a way of controlling your own fate."