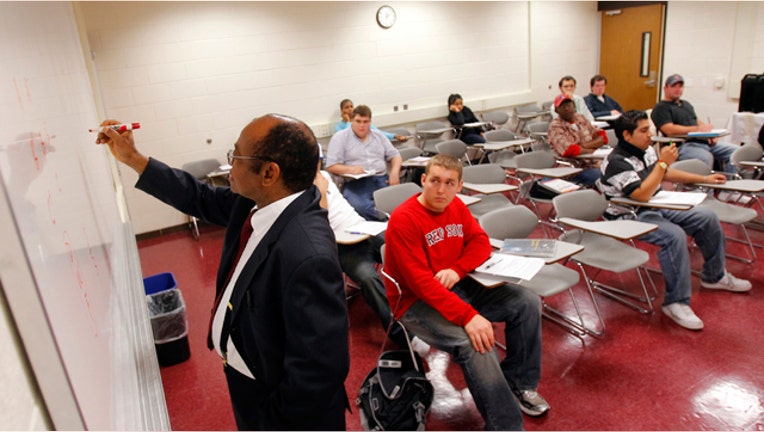 It's nail-biting season for high school seniors as they wait anxiously to learn their fate from their top college choices.
For students accepted into more than one college, choosing the right school can seem overwhelming. After all, finding the correct academic, financial and social fit is tough, and their decision could have implications lasting far into their career.
"We are constantly asking students to evaluate and articulate the reasons why one school is preferred over the other--it's not acceptable to say, 'just because' or 'I have a feeling' or 'someone recommended this to me,'" says Nicolas Tynes, director of College Quest at Harlem Educational Activities Fund (HEAF).
"It's really challenging for students to see themselves on campus and see where they will be most successful and that includes more than just the sticker price or…how close to home it is."
Here's what experts suggest students and families consider when whittling down their acceptances to find the right fit.
Tip No.1: Make a Requirements List
Students and parents should sit down and create a list of the top four to six things that matter most to their college or university experience to help make the right choice. Once a list is created, match up a school's offerings to eliminate those that don't meet the requirements.
"Thinking through these basic questions will help narrow down the choices, and may even help parents who may be having a hard time handing the reigns over to their children to relax a little and trust their child to make smart choices," says Veronica Montalvo, vice president of Online Education Institute Enrollment Management at Post University.
Tip No.2: Evaluate the Cost Factor
The financial costs of schools should play a major role in the decision-making process.
Students need to figure out how they plan to cover tuition, room and board and books and supplies and assess their available funds along with each school's costs. 
"Although two packages may look the same, it's important to compare the amount of grant aid, which does not need to be repaid, and the amount of loan aid--which does," says Montalvo.
It's essential that students receiving award letters fully understand exactly what each school is offering and if they  have any questions or need more information they should reach out to the financial aid office, says Myra Smith, executive director for financial services at the College Board.
"Those notices are going to come in lots of different formats and names and languages and I think the hardest part for families is decoding the award and arriving at what the bottom line is," she says.
Tip No.3: Identify Learning Style
Some students thrive in a big-lecture hall environment while others need more one-on-one interaction, so it's important that students consider their learning habits and type of environment each school offers so they can foster their academic growth and success, recommends Tynes.
"If it takes a student a few moments to process information and to put it in their own words or create a visual image in their mind to grasp certain content, going to a small school may not be the best for them where they're in a small class and they're going to be asked to respond quickly and participate in small discussions," he says.
Montalvo suggests students reflect on how they best process information to find the right academic fit.
"Do you learn well in a lecture environment, or do you find that you have a better experience in smaller, more personalized classes where you can really get to know your professors and classmates? Do you prefer to listen to lectures and read texts, or do you learn better in a more interactive and hands-on learning environment?"
Tip No.4 Social Preferences
Whether students are looking for an abundance of campus activities, Greek life, or religious affiliations, the experts say that the social aspect of college is equally as significant as other factors.
"If they choose a school where they're not going to be successful or they don't feel comfortable, they could end up paying for a school where they really don't want to be and transfer, which adds additional costs," says April Bell, director of counseling at the College Board. "They may not do as well academically which affects them financially especially if they're on scholarship that requires having a good GPA."
If students are still stumped, Smith recommends going back over the college's profile and website as a reminder to why the school made it on their list in the first place.
"They want to be able to say this is the right fit for me for all of these reasons--what's the graduation rate, do they have study abroad, can I live off campus--all of those personal things but then the final question should be can I afford to do it, is this a good investment, am I going to get a return on my investment that I think is good for me?"