Colin Kaepernick to complete $1M donation pledge to social causes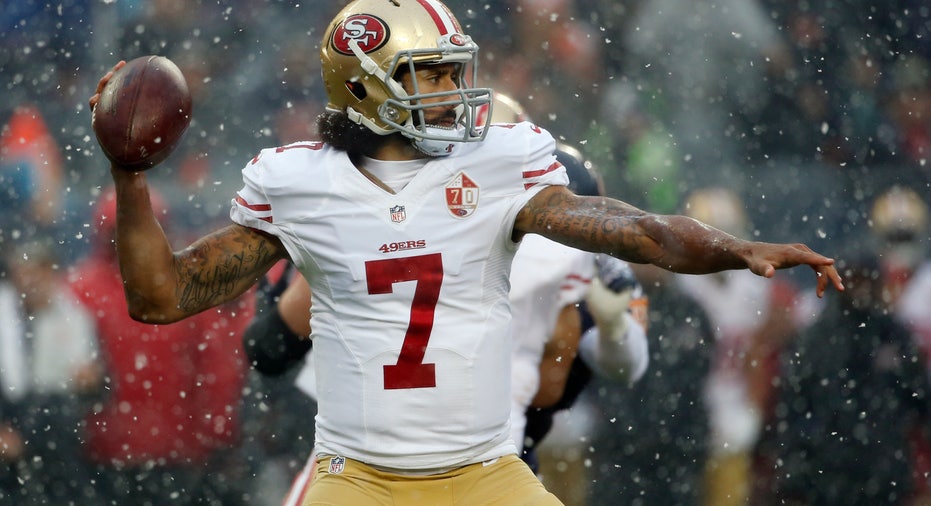 Free agent NFL quarterback Colin Kaepernick says he will complete his pledge to donate $1 million to social justice causes on Wednesday, more than a year after he first announced his intent to give back to disenfranchised communities.
Kaepernick, 30, will announce which organization will receive the final $100,000 installment of his "Million Dollar Pledge" on Wednesday on his social media accounts. The NFL veteran's previous $900,000 in donations were dispersed in 31 installments to various social justice groups, including 100 Suits for 100 Men, Meals on Wheels and the Center for Reproductive Rights.
"I'm excited to share this last round of donations with all of you," Kaepernick wrote on Twitter alongside a promotional video for his campaign.
Kaepernick first announced his intention to donate $1 million in September 2016, shortly after he became the first NFL player to kneel during the national anthem to protest social and racial injustice in America. At the time, Kaepernick said his protests were not meant to disrespect the country or its military.
The silent gesture kicked off an unprecedented wave of player protests, which culminated in a public spat between President Donald Trump and the NFL. Trump called last September for NFL owners to fire any player who kneels during the national anthem.
Kaepernick hasn't played in the NFL since the 2016 season. He opted out of his contract with the San Francisco 49ers in March 2017 and did not sign with another franchise.
Supporters have argued that Kaepernick's continued unemployment was a result of collusion between the NFL and its 32 team owners. Kaepernick filed a formal collusion lawsuit against the league last October.
NFL Commissioner Roger Goodell has repeatedly denied that league officials have conspired not to sign Kaepernick.