Colin Kaepernick supporters to protest outside NFL headquarters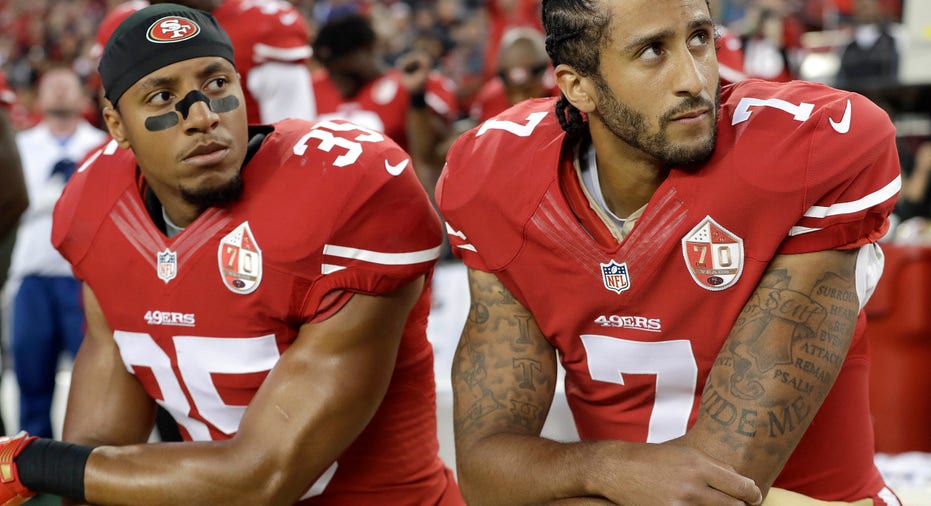 Several civil rights groups are set to gather outside NFL headquarters in New York City on Wednesday afternoon to support Colin Kaepernick, the free agent quarterback whose supporters say has been blackballed by the league's 32 teams for boycotting the National Anthem last season.
The "United We Stand" rally will feature appearances by "leaders from faith-based, civic and social organizations," a spokesman for the People's Consortium for Human and Civil Rights, one of the event's organizers, told FOX Business. The event, which begins at 5 p.m. ET, is described as the beginning of a "non-violent direct action campaign" against the NFL for its treatment of Kaepernick.
"It is clear the NFL's intent to make an example out of Colin Kaepernick is rooted in white supremacy which dismisses the reality of the dehumanization of Black Bodies in America," Rev. Stephen A. Green, president of the People's Consortium, said in a statement. "Therefore, we are calling on people of good will to join us in New York to stand with Colin Kaepernick in this moral movement that will transform the nation."
An NFL spokesman did not immediately respond to FOX Business' request for comment on the rally.
Several prominent civil rights groups and activists are partnering on the event, including the NAACP, Women's March, Justice League NYC, Rev. Jesse Jackson and DeRay Mckesson. Filmmaker Spike Lee announced the rally earlier this month in a post to his Twitter account.
Kaepernick, 29, has been a free agent since opting out of his contract with the San Francisco 49ers last March. A former second-round draft pick, Kaepernick touched off a national debate last fall when he refused to stand for the National Anthem before several games to protest social injustice in the United States.
Kaepernick's continued unemployment, despite a resume that includes a Super Bowl appearance with the 49ers in 2013, has led critics to accuse NFL teams of blackballing him for political reasons. NFL Commissioner Roger Goodell dismissed the allegations earlier this month at a fan forum event at M&T Bank Stadium in Baltimore.
"He can't be [blackballed] because we're not," Goodell told reporters. "The clubs are making those individual evaluations to make the determination whether they think he can help them win, and that's true with any player. Obviously, everyone's aware of the fact of his protests last year, and that's something individual clubs will either weigh or not weigh."