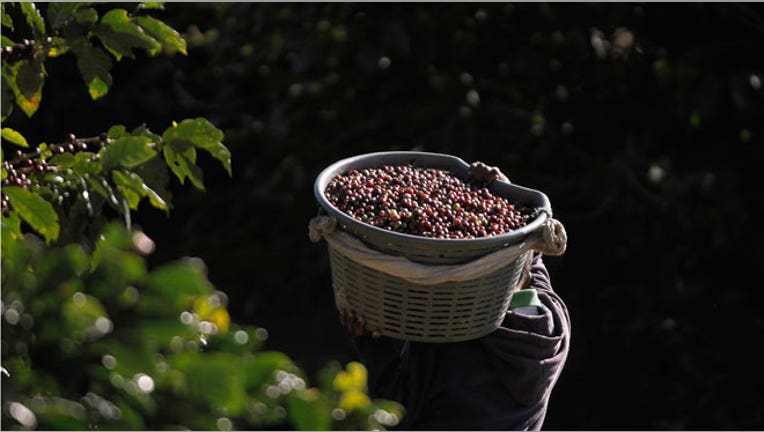 Arabica coffee and raw sugar futures on ICE fell on Friday after reaching highs earlier this month that have prompted selling by producers and speculators to lock in months of gains.
Cocoa edged up as traders focused on expiry of the London March contract.
Arabica coffee prices have surged around 80 percent so far this year, fuelled by concerns over the impact of unseasonably dry weather in Brazil on crops.
May arabica coffee futures on ICE were down 2.85 cents or 1.4 percent at $2.0310 per lb by 1248 GMT. It peaked at $2.0975 on Wednesday, the highest level since February 2012, and then slipped back on Thursday.
"The lower price (on Thursday) has forced more people to fix contracts", before prices fall further, one London-based coffee futures broker said.
Robusta May coffee futures on Liffe were flat at $2,189 a tonne. The second position peaked at $2,218 on Wednesday, a 17-month high.
As for sugar, May raws on ICE were down 0.45 cent, or 2.5 percent, at 17.37 cents a lb.
The market started to climb in late January as dry weather diminished prospects for Brazil's next cane crop. The May contract hit a peak on March 6 of 18.47 cents, a four-month high for the front month.
Brokers said recent highs had also encouraged producers to sell.
"In general, the rally towards 18 cents (in sugar) has been good for producers, who have had an opportunity to price at higher levels, which had not been seen since last October," said Stephen Geldart, a senior analyst with commodities house Czarnikow.
Liffe May white sugar futures were down $6.30 or 1.4 percent at $457.40 per tonne in slim volume of 1,519 lots.
Cocoa futures on ICE firmed, with May up $11 or 0.4 percent at $3,017 a tonne, near a 2-1/2-year high of $3,027 reached on Tuesday, supported by expectations for a global deficit and strong demand.
May cocoa on Liffe was up 17 pounds or 0.9 percent at 1,892 pounds a tonne, having touched a 2-1/2-year high of 1,893 pounds earlier in the session.
Traders focused on the expiry of the London March cocoa futures contract on Friday and referred to the small open interest, signalling a modest-sized delivery.