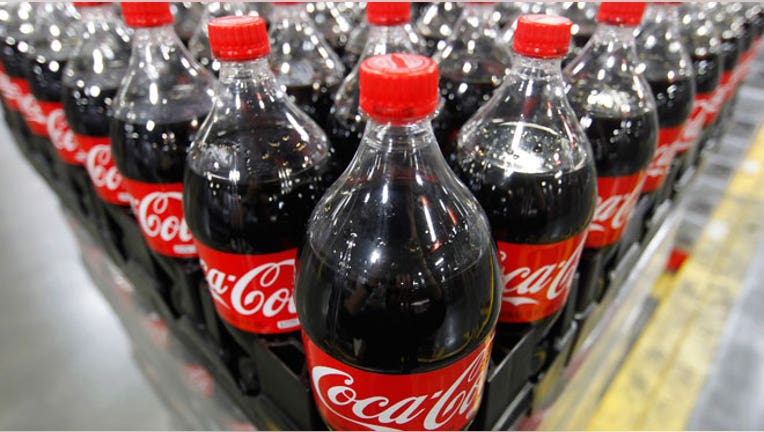 Coca-Cola (NYSE:KO) logged an in-line 5.9% increase in third-quarter earnings on Tuesday, but the iconic beverage maker's global volume growth trailed forecasts amid a "challenged" environment and volatility in emerging markets.
Shares of the Atlanta-based member of the Dow Industrials ticked slightly higher despite the mixed report and a dip in the broader markets.
Coca-Cola said it earned $2.45 billion, or 54 cents a share, last quarter, compared with a profit of $2.31 billion, or 50 cents a share, a year earlier.
Excluding one-time items, it earned 53 cents a share, matching consensus calls from analysts.
Revenue slipped 2.5% to $12.03 billion, compared with the Street's view of $12.05 billion.
"We delivered sound third quarter results in the confines of an ongoing challenged macroeconomic environment driven by increasing volatility across emerging markets," Coca-Cola CEO Muhtar Kent said in a statement.
Coca-Cola reported global volume growth of 2%, which marks an improvement from 1% in the second quarter, but still trailed estimates on Wall Street for 2.9%.
The beverage company said its volume grew 2% in North America, 1% in the Americas and was flat in Latin America. Volume rose 5% in the Pacific, 4% in Eurasia and Africa, but slipped 1% in Europe. Chinese volume climbed 9%, while volume in India was up 6%.
"While we saw sequential improvement in the business compared to the second quarter, together with our global bottling partners, we remain constructively discontent and resolutely focused on further advancing our growth trajectory," Kent said.
Despite concerns about global growth, Kent said Coca-Cola's long-term strategies and 2020 Vision "remain firmly intact."
Responding to concerns about the health impact of sugary drinks, Coca-Cola continues to focus on growing its still beverage business. The company's global still beverage volume increased 3% last quarter, while ready-to-drink tea jumped 5% and energy drinks rose 4%.
Shares of Coca-Cola advanced 0.55% to $38.12 Tuesday morning, leaving them up 5.1% so far this year.