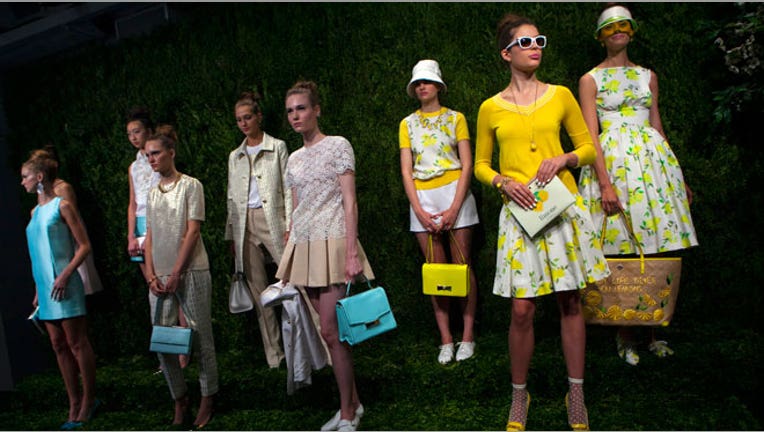 Kate Spade (NYSE:KATE) is the clear winner in luxury handbag design and is even beginning to diverge from larger rivals Coach (NYSE:COH) and Michael Kors (NYSE:KORS), according to new research from Barclays (NYSE:BCS).
It's a tale of three diverging luxury designers as affordability and availability take precedence over exclusivity and high pricing that have long attracted rich, aspirational spenders and tourists.
Barclays started coverage on Kate Spade at "overweight," calling it the "top pick" in U.S. luxury. It started Michael Kors at "underweight" and maintained its "equal weight" rating on Coach.
"U.S. Luxury has demonstrated a need to balance affordability and availability with premium positioning in order to remain competitive in the marketplace," Barclays analyst Joan Payson said in a note. "This is a divergence from the absolute luxury model of exclusivity through pricing and distribution channels."
U.S. companies in general are starting to gain share against their long-reigning global rivals.
While the global luxury space is on track to grow 3% to 5% from 2013 to 2016, Barclays expects U.S. companies to outperform with 8% to 10% growth. That will accelerate, it says, as U.S. designers expand globally, particularly in Greater China and Europe.
Kate Spade has an advantage because after divesting the Lucky and Juicy brands in 2013 it is now less than 20% the size of its larger rivals.
Barclays says the business is now ready for acceleration, and Kate Spade already has aggressive plans to expand across channels and geographies.
"We view Kate Spade as having significant white space for growth," Barclays said.
Within the next few years, the brokerage sees Kate Spade's retail footprint growing to $4 billion from $1 billion currently, with a path to at least 600 stores from 200 today. Coach has nearly 200 locations in Japan, while Kate Spade has just 62, giving it more room for growth.
Barclays set a price target on Kate Spade of $50 – a 25% premium to the Wall Street consensus view. The designer's shares were up 2.8% to $39.98 in recent trade.
Kors & Coach
The brokerage, however, is far more bearish on rival Michael Kors and cautiously optimistic on Coach.
It believes Kors' existing footprint is far larger than that of rival Coach, suggesting a level of maturity that could potentially lead to a near-term slowdown in North America.
It also expects investments being made by Kors to grow its retail and international business to result in margin contraction.
Barclays set a price target of $85 on Michael Kors, which is 19% below the consensus view. Shares of Michael Kors were down close to 2% to $96.66 in recent trade.
With an "equal weight" rating and a price target to $52 on Coach, Barclays said it believes Coach's initiatives are a "step in the right direction" but will take time due to the massive scale of its distribution network.
Shares of Coach were up 1.42% to $50.14 in recent trade.