Click Your Way to a P2P Payment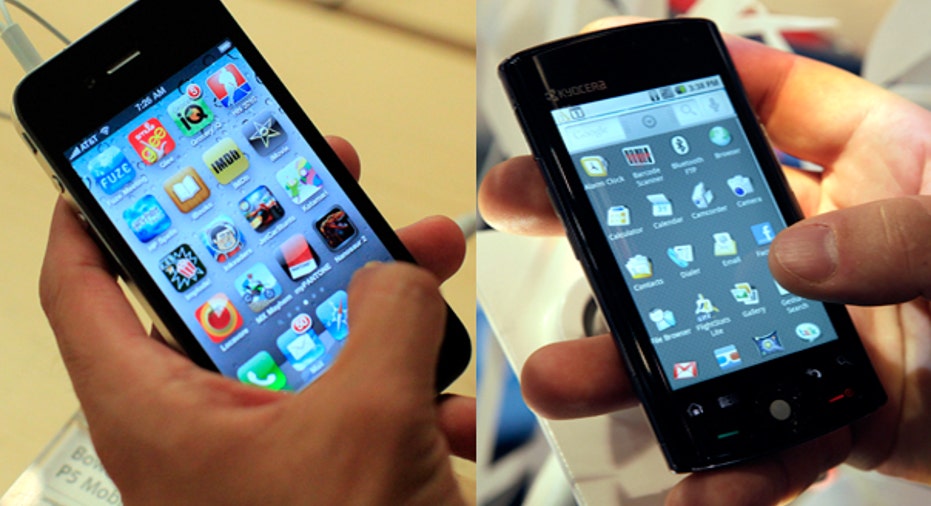 Say your friend just paid for your movie tickets. But rather than pull bucks from your wallet for reimbursement, you simply send money via your smartphone.
The ease of use is beginning to attract consumers. Pleasanton, Calif.-based Javelin Strategy & Research expects 60 million American households to be using person-to-person payments by 2014. But before you make a P2P payment, Bankrate will help you understand the P2P landscape and factors to consider when clicking your way to a person-to-person payment.
P2P payments are person-to-person payments via a cellphone or email address, though some industry players let you pay merchants, too. Lately, they've been catching on because consumers can easily send or receive money anytime via their smartphone or online for a low, or no, fee. But P2P payments aren't really new.
PayPal, which launched in 1999, has offered P2P payments via the Web as a way for people to exchange money digitally. These days, you also can use PayPal's downloadable mobile apps to send and receive money via a smartphone.
Making a P2P payment via smartphone is spurring its evolution, as P2P choices explode onto the market, says Mike Kutsch, senior business leader of global PayPass solutions at MasterCard Worldwide in New York. You can make payments through your credit card company, bank or by using third-party downloadable apps such as one offered by Popmoney.
Payment details vary widely. For starters, some P2P providers transfer money from a prepaid debit or credit card, others directly from a bank account. Fees and security run the gamut, too.
Banks are P2P Friendly
Banks are usually the easiest place to start looking. They can offer the best prices, Kutsch says. Some banks, such as ING Direct, offer their own versions of P2P payments. Others have banded together, such as Wells Fargo Bank, Bank of America and JPMorgan Chase & Co.'s P2P service, clearXchange. Through their mobile banking, customers can send money online or via smartphones.
"A bank is a familiar environment," says Zilvinas Bareisis, a senior analyst at financial services consulting firm Celent in London. "And you can easily make payments." Also, you have money readily available in your bank account. Using outside venues, such as PayPal, means you're constantly replenishing your money, he says.
What if your bank doesn't offer a P2P payment alternative? Chances are it's linked to another third-party P2P site such as Dwolla and Popmoney. They've partnered with hundreds of banks. Consumers can link up their bank accounts after signing up at one of these third-party sites. For example, after signing up at the Popmoney site, you can send money to anyone via your checking account and receive money from them as well.
Visa and American Express also have jumped into P2P payments. Visa has partnered with Popmoney, enabling a participating bank's customers to send money directly to a Visa account. American Express offers "Serve," a reloadable card that even allows you to send money via a Facebook wall posting.
MasterCard offers its MoneySend account, but began shutting it down on June 1. The service will close on Sept. 1.
Three Things to Consider
Compare several P2P payment providers before signing up, according to the Federal Deposit Insurance Corp. Here are some pointers to help you.
Factor in fees. Lots of banks offer P2P for free, says Beth Robertson, Javelin director of payments research. Many other players, such as third-party apps, credit card companies and PayPal, either charge the sender or the receiver when transferring payment.
"Fees are a significant issue," Kutsch says. "They can make a service expensive." Fees vary from service to service, but as an example, Popmoney charges 95 cents per payment to send. If a request for money is made and the money is delivered, the same charge applies. Dwolla charges 25 cents to receive money in amounts greater than $10.
Vetting security. The most secure players, such as clearXchange, only require a phone number or email address to send a payment so that you can avoid transmitting account information during a transaction, Kutsch says.
Also, P2P services offered by banks or credit card companies fall under the same consumer protection laws as credit or debit accounts. The result is you have limited or no liability if someone steals your smartphone or hacks the transaction. To find out how you're protected, read the P2P payment provider's user agreement. It explains fees, consumer protections and other details, the FDIC says. It will help you shop for the best deal with the strongest consumer protection.
Tapping into other services. Choosing a P2P service also depends on your individual needs. Globetrotters might prefer P2P players, such as PayPal or Visa, that let you transfer money to people in other countries, Javelin's Robertson says.
Some P2P players also let you make P2P payments via LinkedIn and Facebook, MasterCard's Kutsch says. "That's important these days," he says. One example: American Express' Serve digital prepaid card lets you send and receive money via email, text message and Facebook.
Final advice: Find P2P services that are the most comfortable, convenient and affordable for you, Robertson says. "Know what P2P service is important, such as transferring money internationally or having it integrate with online banking," she says.