Clayton Kershaw Tops List Of MLB's Highest-Paid Players In 2016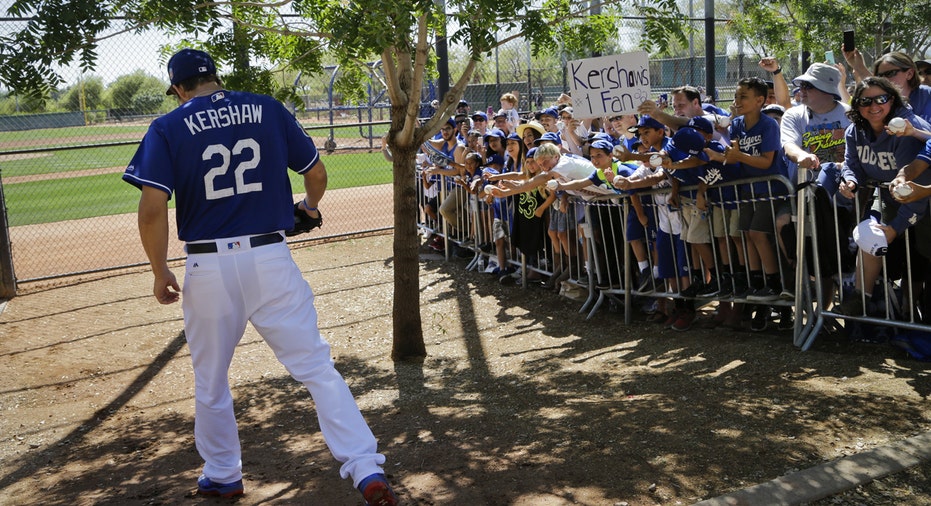 Los Angeles Dodgers ace Clayton Kershaw is the highest-paid player in Major League Baseball, according to the 2016 edition of Forbes' annual earnings list. It's the second straight year that Kershaw has earned the honor.
Kershaw, 28, will earn $32 million in salary for the 2016 MLB season and an additional $800,000 through off-field endorsement deals with companies like Under Armour (NYSE:UA) and  Wilson, according to Forbes Sports Business Editor Kurt Badenhausen. Boston Red Sox starting pitcher David Price ranks second with a $30 million in salary and $500,000 in off-field earnings, while Detroit Tigers slugger Miguel Cabrera ranks third with a $28 million salary and $2 million in endorsement money.
For yet another year, MLB players are earning far more through salary than athletes in the National Football League, National Basketball Association and National Hockey League, where salary caps limit earning potential. A total of 36 MLB players are signed to contracts worth at least $20 million in 2016, compared to just 11 in the NFL, 10 in the NBA and none in the NHL.
Conversely, pro baseball players tend to earn far less money through endorsement deals than football or basketball players. Of the $282 million committed to the MLB's top 10 highest-paid players in 2016, just 4% is earned away from the field. Seattle Mariners second baseman Robinson Cano leads all players on Forbes' top-10 list with $3 million in endorsement money.
Boston Red Sox designated hitter David Ortiz led all MLB players in 2015 with $4 million in off-field earnings, according to marketing firm Opendorse. By comparison, NBA star LeBron James earned $44 million off the court, while now-retired Denver Broncos quarterback Peyton Manning led all NFL players with $12 million in off-field earnings. Endorsement money is easier to come by in the NBA, where top players regularly sign lucrative sneaker deals worth tens of millions of dollars.
Forbes' full list of the 10 highest-paid MLB players of 2016 can be viewed here.