Citigroup's 3Q Results Hampered by Fixed-Income Slowdown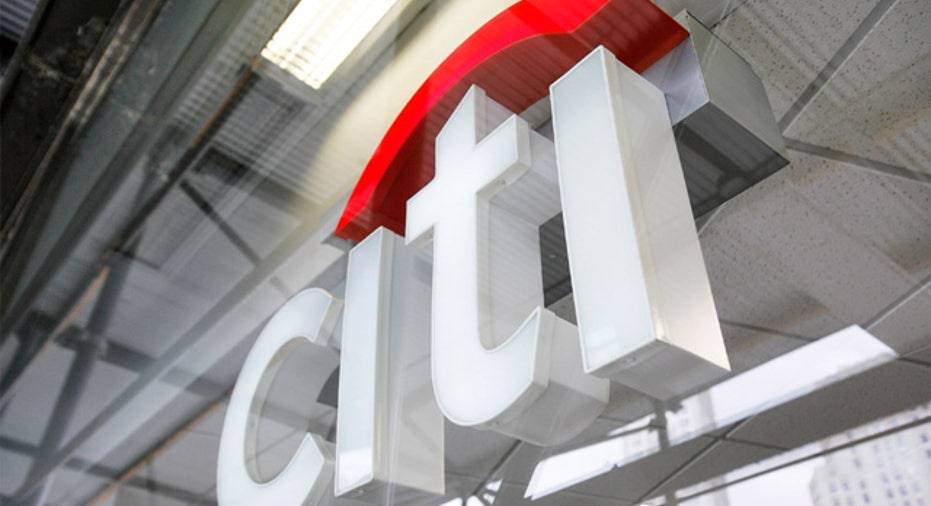 Citigroup (NYSE:C) disclosed weaker-than-expected third-quarter results on Tuesday as the banking conglomerate struggled to overcome slumping fixed-income revenue.
Citi said it earned $3.23 billion, or $1.00 a share, last quarter, compared with a profit of $468 million, or 15 cents a share, a year earlier.
Excluding one-time items, it earned $1.02 a share, trailing consensus calls from analysts by two pennies.
Revenue jumped 30% to $17.88 billion. On an adjusted-basis, revenue slipped 4.9% to $18.22 billion, missing the Street's view of $18.62 billion.
Citi's results were dragged down by a 26% drop in fixed-income markets revenue to $2.78 billion. The bank cited "lower volumes and a more uncertain macro environment."
Investment banking revenue fell 10% to $839 million amid shrinking debt underwriting and advisory revenue that was offset somewhat by equity underwriting. Debt underwriting revenue slid 16% to $498 million.
Citi's securities and banking revenue dipped 2% to $4.7 billion. On an adjusted-basis, this segment's revenue was off 10% to $5.1 billion.
"We performed relatively well in this challenging, uneven macro environment," Citi CEO Michael Corbat said in a statement. "While many of the factors which influence our revenues are not within our full control, we certainly can control our costs and I am pleased with our expense discipline and improved efficiency year-to-date."
Citi said its operating expenses fell 4% year-over-year to $11.7 billion.
Meanwhile, Citi also addressed concerns on Wall Street about a possible default on U.S. debt amid the fiscal showdown.
During a conference call with analysts, John Gerspach, the bank's chief financial officer, said Citi is ensuring it has immediate liquidity on hand, according to Dow Jones Newswires.
The bank's cost of credit dropped 25% to $2 billion thanks to a $1.5 billion improvement in net credit losses that was offset by an $827 million decline in net loan loss reserve releases.
Citi continues to wind down its non-core assets held in Citi Holdings, whose assets shrank by 29% to $122 billion as of the end of the third quarter. This unit's assets now represent 6% of the bank's total assets.
Shares of New York-based Citi ticked just 0.22% lower in premarket trading on Tuesday, putting them on track to largely preserve a 2013 rally of 25.4%.
Late last week, Wells Fargo (NYSE:WFC) beat the Street with a 13% jump in third-quarter profits amid lower provisions for bad loans.
On the other hand, JPMorgan Chase (NYSE:JPM) suffered its first loss under CEO Jamie Dimon as the bank grappled with a legal bill worth a whopping $9.2 billion.