Citi Pays $41M to Fasten Name on 10,000 NYC Bicycles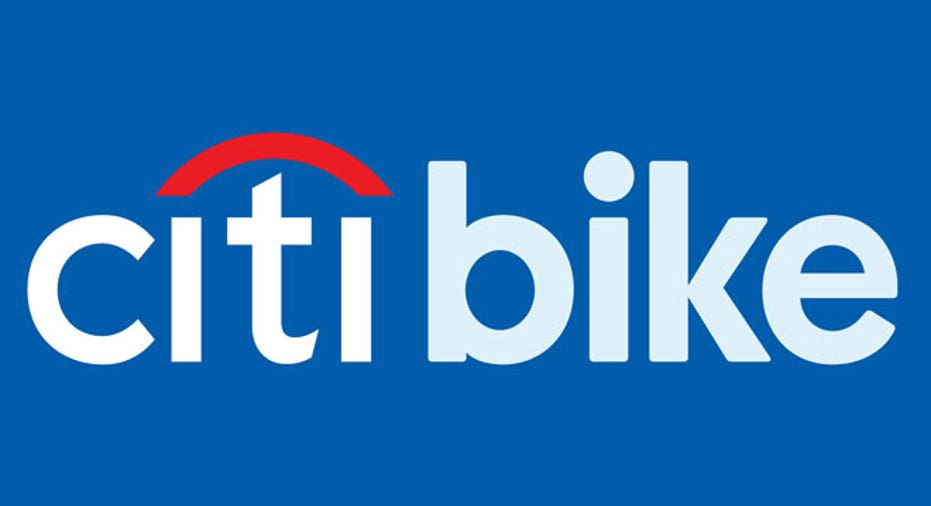 Citigroup (NYSE:C) has paid $41 million to plaster its name on 10,000 bicycles soon to hit the streets of New York City through a bike sharing program that marks one of the world's largest.
The program copies long-in-place systems in a number of European cities, including London, whose bikes are sponsored by British bank Barclays (NYSE:BCS), as well as smaller cities in the U.S., such as Washington D.C. and Boston.
New York's, which will be known at Citi Bikes, will be the country's largest.
When it launches in July, 10,000 blue bicycles, with black seats and handle bars and the Citi logo, will be parked at some 600 stations across Manhattan and Brooklyn.
The marketing investment marks the New York-based bank's latest in the Big Apple. In 2006, it agreed to pay $400 million to slap its name on the new Mets stadium in Queens – now known as Citi Field.
To use the service, anyone 16 years or older with a credit or debit card will be able to visit each station's touch-screen kiosk and pay a fee to rent a bike for a period of time.
Just under $10 buys users unlimited rides over a 24-hour period, while $25 buys 7-day access and $95 provides users with annual access. A $101 holding fee is automatically placed on the card used at purchase and will be kept if the bike is never returned.
Since the bike is targeted for 3-mile journeys, 30 minutes per ride is allotted each time a bike is removed from a dock. Late fees start to rack up the longer it is kept away from a docking station.
Riders can return bicycles at any station strategically placed around the city. While exact locations have yet to be set, the program's creators say they will be situated based upon density and relative location to other transit options. Some locations have already been previewed, such as the southeast corner of Eighth Avenue and 41st Street in front of The New York Times (NYSE:NYT) building or the east side of Broadway every few blocks from Columbus Circle to Pennsylvania Station.
"Bike share leverages the city's great mass transit system, extending the reach of transit into areas which aren't easily accessed," Citi said in a statement.
It will be funded with user fees and private sponsorships like Citi or MasterCard (NYSE:MA), which paid $6.5 million to be the program's preferred payment provider.