Citi CEO Pandit Ousted in Surprise Shakeup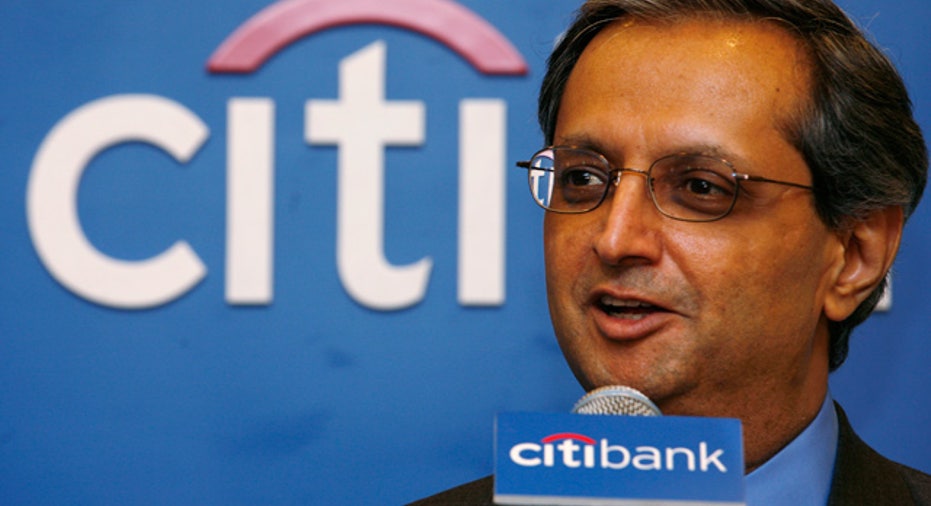 Citigroup (NYSE:C) surprised Wall Street Tuesday morning by announcing CEO Vikram Pandit, who steered the banking behemoth through the financial crisis, and his No. 2 John Havens are stepping down simultaneously.
For months Pandit told friends on Wall Street he was facing pressure from the board of directors about Citi's performance, sources told FOX Business's Charlie Gasparino.
Similarly, The Wall Street Journal reported that Pandit is leaving after a clash with Citi's board of directors over the company's strategy and performance, including the performance of its institutional clients unit.
To replace Pandit, who assumed the top job in December 2007 just as the Great Recession began, Citi's board tapped Michael Corbat, previously the bank's CEO of Europe, the Middle East and Africa.
"Given the progress we have made in the last few years, I have concluded that now is the right time for someone else to take the helm at Citigroup. I could not be leaving the company in better hands," Pandit said in a statement.
Still, the announcement wasn't widely expected and initially caused some trepidation, as evidenced by a 3% slump for Citi's shares in premarket action. The selloff eased as regular trading began and Citi's shares were up more than 1% after the Journal reported of a clash with the board.
Some applauded Citi's directors for dismissing Pandit.
"The Citi board should be commended for the decision they announced today. This is a new chapter for Citi, and I wish them well," Sheila Bair, former chair of the Federal Deposit Insurance Corp., said in a statement to FOX Business. At FDIC, Bair frequently clashed with Pandit and even called for his ouster.
Citi's shares have rallied about 29% over the past 12 months, but that trails a 52.5% surge for rival Bank of America (NYSE:BAC) and is just ahead of a 27.1% gain for Wells Fargo (NYSE:WFC) over that span.
Over the longer term, Citi's shares have crumbled 89% during Pandit's tenure, compared with an 8% dip for J.P. Morgan Chase (NYSE:JPM) and 79% dive for BofA.
"Since his appointment at the start of the financial crisis until the present time, Vikram has restructured and recapitalized the company, strengthened our global franchise and re-focused the business," said Citi Chairman Michael O'Neill. "The board and I are grateful to Vikram for his leadership, integrity and resilience in guiding Citi through the crisis and positioning it well for the future."
At the same time, Citi said John Havens, its president and chief operating officer, has resigned. Citi said Havens had "already been planning retirement" from the bank at the end of the year but decided to leave now due to Pandit's resignation.
According to a regulatory filing, incoming CEO Corbat will receive an annual base salary of $1.5 million and regular incentive awards and benefits.
In a memo to employees, Corbat said: "I'm going to take the next several weeks to immerse myself in the businesses and review reporting structures." Corbat said "some changes" will follow this assessment.
It's not clear whether Citi considered tapping Havens, instead of Corbat, for the top job.
"John has served as a trusted partner to our institutional clients, helping some of the largest corporations and governments in the world navigate through one of the most challenging financial markets in history," O'Neill said.
In addition to his job as president and COO, Havens served as CEO of Citi's institutional clients group.
The C-Suite shuffle comes just a day after Citi disclosed an 88% plunge in third-quarter profits to $468 million due to changes in the value of its debt and a $4.7 billion charge tied to the sale of another stake in the Smith Barney joint venture to Morgan Stanley (NYSE:MS).
New York-based Citi saw its shares alternate between gains and losses in early trading but were recently up 0.49% to $36.84.
"By going back to the basics of banking to serve the real economy, putting clients at the center of everything we do, and embracing the principles of responsible finance, we have put Citi in a great position for continued success," Pandit said in a memo to employees.