Citi: BlackBerry Z10 U.S. Launch a 'Big Disappointment'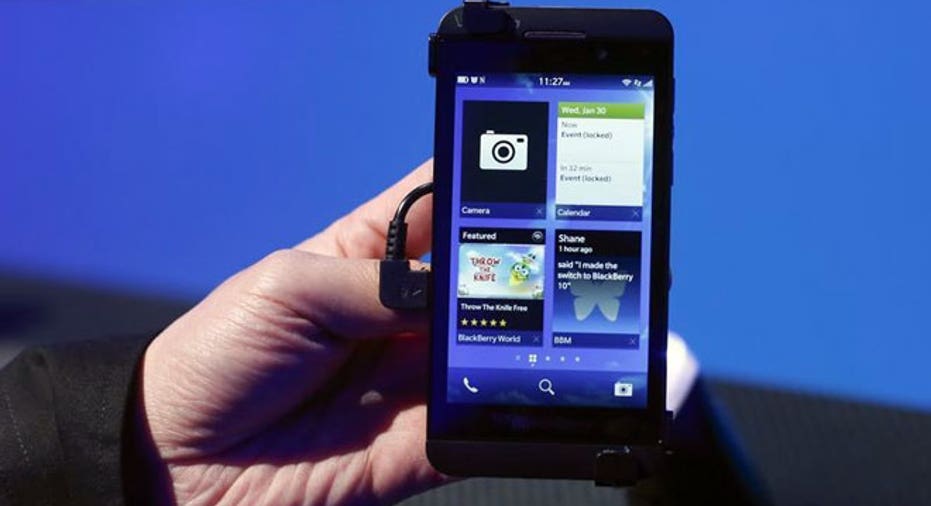 Shares of Research in Motion (NASDAQ:BBRY) slumped 4.5% premarket Monday after two major brokerages expressed disappointment in this weekend's U.S. launch of the BlackBerry Z10 smartphone at AT&T (NYSE:T).
The Ontario-based BlackBerry maker had hoped the launch would be  a game changer after years of slumped sales, putting it back on the same playing field as larger rivals Apple (NASDAQ:AAPL) and Google (NASDAQ:GOOG).
However, Citigroup (NYSE:C) in a note to clients released early Monday called the launch a "big disappointment," while Goldman Sachs (NYSE:GS) downgraded BlackBerry to "neutral" from "buy" on a similar premise.
The "new product launch was not what people were expecting," Citigroup analyst Jim Suva said in a note.
The U.S. launch comes after a successful launch last month in Europe and Canada, giving investors hope that similar success could be reached in the U.S.
Citi, though, said its coast-to-coast checks revealed "shockingly low support by AT&T" with limited signage. In fact, Suva said the were more in-store advertisements and signage for Apple and Samsung, which makes the popular Galaxy S III, compared with BlackBerry.
There was also reportedly poor product placement, with the Z10 pushed to the side or back of AT&T stores. Citi estimates that fewer than 5% of stores nationwide sold out of the smartphone despite the fact that most stores only receive a dozen or two Z10 devices.
"Most AT&T employees [are] not even trained on the device," Suva said.
Meanwhile, in Europe and Canada, Citi found that sales of the Z10 have "dramatically slowed" now that the 30-day "honeymoon launch period" has expired. Carriers abroad have already shifted promotions to other products and there have been an increasing number of customer returns, with the most cited reason being lack of apps, including Instagram and Netflix.
The app problem is a blow to Research in Motion, which touted more apps on the Z10 than on any of its predecessor BlackBerry phones after pushing hard to get developers to submit their apps and switch over from competitors.  Last week, the smartphone maker claimed it hit 100,000 apps, adding about 30,000 apps in just seven weeks. While it offers more apps than Windows, it still lags Android and iOS.
In addition to its app store woes, the Z10 has also been criticized for its disappointing battery life.
Research in Motion is set to report earnings before the market opens on Thursday, March 28. The company did not provide guidance on its fiscal 2013 third-quarter earnings call other than calling for an operating loss.
Citi reiterated its "sell" rating and target price of $6.
Shares of RIM in early-morning trade fell about 4.5% to $14.25.