Cisco's feud with former star executive is ugly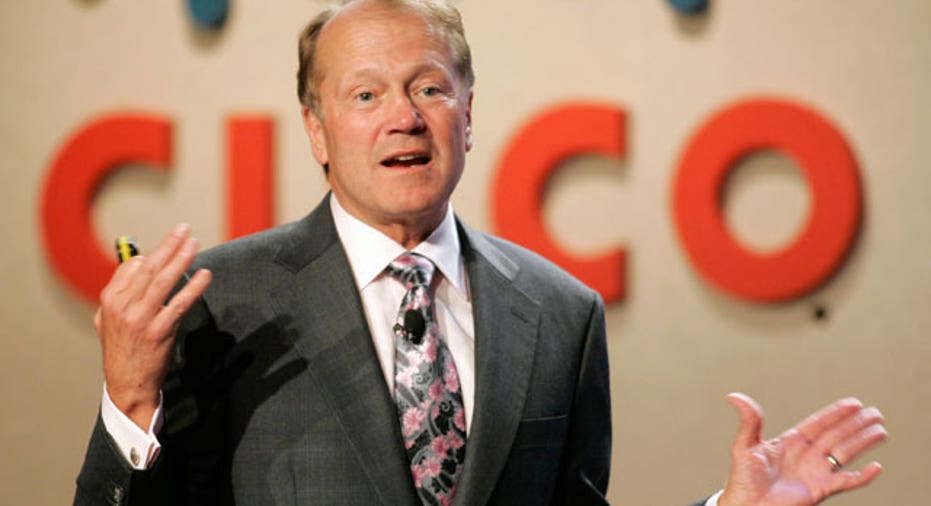 In a packed headquarters ballroom, Cisco Systems (NASDAQ:CSCO) then-chief executive officer John Chambers offered a fond farewell to a star executive and friend, Jayshree Ullal. He celebrated her ability to make complicated things simple and wished her success in her next role.
He didn't expect that much success.
Within months of the 2008 party, Ms. Ullal became CEO of Arista Networks Inc., (NYSE:ANET) a small startup that has since snagged Cisco customers including Microsoft Corp. (NASDAQ:MSFT) and Facebook (NASDAQ:FB) and is eating into the share of the networking giant's most important business.
Mr. Chambers couldn't stand to lose sales, especially to someone he considered family and the rivalry has become personal, according to people close to both executives. Defeating Arista has become a priority for Cisco, a company more than 40 times bigger by annual revenue.
In 2013, Ms. Ullal's image appeared in an internal Cisco presentation pasted onto a bull's-eye pierced with arrows. "Arm the field, stop the bleeding and fire back," according to the presentation.
Now, the fighting is unfolding in court, where Cisco, once the world's most valuable company, has accused Arista of stealing its technology. Arista has denied the allegations, saying the Silicon Valley giant sued only because it lacked smart ideas to regain business. Each side has notched incremental wins over the past two and half years with no sign of a resolution.
Mr. Robbins said Cisco is now repositioning itself to build products with more automation and security.
"Because we see companies that get disrupted, you can disappear in a hurry in today's world," he said in a recent interview. In June, Cisco promoted a new line of automated and programmable switches. Mr. Robbins told a gathering of 28,000 partners and customers the company was on a journey "to change everything."
His predecessor, Mr. Chambers, has said he made mistakes during his tenure as CEO. Cisco, he said in court testimony, was too slow to react to a fast-changing market. He declined to be interviewed for this article, as did Ms. Ullal.
On Wednesday, Cisco reported that revenue fell for a seventh straight quarter.
This account of how a Cisco insider became one of its fiercest foes is based on interviews with current and former executives of Cisco and Arista, court testimony and records, and unpublished corporate documents and emails reviewed by The Wall Street Journal.
Mr. Chambers, 67, now Cisco's executive chairman, is credited with the company's extraordinary growth phase in the 1990s, largely by buying smaller companies, including Crescendo Communications where Ms. Ullal worked.
Ms. Ullal, who rose to become one of Cisco's most valuable executives over her 15 years at the company, ran the switching division, which allows companies to shuttle data at high speeds. By the time she left, switching was Cisco's biggest business, with more than $10 billion in annual revenue, a big reason why Cisco recovered from the dot-com bust.
Mr. Chambers and Ms. Ullal made a strong team, partly because they're both extremely competitive, according to former executives who worked with them. Their priorities and styles sometimes clashed. Mr. Chambers, a soft-spoken West Virginian, was a managerial guru and a salesman whose gracious manner skewed more senatorial than Silicon Valley. Ms. Ullal, raised in India, was an outspoken engineering and marketing whiz who disliked rigid rules.
Ms. Ullal grew frustrated as Cisco began moving beyond its core switching and routing business into areas such as high-end videoconferencing and consumer electronics, former executives who worked with her said. About a year before she left, Mr. Chambers had created dozens of internal councils and boards, which was at odds with her command-and-control approach.
Cisco's engineering team knew Ms. Ullal's departure would be bad news, say former co-workers.
Arista was a better fit. The Santa Clara, Calif., startup, founded in 2004 by former Cisco executives, was small and entrepreneurial. When Ms. Ullal joined as CEO in 2008, it had shipped its first product, an unusually fast networking switch for Wall Street trading networks. The market was worth only about $50 million but it gave Arista a foothold.
It was also a segment of the market Cisco hadn't prioritized. Ms. Ullal urged her employees to avoid attracting Cisco's attention at first, said a person familiar with her thinking. As the giant in the field, Cisco could have "destroyed us with a stray thought," this person said.
In public, Arista said it planned to focus on narrow markets such as high-frequency trading. Privately it was working on building a flexible and easy-to-program switch that could be sold to large internet companies that were Cisco customers.
Mr. Chambers didn't see his protégé as a threat until two years later, when it was too late. In 2010, Arista was on the verge of winning about $2 million of business from Microsoft, one of Cisco's biggest customers, according to a March 2011 briefing document for Mr. Chambers and his own court testimony. The amount was small, but to Cisco it was a "canary in the coal mine," the briefing document said.
The Arista product was faster at moving data than Cisco's hardware, and cost less, according to internal Cisco documents. Cisco feared that Arista could end up with as much as $100 million in future annual sales to Microsoft. Cisco was already concerned about losing business after missing its annual revenue estimate for the first time in eight years.
Microsoft remains a big Cisco customer. But for the past six years, Microsoft has been Arista's largest customer, accounting for 16% of its total revenue last year, or $181 million.
Mr. Chambers felt betrayed by Ms. Ullal, a former Cisco executive said. "To John, it was a relationship question -- 'Why would you do such a thing?' "
He told executives to keep Arista from winning any new business from Cisco customers, according to former executives. Mr. Chambers also sent a 1,500-word memo to employees in April 2011 saying Cisco was too slow to make decisions and lacked discipline.
That month, the sales team created a "Tiger Team" to track Arista's every move, thwart its marketing efforts and forestall its initial public offering plan, according to internal presentations and emails. As many as 70 salespeople and engineers participated in "war room" calls where no detail was too small.
In 2012, Mr. Chambers asked four top Cisco engineers who had created some of its past hit products to secretly start a new company to compete directly with Arista's offerings. Cisco invested $135 million in the company, Insieme Networks, and later bought it.
Arista's technology was faster, more flexible and less expensive than Cisco's, according to customers and internal sales documents. Facebook engineers described Cisco as "behind the curve and on target to become irrelevant" in the data center, according to a Cisco engineer's email to executives in March 2013. Facebook, now a customer of both Arista and Cisco, declined to comment.
A Cisco employee presented the slide deck with Ms. Ullal's photo on a bull's-eye a few months later, calling for "zero loss tolerance against Arista."
Other customers started complaining. An email from a customer support engineer in August 2013 to dozens of senior managers, including Mr. Robbins, the future CEO, said Morgan Stanley had lost confidence in one of the switching products "after more than 12 months of ongoing software defects, instability and a lack of needed features." The bank halted plans to use 400 Cisco switches and said it might turn to Arista.
Morgan Stanley declined to comment.
Cisco interviewed dozens of executives to understand the problem. The brutal conclusion in a September 2013 report: Cisco had good ideas and talented employees but a risk-averse culture, indecisive leaders and too big a focus on incremental products.
In November, Ms. Ullal ran into Mr. Chambers at a cocktail party in San Francisco, according to a person familiar with the encounter. The two hugged, and then Mr. Chambers joked to the former CEO of a big Cisco customer that his one-time treasured executive had become his toughest competitor.
"Don't buy from her," he said.
Ms. Ullal was irritated by the exchange and told her staff that Cisco's gloves were coming off, according to the person.
Inside Cisco, a "Beat Arista" document in January 2014 warned that the impending IPO would provide the upstart the cash to strike Cisco's most profitable product lines. "Time is now to target their top 100 accounts -- slow momentum, impact revenue & market share and help drive an unsatisfactory IPO," one slide said.
About six months later, Arista had an initial public offering on the New York Stock Exchange. Its shares jumped 35% on the first day of trading, making Ms. Ullal's 7% stake worth about $260 million, and climbed another 40% by November.
In December 2014, Mr. Chambers approved two lawsuits against Arista with the blessing of his operating committee. He struggled with the decision.
"It is hard to accuse people who are your friends -- and they are still my friends -- of stealing from you," Mr. Chambers said in court testimony. "But this was so blatant."
The lawsuits filed in U.S. District Court for the Northern District of California accused Arista of copying technology, infringing on 14 patents and taking copyrighted material.
Arista says the suits have no merit. "I'm disappointed at Cisco's tactics -- this is not the Cisco I knew," Ms. Ullal told reporters at the time. She later wrote on Arista's blog that older companies are "often in denial of new technologies and market disruptions until it's too late."
Arista prevailed over Cisco in a trial late last year over copyright claims and one patent claim in one of the lawsuits.
The other lawsuit is on hold pending related investigations being conducted by the International Trade Commission at Cisco's request. The ITC found that Arista infringed on three of the patents in dispute, leading it to redesign some products this year. But the company is appealing a ban by the agency on the import and sales of products in the U.S. related to two other patents.
Cisco, with a market value of $160 billion, remains the leader in the networking business, but the much smaller Arista is chipping away at the fastest-growing part of the switching business. Arista's share of the overall data-center switching market has grown from nothing in 2010 to over 9% in 2016, while Cisco's share has fallen from about 80% to about 58%, according to research firm International Data Corp.
Mr. Chambers and Ms. Ullal did not see each other again until last month at a wedding, according to a person familiar with the meeting. They embraced, chatted for several minutes -- though not about work -- and appeared in a photo together. Then they went their separate ways.
Write to Rachael King at rachael.king@wsj.com
(END) Dow Jones Newswires
August 17, 2017 10:47 ET (14:47 GMT)