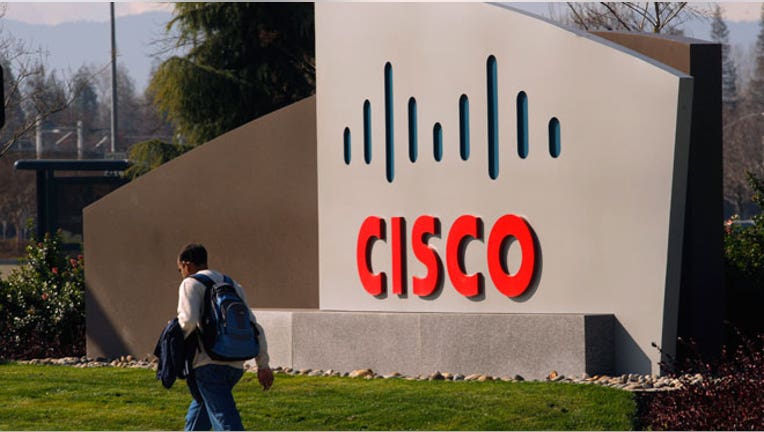 Cisco Systems (NASDAQ:CSCO) revealed second-quarter profit and sales late Wednesday that topped Wall Street expectations, a sign the company's turnaround efforts have started to pay off and broader IT spending is starting to improve.
The tech bellwether also announced a two-cent increase, or 33%, in its quarterly cash dividend, to 8 cents a share, payable on April 25 to shareholders of record on April 25, a reflection of the company's optimism and confidence heading forward.
Shares of Cisco, which ticked 1% higher into Wednesday's close as investors readied for an expected rise in second-quarter profit, surged nearly 4% to $21.18 in extended trading.
The blue-chip company benefited from networking gear and data-center-systems demand despite uncertainties in the IT market, and increased demand for its cloud computing hardware solutions. The cloud business, called Unified Computing System, reached 10,000 customers during the quarter, becoming a roughly $1 billion business in just two years.
The company also saw strong revenue gains and improved revenues in routing, services and switching, which saw sales grow 8% to $2.1 billion. Cisco's gross margins returned to levels not seen for two years.
"We are a very strong company with a very strong balance sheet," Cisco CEO John Chambers said on a call with investors. "Our goal is to continue this pace of consistent improvements."
Orders grew across all of its major geographies, particularly in the Americas and Asia, which were up 5% and 14%, respectively. Strong gains in emerging markets were partially offset by weakness in India.
Cisco, a Dow component, has been undergoing a massive overhaul that has already led to 6,500 job cuts and the demise of its consumer-oriented products group, as it focuses on more lucrative businesses like cloud computing.
Analysts, many of whom were expecting Cisco to post slightly better-than-expected earnings, have pressured Chambers to show if the drastic changes have started to stick.
"We are executing well on our three-year plan to drive earnings faster than revenue," Chambers said in a statement. "You will continue to see a focused and aggressive Cisco that is helping our customers use intelligent networks to transform their businesses."
The computer networking giant reported a second-quarter profit of $2.2 billion, or 40 cents a share, compared with a year-earlier $1.5 billion, or 27 cents. Excluding one-time items, the tech giant said it earned 47 cents, ahead of average analyst estimates of 43 cents in a Thomson Reuters poll.
Sales grew 11% to $11.5 billion, beating the Street's view of $11.2 billion. Cash flow was $3.1 billion, up from $2.6 billion a year ago.
The gains help ease fears that corporate technology spending could fall in 2012, confirming optimism sparked when IBM (NYSE:IBM) and EMC (NYSE:EMC) reported better-than-expected results in January.
Despite higher demand, the company said it is "mindful of the possibility of slower IT spending in calendar 2012." It will continue to take a measured approach that balances business upside with potential risk.
Looking forward, the company said it is too early to determine the effects on capital spending or the full impacts of the floods in Thailand. Given the uncertainty in global markets, Chambers said Cisco will be conservative in its expectations of the third quarter.
The computer networking giant sees revenue growth in the current period between 5% and 7%. Cisco analysts had predicted sales growth of 6%.
Cisco sees third-quarter earnings in the range of 45 cents to 47 cents. Wall Street analysts are looking for a profit of 45 cents.