Cisco's 2Q Net Jumps 44%, Beats Views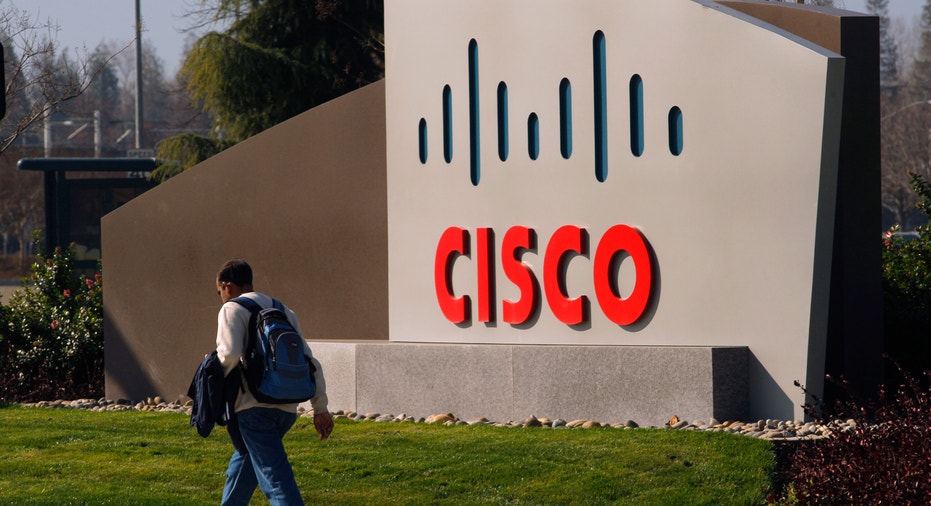 Cisco Systems (NASDAQ:CSCO) weighed in on Wednesday with a 44% jump in fiscal second-quarter profits as the tech bellwether exceeded Wall Street's expectations amid rising sales and one-time tax benefits.
The blue-chip tech company also issued guidance for the current quarter that mostly met expectations. Cisco's shares bounced around in extended trading.
The tech giant said it earned $3.1 billion, or 59 cents a share, last quarter, compared with a profit of $2.2 billion, or 40 cents a share, a year earlier.
Cisco, which makes networking equipment, said its net income was boosted by a tax benefit of about $926 million, or 17 cents per share, tied to a settlement with the Internal Revenue Service and the reinstatement of a tax credit.
Excluding one-time items, it earned 51 cents a share, topping estimates of 48 cents.
Revenue rose 5% to $12.1 billion, compared with the Street's view of $12.06 billion. Product sales gained 3.5% to $9.4 billion, while service revenue jumped 10.5% to $2.7 billion.
"Cisco delivered record earnings per share this quarter and record revenue for the eighth quarter in a row in a challenging economic environment," CEO John Chambers said in a statement.
Looking ahead, Cisco said it anticipates generating fiscal third-quarter revenue growth of 4% to 6% from the year before. Cisco also forecasted non-GAAP EPS of 48 cents to 50 cents, compared with the Street's view of 49 cents.
Cisco said it deployed approximately $1.2 billion in cash for dividends and common stock buybacks during the quarter, including repurchasing about $500 million of stock. The company still has about $5.1 billion left on its current buyback program.
San Jose-based Cisco saw its shares drop 0.66% to $21.00 in after-hours trading. Cisco has rallied 7.6% so far this year but just 6% over the past 12 months.