Cisco Enjoys Emphatic Post-Earnings Spike; Shares Soar 12%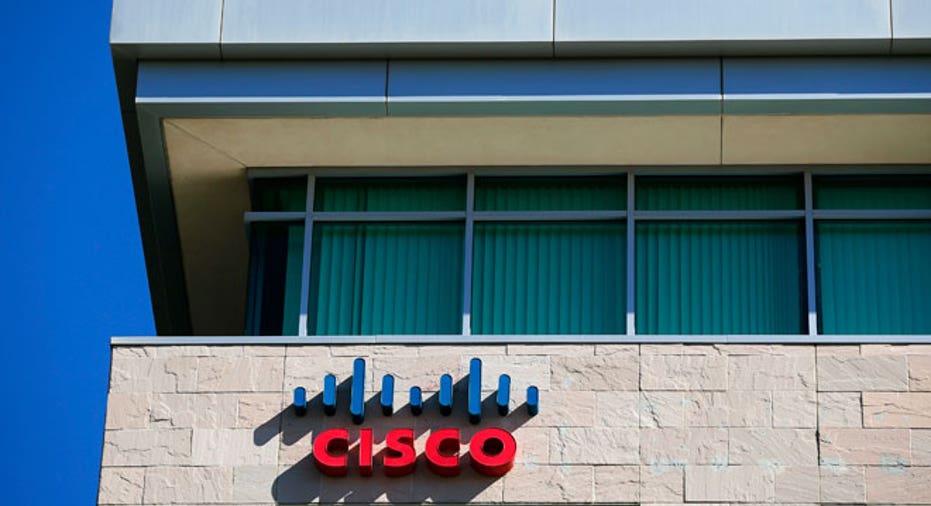 Shares of Cisco Systems (NASDAQ:CSCO) surged 12% Thursday morning as Wall Street gives the tech bellwether's earnings beat and upbeat guidance a standing ovation.
The stronger-than-expected results and cautiously optimistic commentary prompted a slew of brokerages to issue upbeat research notes on the stock. Considering how closely investors track the health of this key company, the rally should help boost the broader markets and is already trickling into related stocks.
In a conference call with analyst Wednesday evening, Cisco projected fiscal fourth-quarter non-GAAP EPS of 50 cents to 52 cents, which is in line with the Street's view.
Net sales are seen growing 4% to 7%, implying revenue of $12.16 billion to $12.5 billion. That forecast is not far from estimates from analysts for $12.47 billion.
Cisco also said it expects to post adjusted gross margins of 61% to 62%.
"We are starting to see some good signs in the U.S. and other parts of the world which are encouraging," Cisco CEO John Chambers said in a statement.
San Jose-based Cisco soared 12.68% to $23.89 ahead of Thursday's opening, putting them on pace to lead the Dow Industrials higher and significantly extend their 2013 advance of just 8%.
Shares of rival Juniper Networks (NYSE:JNPR) rallied 3.40% to $17.68, while Palo Alto Networks (NYSE:PANW) picked up 2.79% to $54.10.
The emphatic response to the results and outlook "shows just how worried investors are about the outlook and conditions in tech," Needham wrote in a note to clients, Dow Jones Newswires reported.
A number of analysts raised their price targets on the stock Thursday morning, including UBS (NYSE:UBS) which increased its target to $26 from $25 and kept a "buy" rating. BMO (NYSE:BMO) upgraded its view to $27 from $25 and maintained an "outperform" rating.
In the face of concerns about the health of the global economy, Cisco also logged fiscal third-quarter results that impressed the Street.
The networking equipment maker's net income jumped 14.5% and its non-GAAP EPS of 51 cents exceeded consensus calls by two pennies. Revenue gained 5.4% to $12.2 billion, surpassing the Street's view of $12.18 billion.