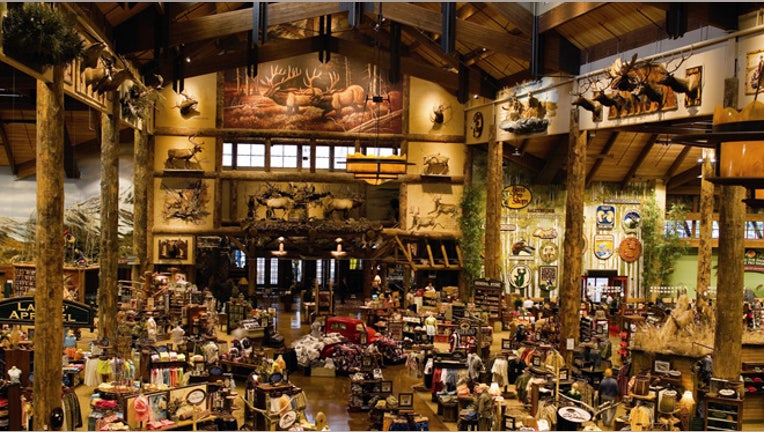 Thanks to hunting season, Christmas comes early for megastores that cater to outdoor enthusiasts.
Retailers like Cabela's (NYSE:CAB) and Bass Pro Shops are known to draw customers who travel many miles to both gear up for hunting season and browse in-store attractions.
"Our stores across the U.S. and Canada are what many of our customers love about Bass Pro Shops," Tammy Sapp, the Springfield, Mo.-based company's director of communications said.
Bass Pro Shops stocks its stores with log and rock work, large indoor aquariums and museum quality fish and wildlife mounts that "pay tribute to a region's outdoor heritage," she added. "Visitors to a store feel like it's part museum, art gallery, antique store, aquarium and center for conservation, education and fun."
According to the National Shooting Sports Foundation, a trade group that represents firearms retailers, more than 21 million have purchased a hunting license at least once over the last five years. License sales have been stable in recent years, while excise taxes on equipment like firearms, ammunition and fishing tackle are on the upswing.
For many retailers, hunting season is a critical period that can make or break their entire year.
"That quarter of the year, October, November and December, is really strong for retailers from a hunting aspect," Randy Clark, the NSSF's managing director of business development said. "We see weakness because of heavy volume of buying firearms over the last couple years. We've returned to a normal buying atmosphere."
Indeed, the firearms industry has seen sales cool off over the last year after an extended surge in demand that was fueled by an effort on Capitol Hill and in some states to enact new restrictions on gun ownership.
Adjusted by the NSSF to exclude checks related to permit applications, the National Instant Criminal Background Check System received more than 1.02 million inquiries in September, a 1% decline year-over-year. However, last month still marked the second-highest September on record.
Clark said other retail categories such as hunting accessories, camping and fishing remain strong despite tepid consumer spending.
In the fourth quarter last year, Cabela's said comparable store sales decreased 10.1% amid a shift from firearms to soft goods. The Sidney, Neb.-based company reported positive same-store sales in hunting apparel, men's casual apparel, footwear and non-shooting related hunting equipment.
Battle for Customers
Hunting season presents a big opportunity to capture sales, and retailers are in a fierce competition to attract shoppers who are preparing for a return to their tree stands and duck blinds.
According to Sapp, Bass Pro Shops reaches customers through print, television and Internet advertising. Inside its stores, the company organizes events such as the Fall Hunting Classic, where Bass Pro Shops offers seminars on hunting safety and other topics.
The retailer's hunting experts also host Bass Pro Shops King of Bucks, a television show on The Outdoor Channel. Bass Pro Shops has a Saturday radio show on SiriusXM's (NASDAQ:SIRI) Rural Radio channel as well.
Another key part of the retail strategy: Matching product mix to local tastes.
Bass Pro Shops, which also competes with Gander Mountain, Dick's Sporting Goods (NYSE:DKS) and others, tailors each store's merchandise selection to regional hunting and fishing. Sapp said customers can expect to find gear "suitable to hunting opportunities in their areas," whether they're in search of big game, small game or upland birds.
Clark noted how retailers "are a regional mix." What sells in the Southeast may not see similar demand in the Northeast or Midwest.
"[Retailers] have to know their own customers to present their stores to them," he explained.
Promoting the Outdoors
The NSSF sees some bright spots for retailers in the future, said James Curcuruto, the group's director of industry research and analysis.
"Traditionally hunters were taught by their father, and it was passed down through generations. Now we're seeing more people pick up hunting at a later age," he added.
Meanwhile, the number of women taking up the sport is on the rise. Based on statistics released by the U.S. Census Bureau last year, the total number of female hunters grew 25% between 2006 and 2011.
Current food trends may be contributing to the increase. Curcuruto noted how the popularity of organic and natural foods is driving a wider group of people to the woods. After all, free-range meat is sold at a premium in grocery stores.
Hunters also support conservation efforts through their participation in the sport. Excise taxes and the sale of hunting licenses go toward wildlife funds.
"Without hunters, you wouldn't have wildlife," Curcuruto said.
Bass Pro Shops has teamed up with a number of conservation partners, including the National Fish and Wildlife Foundation, to help conserve natural resources. It also works closely with state and federal natural resource agencies and promotes youth-focused events that teach outdoor skills.
Working with the NFWF, Bass Pro Shops donates a portion of each customer purchase made using the retailer's credit card to approved conservation projects.
Sapp said Bass Pro Shops is active in wildlife and fisheries conservation, in addition to "introducing young people to the outdoors to cultivate the next generation of natural resource stewards."