Chris Christie auditions for NY sports radio amid record low poll numbers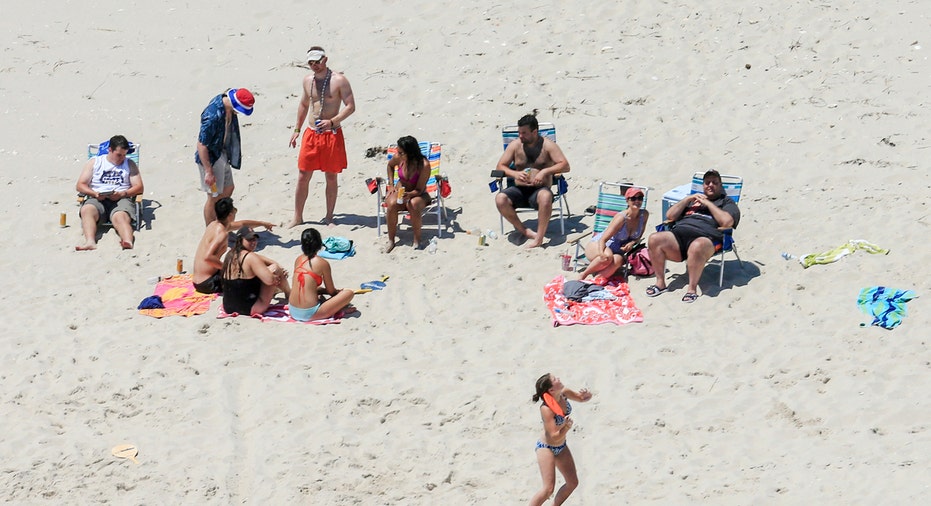 New Jersey Gov. Chris Christie kicked off his long-awaited audition with the WFAN sports radio network by admitting he was wearing New York Mets gear in the infamous photos that showed him sitting on a closed beach during a government shutdown.
Christie is filling in for famed host Mike Francesa on WFAN's afternoon radio block on Monday and Tuesday this week. WFAN says Christie's appearances are an audition to permanently replace Francesa, who is set to depart the station later this year.
Christie's co-host, Evan Roberts, poked fun at the controversial photos by noting Christie was in the studio and "not at the beach," the New York Daily News reported. Christie responded by saying that Roberts' comments were "nice, very nice."
The appearance occurred shortly after the first poll released since Beachgate showed the Republican governor's approval rating holding steady at a dismal 15 percent, an all-time low. Eighty percent disapproved, according to the new Monmouth University poll.
The numbers were virtually unchanged since a June 14 Quinnipiac University poll that found Christie with a 15 percent approval rating and an 81 percent disapproval rating.
Christie, a big New York Mets fan, revealed on the show that he was donning Mets gears the day an intrepid NJ.com photographer in an airplane snapped pictures of him sunning himself in a beach chair at Island Beach State Park, which was off-limits to the public.
New Jersey doesn't have its own major-league baseball team, and most fans in the state split their loyalty among the Mets, New York Yankees and Philadelphia Phillies.
In the poll released Monday, 800 people surveyed by landline and cellphones were asked for the first word that came to mind to describe how they felt about Christie in the beach photos. The largest share of residents said "disgusted" and "angry, outraged." Tied for the next biggest share was "jerk, profanity used," according to the survey.
"Christie may have found the floor for his ratings, but it's a level where most of his constituents now feel his time in office has hurt the state," said Monmouth University Polling Institute director Patrick Murray.
The Monmouth survey was conducted July 6-9 and had a margin of error of plus or minus 3.5 percentage points.
Eighty-six percent of the respondents said they saw the July 2 photos of Christie on the closed beach.
He told reporters at a news conference later that day in Trenton that he hadn't gotten any sun that day. Then, when told of the photos, his spokesman told NJ.com that the governor was telling the truth because he was wearing a baseball hat.
While the budget impasse was caused by a dispute between Christie and the Democrat-led Legislature, it was the beach photos that made the most news, leading to headlines around the world and memes across the internet.
Christie refused to apologize for it and said he doesn't care about "political optics."
Christie, with about six months left in office, is entering lame-duck territory with the Democratic and even Republican candidates running to succeed him tossing him aside.
Democratic nominee Phil Murphy used the beach photos to help raise cash. In an email to supporters, he wrote that Christie "disgraced New Jersey" by shutting down the government and sitting on the closed state beach.
Republican Lt. Gov. Kim Guadagno, who publicly questioned Christie's decision to go to the beach, said the budget Christie signed "spends too much" and the people "get too little."
This week's news won't be much better for Christie.
David Wildstein, who pleaded guilty to masterminding the George Washington Bridge lane closure scheme to punish a mayor who wouldn't endorse Christie, is set to be sentenced Wednesday, and the Senate is holding a hearing the same day on President Donald Trump's FBI pick, Christopher Wray.
Christie has called Wray, a former Justice Department official under George W. Bush, a top-rate lawyer and said Wray was the only lawyer he sought out when he needed legal help during the bridge scandal.
Wray held the missing cellphone that was used by the governor and contained about a dozen text messages that Christie exchanged with a former staffer during a legislative hearing related to Bridgegate in 2013.
Christie has denied wrongdoing and was never charged in the 2013 scheme that has already seen two former aides convicted and sentenced to prison in a plot to close the lanes to retaliate against a Democratic mayor who wouldn't back Christie's re-election effort.
The Associated Press contributed to this report.