Chipotle Still Serves GMOs Under Non-GMO Regulations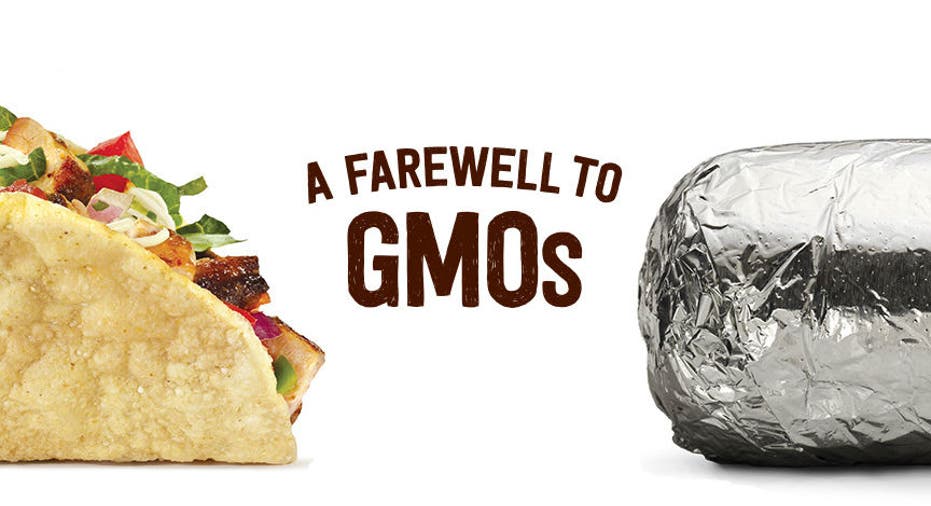 Chipotle (NYSE:CMG) has come under fire this week over whether or not the company is completely GMO-free. As FOXBusiness.com reported that may not be the case. So we asked the non-profit group committed to verifying non-GMOs (genetically modified organism) to weigh in.
"The Non-GMO Project Standard does require that animals eat a non-GMO diet. In order to earn our seal for animal-derived products (meat, dairy, etc.), we require ongoing tests of major high risk feed inputs like corn and soy," says Megan Westgate, Executive Director of the Non-GMO Project.
Westgate says there are no federal regulations about making non-GMO claims or definitions about what it means to be "non-GMO."
"This lack of government oversight is one of the reasons the Non-GMO Project was started: to create a definition that consumers trust for non-GMO products based on the best available science and practices for avoiding GMOs," she adds.
Tuesday Chipotle (NYSE:CMG) told FOXBusiness.com that their meat is completely GMO-free while admitting they still feed their animals GMOs.
"We have always been clear that our soft drinks contained GMO ingredients, and that the animals from which our meat comes consume GMO feed. But, that does not mean that our meat is GMO, any more than people would be genetically modified if they eat GMO foods," said Chris Arnold, Chipotle's Communications Director.
Despite the Non-GMO Project's specific labeling standards, Chipotle maintains its position.
In an email to FOXBusiness.com, Arnold sent the GMO labeling law the state of Vermont passed (the only GMO labeling bill to win voter approval thus far) which goes into effect next year. Chipotle operates 1,500 restaurants nationwide with two locations in Vermont.
"Under that law, meat or dairy from animals that are fed GMO feed are still considered non-GMO. You could also look at the Safe and Accurate Food Labeling Act of 2015 (HR 1599) which recently passed in the House. It would similarly allow food to be labeled non-GMO if it is derived from animals that are fed GMO feed," says Arnold.
A GMO, by definition, is an organism produced through genetic modification, according to the USDA.
"An animal consuming a grain that has been genetically modified has not had its genetics modified in any way. It is no more genetically modified than you or I would be if we ate GMO foods," says Arnold.
As reported earlier this week, a class action suit against the burrito chain was filed contending that Chipotle's menu has never been completely GMO-free, and its recent "Food With Integrity" campaign was "false and misleading to customers."
"We stand by the allegations of the complaint that Chipotle's advertising with respect to GMO's was false and misleading. As alleged in the complaint, Chipotle's advertising is clearly calculated to lead the consumer to believe that all of the menu items they are purchasing are GMO-free when they not. We look forward to addressing these matters in court," said Fred Fox, Partner at Kaplan Fox & Kilsheimer in an email to FOXBusiness.com on Tuesday.
It can be difficult for consumers to stay up-to-date on food ingredients that are at-risk of being genetically modified, as the list of at-risk agricultural ingredients is frequently changing, cautions the Non-GMO Project.
"While there are numerous non-GMO claims on the market, the Non-GMO Project's Verification label is North America's only independent, voluntary verification for products made according to best practices for GMO avoidance. Our rigorous Standard for GMO avoidance is based on testing, traceability, and segregation," says Westgate.
Chipotle says the lawsuit and the complaints against them are filled with inaccuracies.
"As we have said, it remains true that all of the ingredients we use to make our food are non-GMO. We will vigorously defend this meritless and unfair claim," says Arnold.