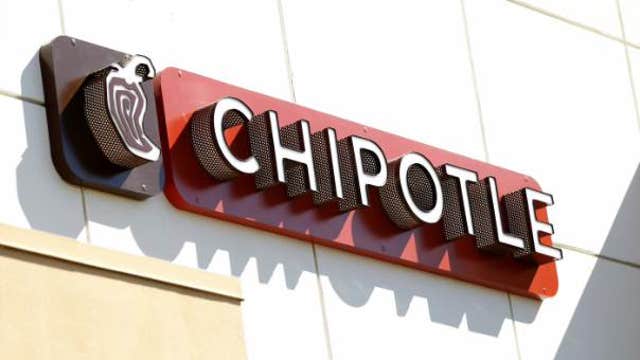 Chipotle Mexican Grill Inc raised its full-year sales forecast after reporting better-than-expected quarterly revenue as sales surged at established restaurants.
Chipotle's shares rose nearly 6 percent in premarket trading on Thursday.
The company, considered by analysts as one of the restaurant industry's best operators, said it now expects same-restaurant sales to increase in the high-single-digit percentage range, excluding any menu price increases.
Its prior forecast was for an increase in the low-single-digit percentage range.
The fast-growing burrito chain also reiterated its plans to open 180-195 new Chipotle restaurants in 2014, more than ever before.
Health conscious consumers frequent Chipotle, which is known for using antibiotic-free meats and organic produce when possible. It was the first major U.S. restaurant chain to announce plans to remove food ingredients containing genetically modified organisms, or GMOs, from its supply chain.
The company's net income rose to $83.1 million, or $2.64 per share, in the first quarter ended March 31, from $76.6 million, or $2.45 per share, a year earlier.
Sales at restaurants open at least 13 months, a closely watched measure of industry performance, rose 13.4 percent, accelerating from the 9.3 percent it posted in the prior quarter.
Restaurant operating margins, however, fell 25.9 percent, a decrease of 40 basis points, due to higher commodity costs.
Food costs were 34.5 percent of revenue, an increase of 1.5 percentage point, driven by higher prices of beef, avocados, and cheese, the company said.
Revenue rose 24.4 percent to $904.2 million.
Analysts on average had expected the company to report earnings of $2.86 per share, on revenue of $873.8 million, according to Thomson Reuters I/B/E/S.
Chipotle shares were up 2.8 percent at $567.7 before the bell on Thursday. They closed at $552.40 on Wednesday, marking a 52-week gain of more than 61 percent.