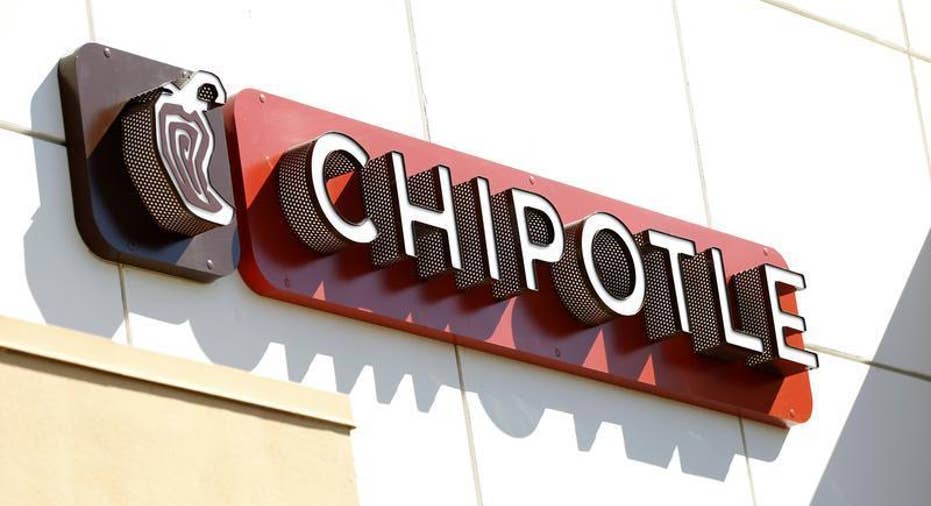 The creators of a scathing new attack ad against Chipotle (NYSE:CMG) are now themselves under attack.
At the heart of the controversy is a new print ad campaign from the Center for Consumer Freedom (CCF). Headlined ''Chipotle Healthy," the print ad showcases a shirtless, overweight man with a caption to the right that reads: "Eat two 'all natural' Chipotle burritos a week and you could gain 40 pounds in a year." A fully loaded Chipotle burrito has about 1,400 calories, according to the restaurant chain's own website, more than half of the recommended daily calorie intake for men and nearly all of the recommended daily calories for women.
The ads are the work of the notorious "smear" merchant Richard Berman, who runs CCF, the Humane Society of the U.S. now says in a statement. "Berman and CCF have refused to say who is funding this [ad] campaign, but they almost certainly are factory farming interests" who dislike Chipotle "because it chooses not to sell meat from animals jammed into cages or loaded up with antibiotics. So much for his defense of the free market," the society's president Wayne Pacelle said in the statement.
But Sarah Longwell, spokesman for the Center for Consumer Freedom, tells FOX Business the Humane Society "is making wild accusations that it cannot prove. Ask them to prove it and they can't. We, like them, don't disclose funders, so they think they can get away with making statements like that." Another spokesman says the center does disclose on its website that it gets donations from restaurant and food companies.
The attack ads also lead people to a website called "ChubbyChipotle.com," which criticizes the restaurant chain for instructing its meat producers to deliver antibiotic-free meat, even though the practice "can lead to animal deaths," noting Chipotle has said as much in its own disclosures in its annual reports. The site also criticizes Chipotle's position that it no longer sells products with genetically modified ingredients, pointing out that the chain's sodas are sweetened by GMO corn.
Longwell says the center "has been going after marketing scams like Chipotle's for decades.What Chipotle does specifically is actually market that its food is free of genetically modified ingredients or its meat is free of antibiotics, despite the fact that science tells you there is nothing scary about either of them." Berman, a lawyer and D.C. lobbyist, also founded other restaurant-backed groups, the Employment Policies Institute Foundation, which has fought against raising the minimum wage, and the American Beverage Institute, which advocates for moderate and responsible social drinking of alcohol.
The Humane Society doesn't stop at its complaints about the center's Chipotle ad campaign. The group's president, Pacelle, blasts Berman's center for having "attacked dozens of non-profit organizations, including Mothers Against Drunk Driving, the American Medical Association, the National Center on Addiction and Substance Abuse," as well as the Humane Society "on behalf of corporate clients seeking to stymie more humane and sensible public policies."
Pacelle adds in a statement that: "Rick Berman has made a career out of attacking non-profits seeking to stop animal cruelty, food adulteration, cancer-causing products in foods and other goods, and drunk driving."
He says that, despite the efforts by the center "to defend inhumane factory farming practices, America's leading food brands are moving away from the extreme confinement of farm animals. Earlier this week, McDonald's announced plans to go completely cage-free in its U.S. and Canadian egg supply chains. It joins Walmart, Aramark and nearly 100 other major food companies in announcing strong new animal welfare policies to meet consumer demand for humane treatment in their supply chains."
However, Berman's center has repeatedly taken on the Humane Society in its "HumaneWatch" section on its website for not spending enough of its donations on animal welfare. For instance, the center's HumaneWatch has frequently noted "how miserly the Humane Society of the United States can be when it comes to actually providing care to animals. Even though it receives more than $100 million in contributions, HSUS only gives 1% of its budget to local pet shelters," or just "one penny on the dollar."