China's Xi Promises Better Investment Climate as Boeing Announces China Plant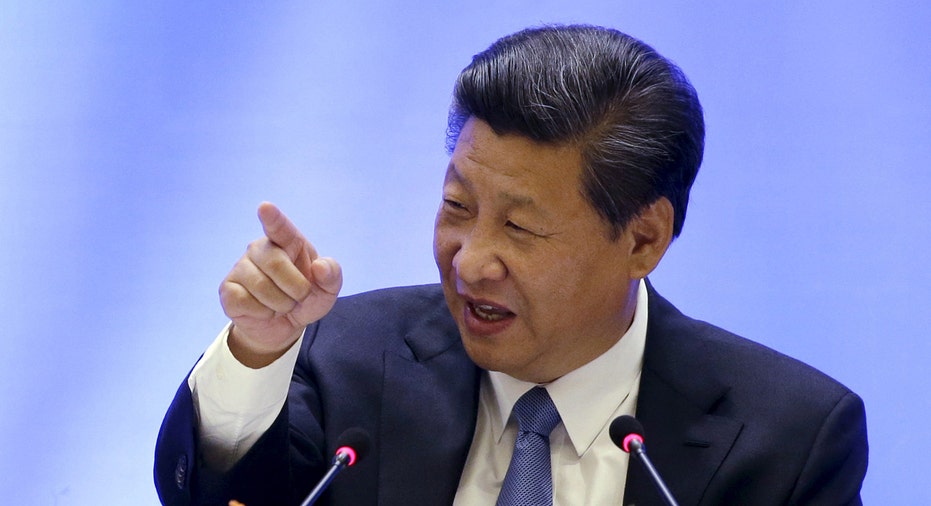 Seeking to project a sunny climate for U.S. business, Chinese President Xi Jinping said on Wednesday his country planned to greatly reduce restrictions on foreign investment, as Boeing announced plans for an aircraft finishing center in China, its first outside the United States.
Boeing's long-expected move into manufacturing in low-cost China followed its news of a big order for some 300 planes from China, valued at about $38 billion at list prices.
But the finishing center plan has not been popular with labor unions and attracted the ire of leading Republican presidential hopeful Donald Trump, who said it would take jobs away from the United States.
Xi's stop on the West Coast is the first leg of a week-long trip to the United States and offers him a chance to highlight China's cooperation with U.S. companies before he heads to Washington, where he will contend with the full spectrum of irritants in relations, from tension in the South China Sea to human rights.
"We are working to create a new open economic system, push forward reform of foreign investment management and greatly reduce the restrictions on foreign investment," Xi told a gathering of U.S. and Chinese business executives in Seattle, including Apple Inc Chief Executive Tim Cook and Berkshire Hathaway's Warren Buffett.
"GM and Ford can increase their investment in China."
China has repeatedly pledged to loosen restrictions on foreign investment as it tries to improve inefficient state-owned firms and adopt market-friendly policies to stave off slowing growth, but foreign business groups say that so far action has not kept pace with promises. U.S. investors would like a bilateral investment treaty that would give them increased access to state-dominated industries such as telecommunications and financial services.
Xi said a key part of China's reforms would be to reduce the scope of the current "negative list" on foreign investment, adding, "Our positive list will be bigger, a longer list. We will continue to build an open and law-based environment."
Chinese regulators issued a negative list of prohibited and restricted industries for foreign investors in March, though business lobbies have complained that the government has been reluctant to cede too much control over sectors it deems central to national interests.
Xi also said China would greatly strengthen protection of intellectual property. But U.S. business' concerns about cyber attacks from China went unanswered.
"Commercial attacks on companies like ours are real," Dow Chemical Co Chief Executive Andrew Liveris, who attended the event, told financial news channel CNBC. "The Chinese can no longer just turn a blind eye to that... this is our No. 1, No. 2 and No. 3 concern right now."
MEETING WITH BOEING, TECH LEADERS
Xi also toured the Everett, Washington, factory where Boeing makes its largest aircraft, and was shown a demonstration on board a 787 Dreamliner, which is popular with Chinese airlines. Before his arrival, Boeing Co confirmed it had won orders and commitments for 300 planes from China.
Boeing later announced plans for a new plant in China to paint, finish interiors and deliver its 737 airliner, showcasing the new spirit of cooperation touted by Xi.
Several Boeing workers protested outside the Everett plant.
"We don't have a problem with China. We have a problem that this could equate to machinists losing jobs," said Joel Hetland, 57, a structures mechanic on the 787, waving a sign.
"They (Boeing) don't have to worry about the EPA (Environmental Protection Agency) there, they don't have to worry about human rights, they don't have to worry about the 40-hour work week."
Boeing said the China facility would not reduce employment on 737 production in Washington state.
Later on Wednesday, the Chinese leader was due to head to the Microsoft campus, where tech executives were set to hold a U.S.-China Internet forum.
Facebook Inc CEO Mark Zuckerberg was expected to meet Xi, but Google Inc executives were not expected to attend, according to a person familiar with the matter.
Both Facebook and Google are essentially blocked in mainland China. Google largely pulled its services out of China five years ago after refusing to continue self-censoring its search results. More recently, Google CEO Sundar Pichai has made no secret that he wants to get back into China via Google Play, the app store for its Android mobile operating system.
Beneath the bonhomie of Xi's business meetings, serious issues lurked.
U.S. Secretary of Commerce Penny Pritzker noted when she met Xi on Tuesday that the U.S. government and companies have "serious concerns" about "the lack of a level playing field across a range of sectors".
A group of 12 Nobel Peace Prize winners called on U.S. President Barack Obama to make a public call for the release of their fellow laureate, Liu Xiaobo, and his wife Liu Xia, during a summit meeting with Xi later this week.
(Writing by Bill Rigby; Editing by Frances Kerry)