China state firms eye land around Panama Canal: waterway authority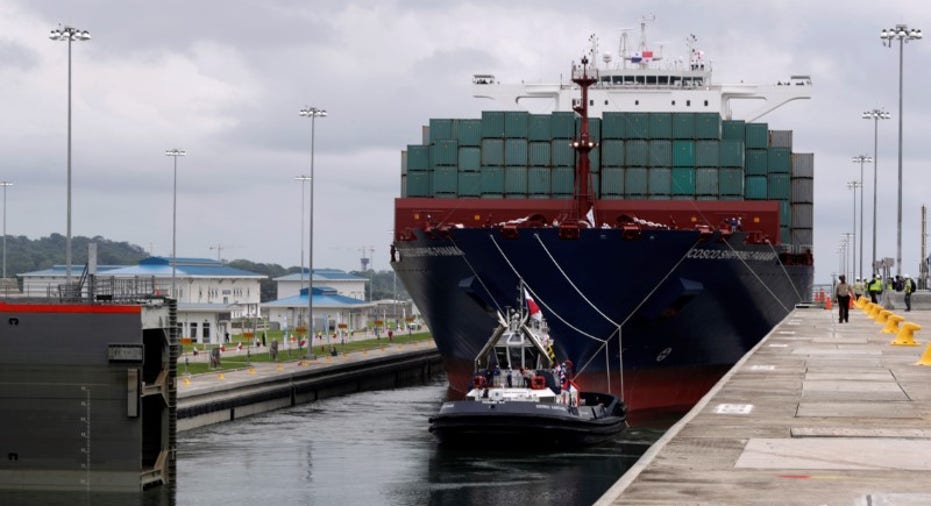 Chinese state firms have expressed an interest to develop land around the Panama Canal, the chief executive of the vital trade thoroughfare said, underlining China's outward push into infrastructure via railways and ports around the world.
The Panama Canal Authority will officially open a tender to develop about 1,200 hectares of land - roughly the size of 1,200 football fields - around the waterway by the end of this year into a logistics park, after completing a five-year-long decontamination of the area, Chief Executive Jorge Quijano said.
"We have been talking to people here in China," Quijano told Reuters on Monday ahead of a meeting with the canal's advisory board in Shanghai. China Communications Construction Corp <601800.SS><1800.HK>, its subsidiary China Harbour Engineering Company and China Railway Group <601390.SS><0390.HK> have shown interest in the project, he added.
This comes at a time when China is urging its companies to invest in infrastructure overseas as part of Beijing's "One Belt, One Road" initiative to improve global trade links.
China's state firms have in recent years already chalked up investments in key logistics nodes, including Piraeus in Greece and Bandar Malaysia, a major development project that is set to be the terminal for a proposed high-speed rail link between Kuala Lumpur and Singapore.
China's COSCO Shipping Corp <601919.SS><1919.HK>, which owns stakes in ports around the world including Piraeus , has in the past approached the Panama Canal Authority about the latter's plans for the land, Quijano said.
"There are opportunities there, definitely for some of these Chinese companies to participate as a concessionaire, not just as a contractor to build something, but they can actually bid for the concession and then build," he said.
He did not say how much the authority expected to get by selling the concession to develop the land.
China Communications Construction, China Railway Group and COSCO did not immediately respond to requests for comment.
NEW REVENUE STREAM
Quijano said the canal authority will parcel out the land and grant concession agreements of up to 40 years, with the aim to develop infrastructure and buildings on land previously used by the United States military for target practice.
Also up for grabs is an operating agreement for a roll-on, roll-off terminal near the canal, the tender for which will be put out in the middle of 2017, he said, adding the authority expected interest from Japan, China, Norway and South Korea.
He estimated the land and terminal would help bring in an annual revenue of "between $100-$125 million" after the first five years of operation. Overall, the Panama Canal is expected to bring in $2.8 billion in revenue this year, he said.
Panama opened the long-delayed $5.4 billion expansion of the canal between the Atlantic and Pacific oceans last June, but it has since been roiled by claims of cost overruns and criticism after a series of incidents that saw ships hit the lane's wall.
Quijano said the canal had attracted 18.3 percent more tonnage between October to February, versus year-ago levels, driven by a jump in liquefied petroleum gas, liquefied natural gas and container shipments.
(Additional Reporting by SHANGHAI Newsroom; Editing by Himani Sarkar)