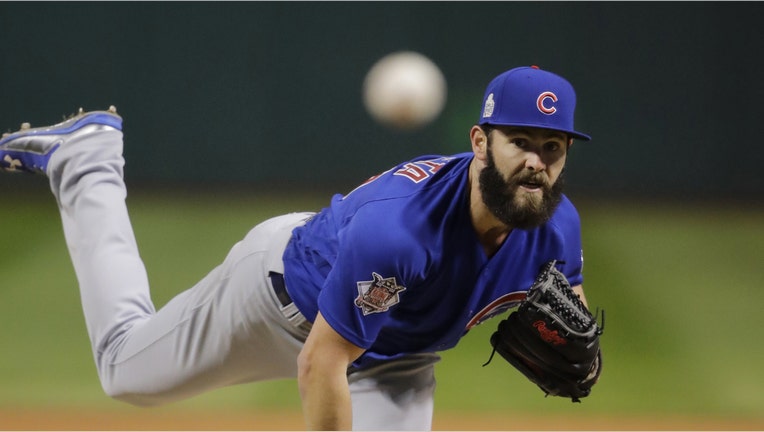 Baseball fans will have to pay a premium for a firsthand view of the Chicago Cubs' historic post-World Series homecoming to Wrigley Field this season.
Tickets to the Cubs' home opener against the Los Angeles Dodgers on April 10 – their first home game since winning the 2016 World Series – have an average asking price of $443 on TicketIQ, a secondary market ticket aggregator. That total is a 147% increase compared to Chicago's first home game one year ago. The cheapest available seat is listed at $116.
"For Cubs fans who couldn't pay thousands of dollars to see their team in the World Series, Opening Day is a more affordable way to be a part of history," TicketIQ founder Jesse Lawrence told FOX Business.
The Cubs' victory over the Cleveland Indians last October gave the franchise its first championship since 1908 and generated the World Series' highest television ratings in 25 years. While MLB Opening Day is still about a month away, the buzz around this year's Cubs team is already building.
The St. Louis Cardinals rank second on TicketIQ with a $374 average asking price for their first home game on April 2. The Cubs will be their first opponent.
While listed prices for Cubs tickets are significantly lower after the team's first home game, they're still higher than any other team in baseball. For the season, Cubs seats currently have an average asking price of $186, followed by the Boston Red Sox ($164), the Texas Rangers ($160), the New York Mets ($148) and the Atlanta Braves ($108).
For fans looking for cheaper options, the Colorado Rockies currently have baseball's cheapest tickets on the secondary market – seats at Coors Field in Denver have an average listing price of $52. The Milwaukee Brewers ($60), Los Angeles Angels ($62), Arizona Diamondbacks ($62) and Houston Astros ($68) round out the bottom five.