Chicago Blackhawks' Secret Superpower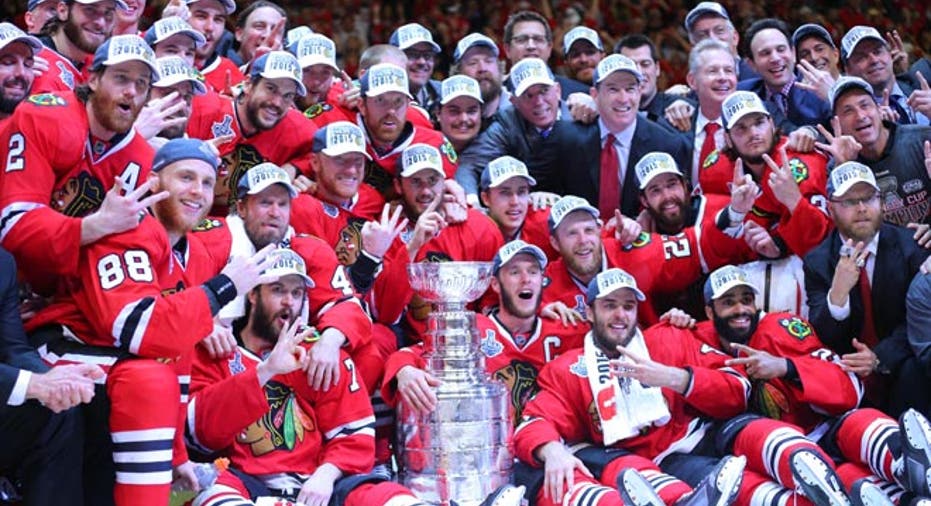 The Chicago Blackhawks won their third Stanley Cup in six years. This is an extraordinary feat, given the physical and emotional demands of professional hockey, not to mention challenges the team faced, including the suicide of equipment manager Clint Reif and death of former Blackhawk Steve Montador.
An obvious reason for the team's continued success is Joel "Coach Q" Quenneville's competence and drive. He understands the game, especially defensive play, and has the knowhow to achieve task excellence and produce results. His defensive system and near photographic memory when it comes to hockey, along with determination, passion, discipline and work ethic, feed the team's intelligence and energy. Coach Q also strikes the right balance in being more controlling of the Hawks defense while giving his players sufficient autonomy to unleash their talent and creativity on offense.
The Secret Superpower
The task excellence that Coach Q brings, however, is not enough to build a sports dynasty. Dynasties also require relationship excellence to sustain superior performance. Players must feel connected in order perform at the top of their game over time. As the neuroscientist Matthew Lieberman has said, human connection is a superpower that makes people more productive, healthier and happier.
When people feel connected, they give their best efforts, align their behavior with the team's goals, communicate better and find ways to improve their team's performance. A culture of connection – versus a culture of control or culture of indifference to people – provides a powerful competitive advantage. When connection is lost on a team, players lose energy and enthusiasm, leading to declining engagement, productivity and overall performance.  This is true whether it is a team playing for the NHL championship or a business unit competing in the corporate world.
The Blackhawks' culture of connection was on display last night when defenseman Duncan Keith was awarded the Conn Smythe trophy for being the playoff MVP.   Reflecting on the team culture Keith said, "You play with the same guys for a long time and you develop a bond, and then when you can win a championship, it just reinforces that." Notice in Keith's comment the bond came before the championship. The championship strengthened it.  The bond was evident in the genuine praise Keith's teammates expressed that he was recognized as MVP and the joy you could see in their faces (mutual empathy is a source of connection).
The curiosity about the Blackhawks is where the bond of connection comes from. Coach Q is worthy of respect and he's likeable for his desire to see players improve and his humorous use of language (he yells "peanut butter" when something good happens to the Hawks).  He is also a straight shooter when it comes to communicating.  Coach Q is not, however, the caring and connecting type of coach that the Tampa Bay Lightning's Jon Cooper is.
Competitive Advantage of Team Character and Connection
Only the Hawks players could tell us who contributes to the team's bond. From press coverage, it would appear that Jonathan Toews, the Blackhawk's captain, contributes with his generous spirit and quiet, humble, modest example. Patrick Kane contributes with his joy and sense of humor.  Patrick Sharp's pranks contribute to connection by helping the team not take itself too seriously.  These are character strengths that unite the Blackhawks. Many character strengths contribute to creating a bond of connection including love of people, social intelligence, kindness, honesty, gratitude, forgiveness and loyalty.
Hawk's veteran Patrick Sharp observed that "every championship team, every winning team has one thing in common:  all the players like each other and get along on and off the ice… We are all friends, our wives and girlfriends are friends. It seems like one big family." Indeed, teams are like families.  They can build each another up or tear each other down. Fortunately for the Blackhawks, they have developed a culture that lifts each members performance and sustains them through thick and thin.
The Blackhawks' team character and the ways in which each member of the team and coaching staff foster the bond of connection, will ultimately be the fuel that sustains this extraordinary team's fire.  It will be critical to the Hawk's future to be intentional about preserving it.
Elizabeth Stallard, an intern at E Pluribus Partners, co-authored this article.
Portions adapted from Connection Culture: The Competitive Advantage of Shared Identity, Empathy and Understanding at Work.
More from ConnectionCulture.com
Is Your Culture Life-Giving or Draining? Take the CULTURE QUIZ.How to Become Indispensable to Your Clients7 Best Practices to Boost Employee Engagement