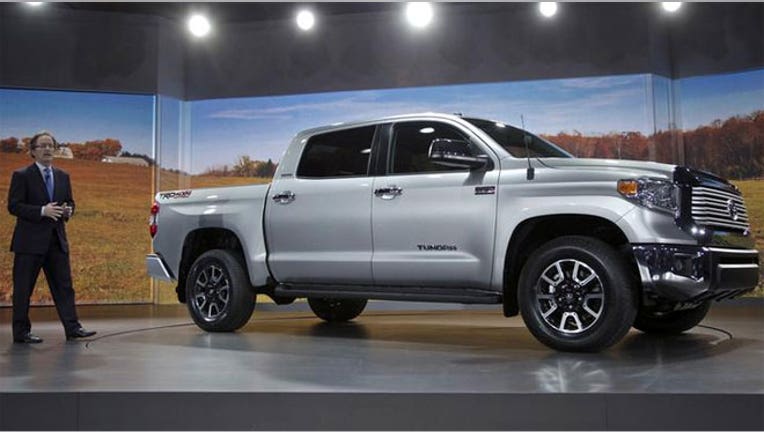 A Chevrolet diesel and new Toyota Tundra pickup truck were the most notable unveilings at this week's Chicago Auto Show, where car makers showed off a range of new models.
Fuel efficiency and alternative energy options continue to be a focus of redesigns. Consumer demand for better miles-per-gallon is climbing, and the federal government has mandated that the industry achieve an average of 35.5 mpg by 2016 and 54.5 miles per gallon by 2025.
A report by the University of Michigan said the industry's corporate average fuel economy in January checked in at 29.8 mpg.
General Motors' Chevrolet brand revealed a new option for its 2014 Cruze sedan: a turbodiesel engine. The diesel model will be available this spring and start at $25,695. Chevrolet already offers diesel versions of its Silverado pickup.
Diesel engines are common in German luxury cars, and Chevrolet hopes consumers already committed to diesel will consider the new Cruze.
"We're seeing growth in the market for diesel. Compact cars are coming back strong, and we feel that with the excellent blend of technology, performance and efficiency, it's the right time to bring it back," Gary Altman, chief engineer for the Chevy Cruze, told Gary Gastelu of Fox Car Report.
Ford introduced a new 2014 Fiesta that will likely get at least 40 mph, while Chrysler talked up its 2013 Dodge Dart that hit showrooms last year and the Dodge Ram 1500 pickup.
In an interview with FBN's Jeff Flock, Ram Truck Brand CEO Fred Diaz touted the Motor Trend Truck of the Year and North American Truck of the Year awards bestowed upon the newest Ram.
"We're ready for the competition. We think we've done a lot to this truck," he said.
The battle for pickup truck dominance continued as Toyota unveiled a redesigned Tundra full-size pickup, the model's first overhaul since 2007.
Fuel efficiency is an underlying trend in the truck market as well. Companies must still meet standards for pickups that traditionally did not achieve comparably high miles-per-gallon, so auto makers are investing in new technologies to meet those standards.
Ford decided to shift to a largely aluminum body for its F-150 pickup, making the truck lighter but subject to criticism over durability. GM, which will not use aluminum as extensively as Ford, is enhancing fuel efficiency with a hybrid-electric system that uses energy captured when a vehicle slows down to help the car accelerate.
GM plans redesigned models of the Chevrolet Silverado and GMC Sierra this spring. Chrysler recently launched a new Ram 1500.
With its 2014 Tundra, Toyota is making a renewed attempt to gain market share. According to Edmunds.com, the Tundra accounted for 6% of full-size U.S. truck sales last year, while the F-Series held 38.5 percent of the market. Chevrolet's Silverado is the second most popular model with 25% market share, Dodge's Ram took 17% and GM's GMC Sierra accounted for 9.4% of industry sales.
The new Tundra will be available in the fall.
"The truck market was really affected during the downturn of the economy," Bob Carter, a senior vice president at Toyota, told FBN's Jeff Flock in Chicago. "The auto industry is turning out to be the bright spot in the economy."