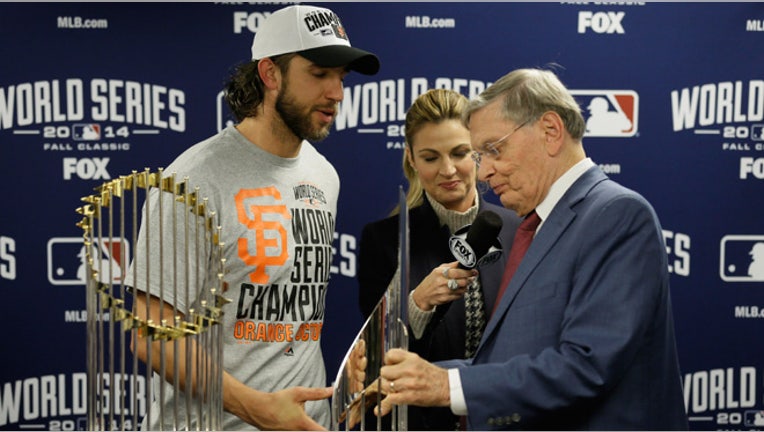 The World Series MVP presentation didn't go exactly as planned, but Chevrolet is running with it.
Rikk Wilde, a regional zone manager at Chevrolet, was tasked with handing the keys to a new 2015 Chevrolet Colorado pickup truck to Madison Bumgarner, whose San Francisco Giants won the decisive Game 7 against the Kansas City Royals.
The 25-year-old starting pitcher was named Most Valuable Player after a historic performance in the World Series. On Wednesday, Bumgarner pitched five scoreless innings in relief on just two days of rest.
The spotlight of national television seemed to get the best of Wilde as he stumbled through most of his remarks. Social media picked up on one misstep in particular, when Wilde said the Colorado "combines class-winning and leading, you know, technology and stuff with Wi-Fi powered by OnStar."
The irony? Chevrolet, Major League Baseball's official vehicle sponsor, probably got more attention Wednesday than any of its previous World Series MVP presentations.
A Chevrolet spokesman said traffic to the Colorado's web page was up 70% on Thursday. Topics including "Chevy Guy" and "#TechnologyAndStuff" continued to trend on Twitter (NYSE:TWTR) through most of the day.
In a press release for a series of web videos touting the Colorado, Chevrolet said the mid-size truck "comes standard with a lot of 'technology and stuff.'"
"For many there are rational barriers to consideration, does it meet my need for features and refinement, will I sacrifice safety? The Colorado removes those barriers buy offering the capabilities of a pickup with the technology and 'stuff' customers want and need," Paul Edwards, U.S. vice president for Chevrolet marketing, said in a statement.
The Colorado and its higher-end sibling, the GMC Canyon, are important vehicles for General Motors (NYSE:GM). Along with its Detroit rivals, the automaker has been absent from the mid-size truck segment in recent years.
Chevrolet hopes the Colorado can grab market share from Toyota (NYSE:TM) and Nissan, the two biggest players in the segment, and expand the customer base for mid-size pickups.
Last month, Chevrolet marketing chief Tim Mahoney told FOX Business that the Colorado, which has begun shipping to dealers, should garner interest from crossover buyers who want more versatility for hauling and towing.
GM shares were trading 19 cents higher, or 0.62%, at $30.91.