Chesapeake Unloads Another $6.9B of Assets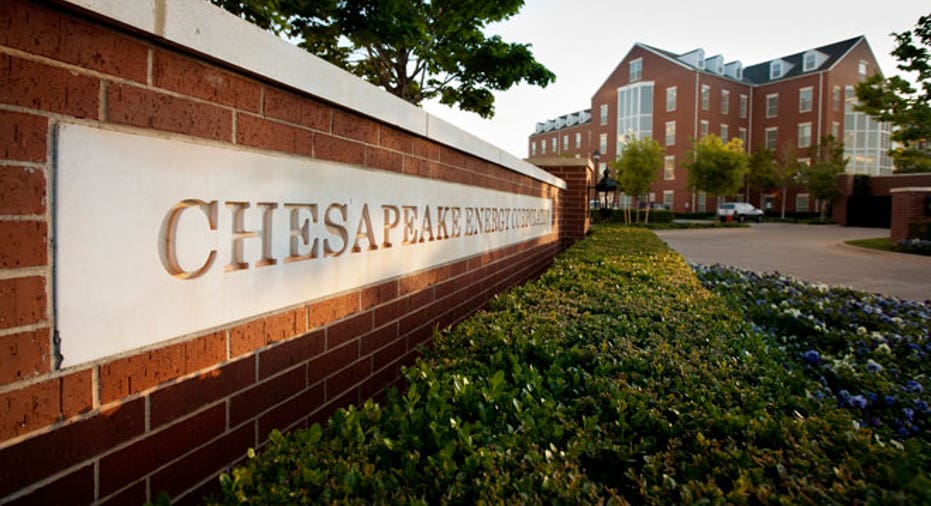 Chesapeake Energy (NYSE:CHK) raised another $6.9 billion on Wednesday by selling off assets in the Permian Basin and elsewhere in an effort to slash the natural gas producer's hefty debt load.
Shares of the energy company rose more than 1% in response to the moves, which come just months after raising $4 billion through a trio of deals to unload its midstream pipeline assets.
Chesapeake, which is facing an estimated $10 billion funding gap, said it will use the proceeds to repay $4 billion in debt.
"These transactions are significant steps in the transformation of our company's asset base to a more balanced portfolio," CEO Aubrey McClendon said in a statement.
McClendon said Chesapeake has raised $11.6 billion so far this year through asset sales, giving it 85% of its full-year target of $13 billion to $14 billion. He said the company still expects to achieve that goal by the end of the year.
Oklahoma City-based Chesapeake said it has reached deals worth $3.3 billion with three companies to sell the "vast majority" of its Permian Basin assets, which represent 5.7% of the company's production last quarter.
SWEPI, a subsidiary of Royal Dutch Shell, agreed to acquire assets in the southern Delaware Basin portion of the Permian Basin, while Chevron (NYSE:CVX) is buying assets in the north.
Shell said it is paying $1.94 billion for the 618,000 acres it is acquiring, while Chevron didn't disclose a price tag on the 264,000 acres it bought.
"These early-in-life, liquids-rich unconventional assets have the potential to be significant future contributors to Chevron's robust North American operations," Gary Luquette, president of Chevron North America Exploration and Production Company, said in a separate statement.
Chesapeake, which is the No. 2 U.S. natural gas producer behind ExxonMobil (NYSE:XOM), previously announced that Houston-based EnerVest inked a deal to acquire assets in the Midland Basin portion of the region.
Chesapeake said it anticipates the trio of deals will close within 60 days.
Meanwhile, Chesapeake is raising about $3 billion by selling pipeline assets in a series of deals that are seen closing in the third and fourth quarters.
Also, Chesapeake said it is unloading land in Ohio's Utica shale for about $600 million.
Shares of Chesapeake gained 1.34% to $20.38 Wednesday morning, trimming their 2012 loss to just under 9%.