Checking in With an 'American Idol'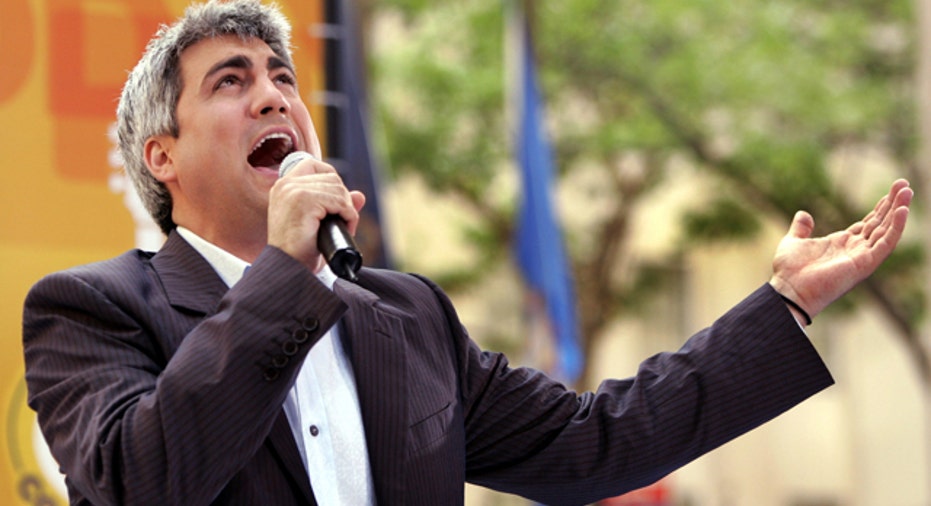 In the audition video that eventually propelled Taylor Hicks to become the 2006 American Idol, he tells Simon Cowell, "I want my voice heard."
Five years later, with the show on the verge of inducting another into its storied ranks, I asked Hicks if he does indeed feel heard.
"I think the question is, what would [Simon] say?" Hicks said in our recent interview in New York. "I think America has already answered it. I feel blessed and thankful. I am entertaining people and helping others. That's kind of what my mantra is."
It is the helping that partially fuels this New York trip. Hicks will be performing at City Winery on Sunday (May 15) and there is a special bottle of cabernet sauvignon with his picture on the label that will benefit the Red Cross' tornado relief effort in his native Alabama. The wine -- which must be purchased before or through the end of Sunday's show -- is $45 per bottle and $15 of that will be donated. The Red Cross will also be set up at the event to take donations.
Hicks appreciates this special opportunity to use his talent and name for a cause so close to him and, in fact, realizes this is part of what he defines as success.
"I think [success] has come in two different forms," he said. "Succeeding and getting to a place where you can grow artistically. And then success not measured by how many records you sell but how many lives you can touch."
That means not just through concerts and shows, but visiting a children's cancer wing at a hospital or making good on someone's request through the Make-a-Wish Foundation. Or, more currently, doing what he can to bring assistance to the victims of the tornado.
"I'm hoping that through all this devastation that we can really …educate more people about how to be safe from these storms," Hicks said.
This is the voice being heard.
As I researched what the now 34-year-old Hicks has been up to since winning American Idol, I was struck by the seemingly equal parts fandom and snark on the Internet. There are a lot of things you can call Hicks – entertainer, musician, artist, performer – but ironically 'idol' isn't that great a fit. And if an idol is one who is loved excessively and not for good reason, then perhaps it is the highest of compliments that Taylor Hicks isn't quite what some had in mind as a winner of the nation's favorite talent competition.
Because, that immense victory notwithstanding, Hicks is more in the 'slow and steady wins the race' category of artists. He's not rocketing up the charts like Kelly Clarkson or Carrie Underwood. What he is doing is staying open to opportunities in film, television, theatre (including a turn as Teen Angel in Grease on Broadway) and music, hitting the road so steadily that he doesn't even have a home (his belongings have been in his parents' basement since winning Idol), opening a restaurant called ORE in Birmingham, and--yes -- making a lucrative living. He is living his dream, not the one sometimes projected on him by the more celeb-focused masses.
"I just want to play, I just want to perform and entertain people," said Hicks, whose audience has been dubbed the Soul Patrol. "I think that's what I've been naturally doing since I was a child. It's what I've been professionally doing since about 17. And I guess you could say super professionally after I won American Idol."
I tell him I get the impression he would be a performer, working out his soulful, R&B style on stage even if he wasn't getting paid.
"I don't think there was a choice," he said. "I started teaching myself instruments … my quick study of instruments -- guitar, harmonica, organ -- allowed me to kind of take a hard look at getting into this business and trying to succeed. And then obviously you have the vocal part and the entertainment part. Watching as much as I did, studying as much as I did and observing artists that have come before me, when there was a positive response in the South when I was touring and stuff … I really felt like there was nothing else I could do. It was almost like God's plan because I never had any musical training. I never had theatre training. I just had old VHS tapes of musicians that I would study."
Hicks credits the keen, critical eye of the South for giving him the impetus to keep going for the decade prior to his appearance on Idol.
"In the South, people are going to let you know if you can throw a football," Hicks said. "And people are also going to let you know if you can sing. I think they have a good read on talent in the South. I think they know when it's real and I think that helps. And I was able to sustain somewhat of a livelihood in the South as a musician, which helped my confidence the 10 years that I was struggling."
How one deals with struggle is one of those priceless spiritual gauges we have in life. There are those who learn nothing from it and those whose entire lives are transformed because of it. And then there's a whole range of options in between. I am thrilled when Hicks opens this door to his spiritual self. He points out that his American Idol audition in Las Vegas – a Plan B because of Hurricane Katrina – was due to "fate and faith" and he uses an expression I love – "it's amazing what happens when you let go and let God." Presto, a 28-year-old bar musician becomes a 29-year-old household name whose voice is being heard.
"When you're a nobody, it teaches you a lot about who you are when you do become a somebody," Hicks said. "So there's a lot of introspection that goes on in those 10 years of having a dream and a vision and finding some way to materialize it. Basically it's called just good old-fashioned love. You've got to love it.
"I never lost sight of who I am as a person ... I think I just have to keep experimenting artistically ... I guess those 10 years of struggling really taught me how important it is to keep striving and to keep working as an entertainer, whether you do a 200-seat venue or a 10,000-seat venue. I think in this day and age you have to take your show on the road ... To ultimately sustain a career in this business you have to tour. You have to go be with the people."
I hear passion. He has already declared it is so, but the life coach in me has to ask -- Do you love it?
"I do," he says.
Oh yes. Idolize that.
Nancy Colasurdo is a practicing life coach and freelance writer. Her Web site is www.nancola.com and you can follow her on Twitter @nancola. Please direct all questions/comments to FOXGamePlan@gmail.com.