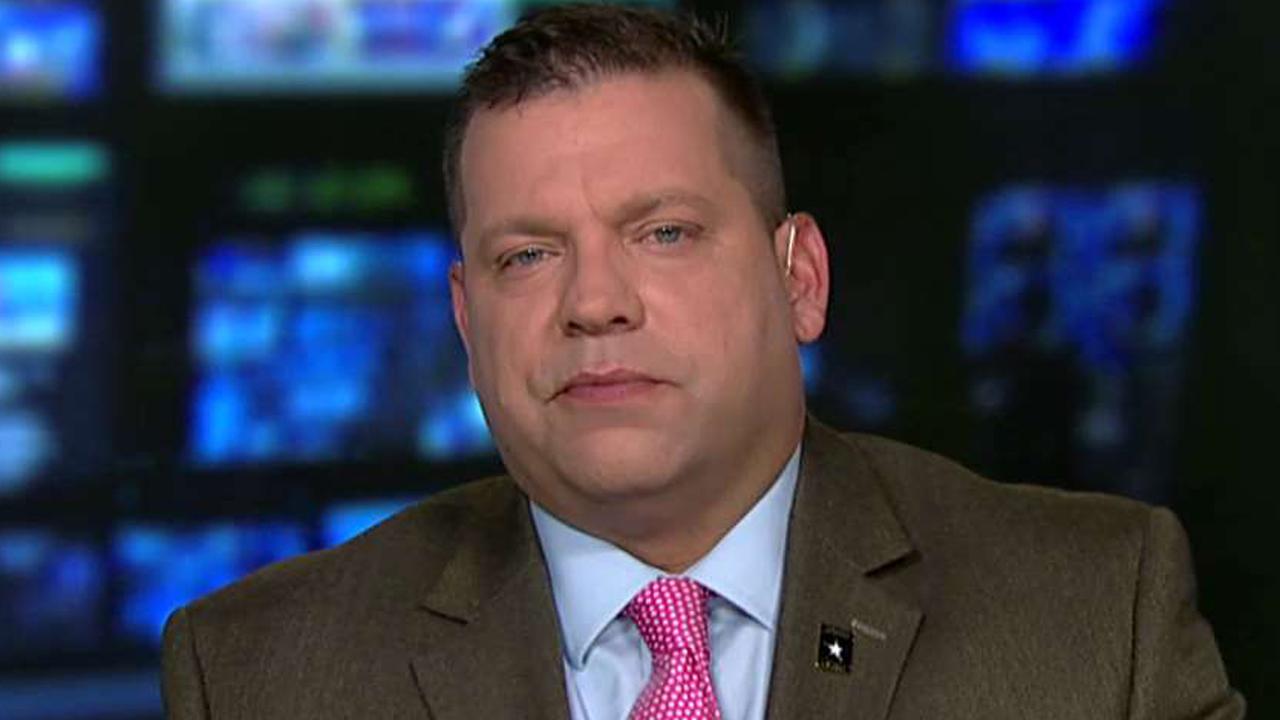 In the wake of the violent clashes at a white nationalist rally in Charlottesville, Va., that left three dead and more than a dozen injured, a Virginia congressman said Sunday he is "afraid" about the future of the nation.
"I have a child due in a month—we've worked since 1776 to erase horrible flaws like slavery and second-class citizenship and to think that my child might be born into a world where we're regressing is genuinely frightening," Rep. Tom Garrett, a Republican representing the Virginia's 5th Congressional District, which includes Charlottesville, told Maria Bartiromo on "Sunday Morning Futures."
On Saturday, a Dodge Challenger rammed into a group of counter-protesters, killing a 32-year-old woman—identified as Heather Heyer—as she was crossing the street.
Just hours later, two state police officers died in a helicopter crash. Law enforcement officials said the officers were "assisting public safety resources with the ongoing situation in Charlottesville," at the time of the accident.
The rally, called "Unite the Right," was initiated by members of white nationalist, Ku Klux Klan and neo-Nazi groups to protest the removal of a statue of Confederate General Robert E. Lee. Earlier this year, the city voted to remove it from Emancipation Park, but it remains in place until a judge rules on the matter later this month. Protesters said the demonstration, which the Southern Poverty Law Center said could be the "largest hate-gathering of its kind in decades in the United States," was created to "take America back."
"It's beyond my ability to comprehend that in 2017 in a place like Charlottesville, Va., people can't understand that Dr. [Martin Luther] King [Jr.] was spot-on when he said we should judge one another by the content of our character and not the color of our skin—it is tragic," Garrett said, adding that "90% of the people from this fascist rally" were not from the state.
Virginia Gov. Terry McAuliffe declared a state of emergency Saturday and said at a news conference later that evening he had a message for protesters: "Go home. You are not wanted in this great commonwealth."
Governor McAuliffe has declared a state of emergency to aid state response to violence at Alt-Right rally in Charlottesville

— Terry McAuliffe (@GovernorVA) August 12, 2017
President Trump denounced the events in Charlottesville during a brief speech in New Jersey on Saturday.
"We condemn in the strongest possible terms this egregious display of hatred, bigotry and violence on many sides, on many sides," Trump said. "It has been going on for a long time in our country—not Donald Trump, not Barack Obama. It has been going on for a long, long time. It has no place in America."
The president's statement was met with criticism from both Democrats and Republicans alike for not mentioning white supremacists specifically in his remarks.
"Mr. President - we must call evil by its name. These were white supremacists and this was domestic terrorism," Sen. Cory Gardner, R-Colo., tweeted.
However, Garrett said right now, the current focus should not be on the president's comments, but rather uniting together as a human race, not simply individuals.
"Regardless of whom you voted for, regardless of what you think America should look like moving forward, I think we can all agree that all men are created equal and are endowed by their Creator with certain unalienable Rights. So I want to focus on what brings us together, not what tears us apart," he said.