Charge Your Phone While Eating KFC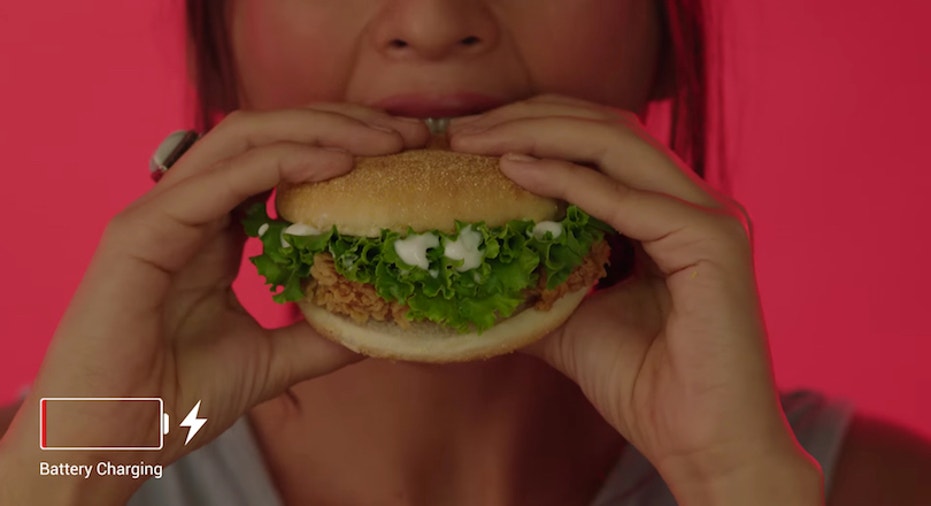 KFC's latest tech-savvy promo is finger-lickin' good.
In partnership with Indian ad firm Blink Digital, the fast-food chain is handing out high-tech food packaging to customers in Delhi and Mumbai.
The limited-edition 5-in-1 Watt A Box meal crate comes with your chicken zinger, hot wings, hashbrowns, chocolate pie, mobile power bank, and micro-USB and Lightning charging cables.
Available as a contest prize at select stores or online, the Watt A Box encourages diners to charge their Android or iOS device while eating. (It's not like you're going to touch a smartphone or tablet with those greasy fingers, anyway.)
The crate's removable power bank features a USB port and power button, but is about as impressive as the slapdash assembly of your meal. According to BGR's hands-on test, the 6,100mAh battery charged an iPhone 5s only 17 percent in 30 minutes, and bled itself dry during the process.
The tiny battery, though not ideal to double as an on-the-go juice pack, will do a decent job if you just need to make a phone call, send a text, or tweet.
The Watt A Box follows a number of other technical pursuits at KFC. In September 2014, a Japanese branch launched a keyboard, mouse, and USB stick—all in the shape of pieces of fried chicken. And last year, the company introduced its KFC Tray Typer, an ultra-thin, rechargeable wireless keyboard with built-in Bluetooth, and a bucket of fried chicken that doubled as a photo printer.
This article originally appeared on PCMag.com.