Cha-Ching: Why Beards Are in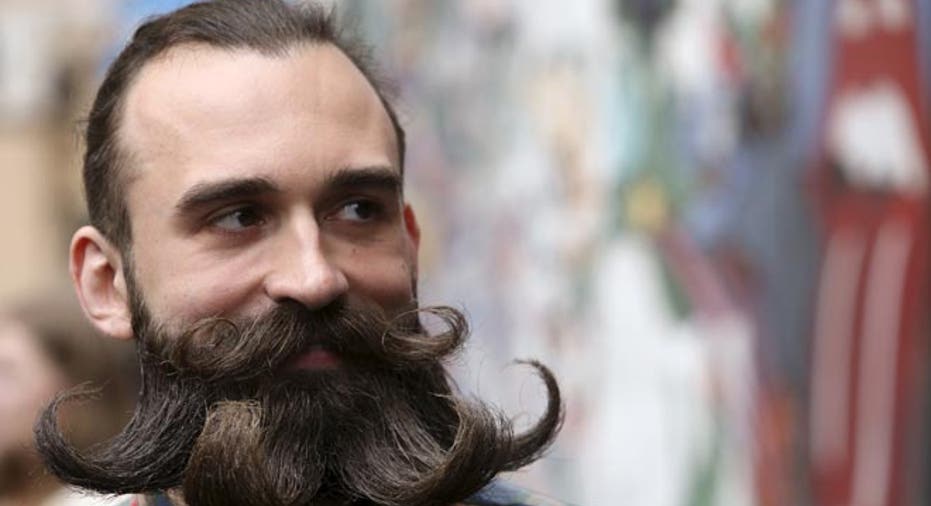 Don't believe the TV commercial that implies beards are out and the clean-shaven look is back. And what the bearded trend has taken away (razor and blade sales have slowed), its given back in new opportunities for entrepreneurs in the beard-care market.
According to Mintel, a global research firm, beards, once taboo, are welcome in the workplace, but they must be groomed. In a recent poll 39 percent of American men say they feel "pressured to keep their facial hair neat and tidy."
Enter those aforementioned entrepreneurial opportunities. The market for beard-care products has been primed by men embracing skin-care regimens in the last few years—sales of grooming products for men hit $3 billion in 2012—and is expected to more than double by 2017. IndependentRetailer.com reports men are spending more on "male-specific toiletries than on shaving products."
Mintel says beard-care products "form a bridge between hair-care and skin-care regimens. And because the category is so new, it's a perfect market for entrepreneurs to enter."
Iconic beauty brands, known primarily for selling cosmetics, like Tom Ford, are selling beard oils, which are supposed to "condition and nourish" the beard. The oils being used by Ford: jojoba, almond, grapeseed and vitamin E are easy to come by. Some brands have created regimens, so they can sell multiple products to men, instead of just one.
Several British companies offer three-step beard-care regimens, making upselling easier, by grouping shampoo, conditioner and oil products. Here in the U.S., Billy Jealousy, founded by two entrepreneurs in 2004, sells a wide array of male-grooming products, including beard oil, hair products, tattoo care kits, mustache wax and an award-winning shave cream to make sure they appeal to a broader demographic of men.
Accessories play a large part in anybody's grooming routine. Albuquerque musician turned entrepreneur Kyle Malone (who has a beard) was inspired by a Christmas gift and recently launched Big Wood Beard Combs. He told Albuquerque Business First that a lot of women buy the combs for their husbands and boyfriends, so if you start a beard-product company, make sure you market to a broader customer base than just the men themselves.
While men may protest they don't want to be bothered with a complex grooming routine (Mintel says 84 percent of men surveyed "want their grooming routines to be as simple as possible."), 24 percent spent more time taking care of their facial skin and "22 percent spent more time researching personal-care products."
Many attribute (or blame) the popularity of bearded men on the lumbersexual trend that cropped up last year (which is still being debated online).
And then there's Beard Beer, made in Oregon by Rogue Ales. I'm not sure you really want to know this, but Beard Beer is made from the typical malts and hops—and beard yeast. Yes, when searching for an innovative ingredient for a new beer, the company harvested yeast from the beard of its award-winning brewmaster John Maier. Drink up?