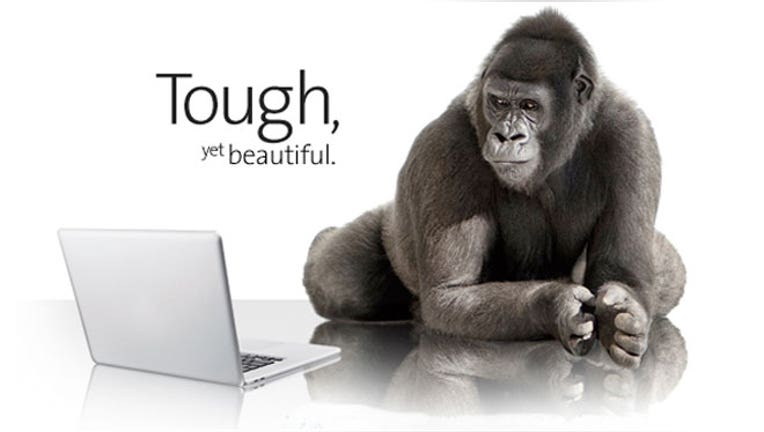 Corning, the maker of incredibly strong specialty glass for smartphones and tablets called Gorilla Glass, will introduce the next-generation of its scratch and damage-resistant glass at the 2012 International Consumer Electronics Show (CES) in Las Vegas. From Jan. 10 to Jan. 13, Corning will showcase Gorilla Glass 2 on a bevy of new devices, including TVs, home appliances and even touchscreen car interiors.
"Gorilla Glass has been a tremendous success for Corning, enjoying excellent market acceptance across mobile device industries," said James Steiner, senior VP and general manager at Corning Specialty Materials. "Handset and tablet device manufacturers are clearly driving toward higher functionality from thinner designs. Corning's latest invention in Gorilla Glass technology is very well positioned to meet these challenges and enable broader touch technology penetration."
Corning hopes to engage with CES attendees, including technology companies and hardware and software developers, to discuss the benefits of using Gorilla Glass on new tech innovations. Gorilla Glass 2 is said to have the same strength of the first iteration of Gorilla glass, but be significantly thinner to accommodate tablet and smartphone makers.
"As we did last year, we'll provide consumers and customers visiting the Corning booth the opportunity to test first-hand the outstanding damage resistance and flexibility of this industry-leading, ultra-thin, and tough specialty glass," Steiner said.
Gorilla Glass, which was also featured at CES 2011, is designed into more than 575 products and is working with more than 30 major brands to distribute its glass worldwide. Gorilla Glass is primarily featured on some of the world's most popular gadgets and consumer devices, including the Samsung Galaxy S II, the Motorola Droid and RAZR smartphones, and HTC's myTouch 4G. Apple's iPhone 4 and 4S also feature the same damage-resistant alumino silicate glass that Corning builds, but that glass is not "Gorilla Glass."
At CES 2012, Corning will explore a slew of new ways to use Gorilla Glass technology. Corning will showcase an 82-inch multi-touch LCD prototype to demonstrate how Gorilla Glass can be used in large formats but still maintain its integrity for being both touch-sensitive and durable. The centerpiece at Corning's CES 2012 booth will be a massive video wall completely covered in Gorilla Glass, accompanied by Gorilla Glass sound speakers.
The booth will be available for all three days at CES 2012, and Corning's CTO Dr. Peter Bocko will also speak at the "Beyond the Flat Screen" open panel discussion on Thursday, Jan. 12 at 1:30 p.m. PST. Bocko will talk about advances in viewing angles, screen resolution, power consumption and performance in sunlight settings.
In October, Corning announced a new glass product for LCD and OLED screens called Lotus Glass, which could offer a high-res display without being a power drain. Corning has not said if Lotus Glass, which is supposed to be a thinner glass solution like Gorilla Glass 2, will appear at CES 2012.
Corning has been making glass since 1851, producing innovations such as a toughened car windshield in 1968, but the company is also the world's leading manufacturer of optical fiber. Corning began manufacturing liquid crystal displays after the new millennium, and first introduced Gorilla Glass in 2008. The company claims Gorilla Glass is roughly 20 times stiffer and 30 times harder than plastic.