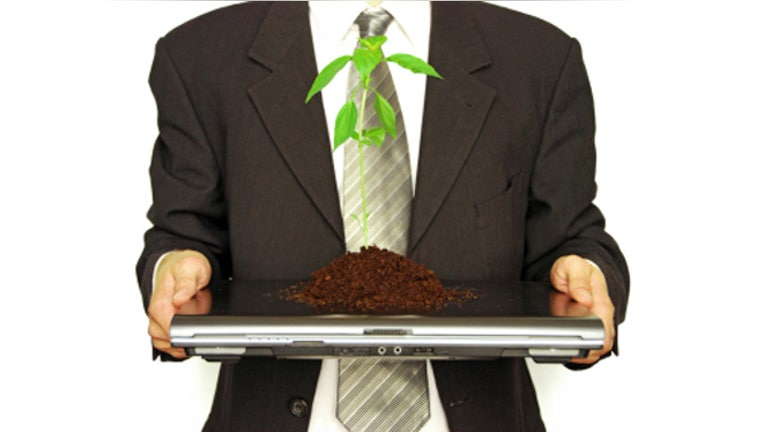 Welcome to OnSale at FOXBusiness, where we look at cool deals and insane bargains.
It's Earth Week, so OnSale has some environmentally-friendly and earth-oriented deals for you. Download this app and you'll do good for the earth and for your energy bill. A retail giant continues environmental initiatives and launches a new line in time for Earth Week. This label is all about Mother Earth and ship your e-waste to be recycled for free.
Timed Temp
Stay cool as the temperatures rise and still saving money with the second generation Nest Learning Thermostat. The newly-designed Thermostat is 20% slimmer than the previous model ,but has all the same features as the first model and it can save you up to 20% on your energy bill.
It connects to your WiFi network then programs itself in about a week's time after installation. You don't have to worry about turning down the AC before you leave home because Nest automatically detects when you're gone. A leaf pops up on the display to let you know when you're saving energy. And the Auto-Tune feature finds ways to decrease your energy uses then adjusts accordingly. You can track information about your energy use over time online.
There's also an app that helps you control your home's temperature when you're away, so you can switch on the AC so your home is cool before you get home. Get the Nest Learning Thermostat at Nest.com then download the app for Android or iPhone, iPod Touch and iPad.
Earth Conscious
This week is as good as any to check out the Conscious Collection from retailer H&M. The company is dedicated to sustainability, saving water in denim production, working with the World Wildlife Fund (WWF) and collecting used clothing in their stores for recycling.
Just last week it introduced its new Conscious Exclusive Collection, featuring recycled textiles and organic cotton and ranging in price from $10 to $300. Added bonus? The store is currently having its mid-season sale, so you can save while stocking up on green goods (and bringing your old ones in to be recycled)
Ladies shop the new collection here and check out the sustainable styles for men here.
Green Sleeves
San Francisco-based Amour Vert puts the planet first in its fashion pursuits. The company follows a "waste-free" philosophy, using only low-impact dyes on their organic and sustainable fabrics.
For every Amour Vert T-shirt sold, the company will plant a tree. If the garment has a gold rivet next to on the site, it's tree-worthy. Shop AmourVert.com.
Reduce eWaste
If your spring cleaning efforts have made it into your office space, remember you can always send your unwanted laptop, PC, monitor, television or other electronic waste to Toshiba. The company has a free mailback program for any Toshiba computer, monitor or original packaging.
Visit Toshiba.com/green for more information, including a list of drop-off locations.