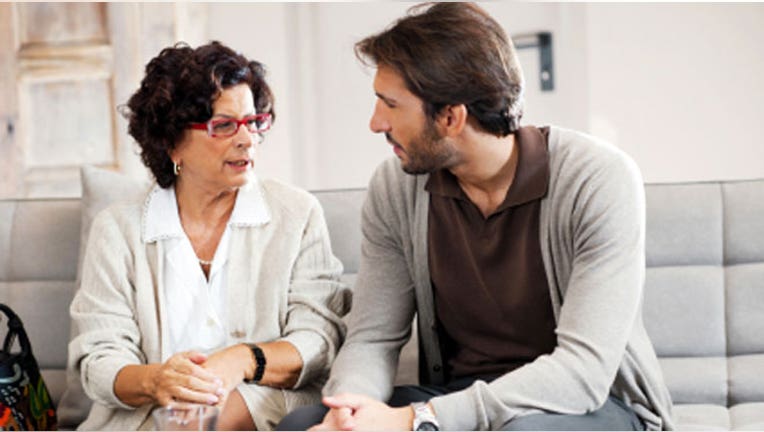 As if they didn't have enough on their plate worrying about funding their pending retirement, baby boomers are increasingly finding themselves sandwiched between generations and picking up the tab for their adult children and aging parents.
According to Ameriprise, 93% of boomers are financially supporting their children while 58% are supporting their parents, making it hard to pad a nest egg.
"The majority of people helping family members don't realize the impact on their ability to save," says Suzanna de Baca, vice president of wealth strategies at Ameriprise Financial.
While it can be hard to turn away family, boomers need to prioritize their retirement savings. "It's most important to plan for yourself and your retirement first before you plan for other people," says Sandy Vaughn, financial solutions advisor and assistant vice president at Merrill Edge. "You can't borrow for your retirement."
For boomers financially supporting the older and younger generations, experts offer the following tips to lessen the financial blow.
Budget
Before you provide financial support to your family, calculate the impact on your budget and retirement plans.
"If you find out that helping a parent or child will delay your retirement for 10 years, you may want to look at choices," says de Baca. Consider how much, who you're helping and the long-term repercussions before offering support.
Communicate
"It all starts with a conversation and communication," says Joseph Montanaro, certified financial planner at USAA. Talking to your kids may be easier than to your parents since that turns the tables on the traditional relationship. "It's the first step in making sure you're covering your bases on both ends of the spectrum."
No matter how uncomfortable these discussions may be, they are vital to establish needs and make sure decisions are right for everyone, says de Baca.
Encourage Your Child's Independence
Adult children might be forced to move back home because of a divorce, job loss or financial difficulties, and how to best support them will vary. 
De Baca cautions against providing help for too long to avoid enabling a child. Set timelines for your child to get back on his or her feet to avoid compromising your own retirement. "If your child is able bodied and employable, continue to encourage that kid to go find a job."
Make a contract with your child before supply any monetary support, recommends Ted Sarenski, certified public accountant financial planner and CEO of Blue Ocean Strategic Capital. "They need to do what they need to do to become financially independent and move out." Entering into a rental agreement may encourage your child to be independent and help with household expenses.
"Parents have to learn to say 'no' and to teach their children to be independent. They have to be okay watching their children struggle," says Sarenski.
Encourage your child to move away if there aren't any job opportunities where you live or discuss education opportunities that could help spur job opportunities, suggests Montanaro.
Manage Your Parents' Finances
Before providing money to parents, you need to have a clear picture of their financial situation. "Understand what your parents have—income, assets and liabilities," says Montanaro. That basic snapshot will identify any spending or income red flags.
Depending on your parents' age, it may be difficult for them to find a new source of income, says de Baca. You may have to pay their fixed expenses, like housing, food or utilities, and make sure their basic needs are met.
How to Help Your Parents:
Consider a reverse mortgage. This may make sense if your parents have equity in their home but no other resources, says Montanaro. On the flip side, it might make more financial sense for parents to sell their home.
If your parents don't want to move, a reverse mortgage can help them stay independent, says Sarenski. Keep in mind that reverse mortgages don't account for inflation in the long term. "If someone's in their late 70s or early 80s, they'll get a much bigger payment. They won't live long enough where inflation becomes a problem."
Collect government benefits. Montanaro suggests making sure your parents are collecting all the government benefits they're entitled to, like those offered by the Department of Veterans Affairs and Social Security benefits.
If your parent needs custodial care, understand how Medicare and Medicaid work, especially if you can't afford to pay for their medical expenses, he adds. "You've the Medicaid safety net but if you get to that point, you've exhausted resources and given up choice in type and place of care."
Have your parents' paperwork in order. "Make sure there's a decision-making framework in place for powers of attorney and a living will," says Montanaro. If something unfortunate happens to your parents, you won't have to figure out who has the authority in the middle of a crisis.
Move parents in. "One of the main things that puts strain is everyone has to live separately in their own homes," says Sarenski. Living together can be a way to pool resources and save money. An "in-law apartment" can be a great way for your parents to have separate space while living with you.
"If someone moves in, look at the math to see how much you save doing that," says de Baca. There's an emotional and financial concern and this may be a temporary situation if a child moves back home. "Sometimes a child needs time to get on their feet," says de Baca.