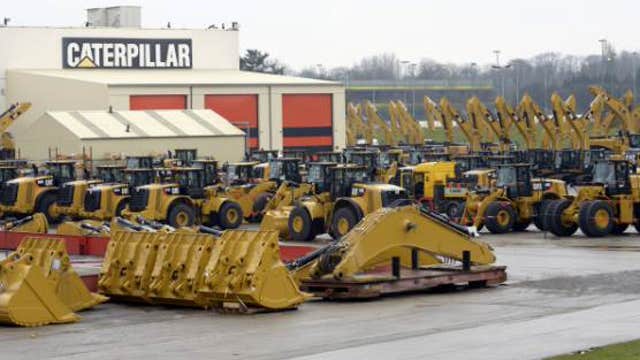 Slammed by tumbling mining demand in Asia-Pacific, Caterpillar (NYSE:CAT) disclosed a far deeper-than-expected 44% plunge in third-quarter profits on Wednesday and took an axe to its full-year guidance amid soft order rates.
Shares of the mining and construction equipment maker dropped 5% in premarket trading in response to the gloomy news, weighing on broader market sentiment as well.
Caterpillar said it earned $946 million, or $1.45 a share, last quarter, compared with a profit of $1.7 billion, or $2.54 a share, a year earlier. Analysts had called for far more robust EPS of $1.66.
Revenue slumped 18% to $13.42 billion, widely trailing the Street's view of $14.35 billion. Resource industries, which is primarily mining, suffered a 42% dive in revenue to $3 billion, highlighted by a 63% plunge in the Asia-Pacific region.
The world's largest seller of bulldozers and excavators further spooked Wall Street by axing its 2013 EPS guidance to about $5.50, which is well below its previous target of $6.50 and consensus calls from analysts for $6.21.
Full-year revenue is seen coming in at about $55 billion, compared with the Street's view of $56.50 billion. That represents a 17% slump from 2012, highlighted by a projected 75% plunge for resource industries.
"Unfortunately, order rates have not picked up much despite continuing strong commodity production.  That has caused us to ratchet down our sales and revenues outlook as we have moved through 2013," Caterpillar CEO Doug Oberhelman said in a statement.
Despite the concerns spelled out by Caterpillar, the company maintained its guidance for 2014 sales to be flat against 2013, plus or minus 5%.
To combat the slumping mining market, Caterpillar announced it would cut costs further, though it declined to specify by how much and where.
"We can't change the economy or industry demand, but we've taken many actions to align our costs with the environment we're in currently.  While we've done much already, we're not finished and expect to take deeper actions to improve our cost structure and balance sheet," Oberhelman said.
Shares of Peoria, Ill.-based Caterpillar slid 5.07% to $84.65 ahead of Wednesday's opening bell. The company had already been underperforming the broader markets this year, with its stock off 0.49% through Tuesday's close, compared with a 23% gain for the S&P 500.