Catching Up? T-Mobile Scores 1.1M New Customers in 2Q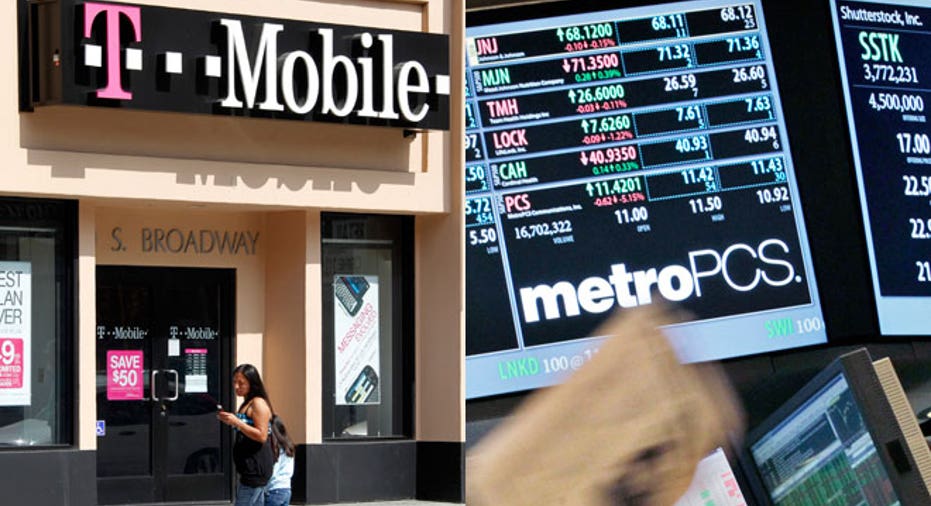 In its first full quarter since acquiring MetroPCS, No. 4 U.S. wireless provider T-Mobile US (NYSE:TMUS) disclosed progress in its battle to catch market leaders by adding 1.1 million net subscribers.
Wall Street cheered T-Mobile's quarterly results Thursday, bidding its shares more than 5% higher in premarket trading.
The significant customer growth represents the company's first serious expansion in more than four years,l and comes as it steps up efforts to close the gap with AT&T (NYSE:T), Sprint (NYSE:S) and Verizon Wireless, which is co-owned by Vodafone (NYSE:VOD) and Verizon Communications (NYSE:VZ).
T-Mobile benefited from launching Apple's (NASDAQ:AAPL) iPhone in April as well as recent investments in its new high-speed network.
The wireless provider said its combined adjusted earnings before interest, tax, depreciation and amortization, or EBITDA, slumped 30% to $1.3 billion.
Revenue soared 27.5% thanks to the inclusion of MetroPCS results and higher equipment revenue due to record smartphone sales. Service revenue grew 8.6%.
T-Mobile reported adding 688,000 contract customers in the second quarter, blowing past expectations for growth of just 140,000 in a Reuters poll of four analysts. The company said it led the U.S. wireless industry with 685,000 branded postpaid phone net additions.
The wireless provider said it ended the quarter with 44 million customers, up by 10 million from the end of the first quarter. Of that growth, about 8.9 million customers were acquired over in the MetroPCS deal, while another 1.1 million represented net additions.
After closing the MetroPCS deal in early May, T-Mobile said it has made "rapid progress" integrating the discount wireless brand. Last month, T-Mobile unveiled plans to expand MetroPCS by launching into 15 new markets.
Looking ahead, T-Mobile projected full-year adjusted EBITDA of $5.2 billion to $5.4 billion, including MetroPCS results.
Shares of T-Mobile responded positively to the news, jumping 5.37% to $25.30 ahead of Thursday's opening bell.
The early gains should allow T-Mobile to extend its 20.8% rally so far this year, which exceeds the S&P 500's 18.6% jump and AT&T's 5.5% rise.
Earlier this summer T-Mobile scooped up wireless spectrum in the Mississippi Valley from U.S. Cellular (NYSE:USM) for $308 million in cash.