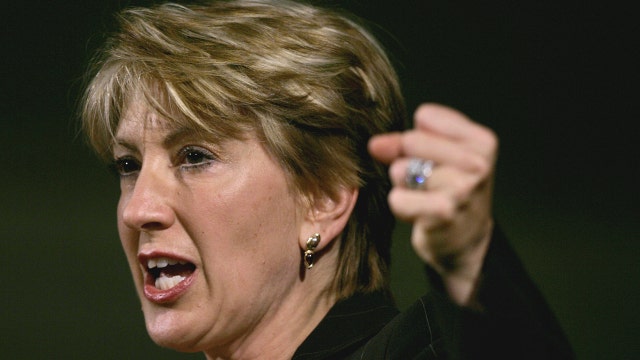 Carly Fiorina is facing a media blitz from critics, attacking her defense of her record at Hewlett-Packard (NYSE:HPQ) at the latest GOP debates.
The track record is more nuanced than the critics let on. Fiorina came to HP during a ferocious market downturn, when the company was led by a fractious board riven by infighting. None of the presidential candidates can lay claim to what Fiorina had to contend with in the business world.
During the tech boom of the late nineties, Hewlett-Packard (HPQ) was bumbling along with stagnating, single-digit revenue growth, run by a notoriously dysfunctional board. Facing the juggernaut that is IBM (NYSE:IBM), and stiff competition from Unisys (NYSE:UIS) and Sun Microsystems, in 1999 HP's board hired the former president of Lucent as a "change agent." The strategy: Turn Hewlett-Packard into a one-stop shop for all of a company's computing needs.
HP then considered buying PricewaterhouseCoopers' consulting business in 2000, but balked at the nearly $18 billion price tag. Fiorina then got HP to set its sights on buying Compaq, which it did in May 2002 after a brutal proxy fight, but with unanimous board approval, as well as shareholder support.
HP bought Compaq in a $24 billion stock swap, issuing more than a billion shares to complete the deal, blowing out its shares outstanding by a third, to 2.9 billion. That would later dilute its earnings per share results, frowned on by Wall Street, which subsequently hammered the stock due to its choppy earnings per share performance.
Both HP and Compaq were contending with failing computer units, and critics railed the merger would unite two losers. Still, there was hope that the merger would create a printer, computer and server giant that could take on the big blue gorilla, IBM, since the merger's combined $78.8 billion in revenues would approach the largest computer company at that time. IBM had clocked sales of $85.9 billion in 2001. HP saw an opening here, as IBM's storied CEO, Lou Gerstner, was stepping down from his chairman role at this time.
HP executives were also optimistic that HP's printer business could pull it through, it was then the crown jewel, commanding 45% of the U.S. printer market, according to market researcher IDC. In a letter e-mailed to HP's staffers, Fiorina wrote: "And, for the first time in a very long time, IBM will have a competitor that's strong enough, bold enough, and talented enough to take them head-on in the enterprise space."
HP then announced in May of 2003 that it had inked more than 200 managed services contracts, including a $3 billion outsourcing deal to oversee Procter & Gamble's (NYSE:PG) computer infrastructure. By July of 2003, HP's share of the printer market rose to 54%, IDC data show, and it made gains in Europe and Asia, as Dell and Lexmark (NYSE:LXK) began adding new printer models.
However, the merger occurred in the midst of the bursting of the dotcom and tech bubble, when numerous companies collapsed. In one month, from March to April, the combined dollar value of the NASDAQ's listed stocks plunged to $5.8 trillion from $6.7 trillion, a loss of nearly $1 trillion. By the middle of 2002, the NASDAQ would lose about 78% of its value, dramatically dropping from 5049 to 1114.
The corporate accounting scandals of that era began in the nineties, uncovered first at companies like Lernout & Hauspie, Waste Management (NYSE:WM), Cendant, Sunbeam, and later WorldCom, Enron, and Adelphia Communications. Arthur Andersen, auditors for Enron, collapsed after it was federally indicted.
Sears Holdings' (NASDAQ:SHLD) Kmart hit a wall at this time and filed for Chapter 11 bankruptcy. Pets.com failed. So did Gateway and Sun Microsystems (Acer bought Gateway for $710 million in 2007, and Oracle (NYSE:ORCL) purchased Sun Microsystems for $7.4 billion in 2010).
The Fiorina campaign now says Carly "doubled revenues to more than $80 billion." The net sales result as of 2005, the year Fiorina left HP, amounted to $86.7 billion. That was largely helped along by the Compaq merger, which initially brought $33.6 billion in sales to the table, adding to HP's $45.2 billion as of fiscal 2001. After the Compaq acquisition, HP let go an estimated 30,000 workers, layoffs common in mergers.
But HP shareholders overpaid. It later wrote off a majority of the $24 billion purchase price, $14.5 billion of the goodwill assets it booked for the deal. That's a clear sign HP was buying intangible ephemera, for things like Compaq's brand reputation. HP then repeatedly missed its earnings per share targets on Wall Street, just as it was doing in the late nineties, as its EPS result was dragged down by the heavy stock issuance for the merger.
HP shares were largely dead money for ten years, dropping below what its share price trended at in 1999, when Fiorina joined the company and before the merger. Shares in Dell, Lexmark, and IBM also struggled. The board ousted Fiorina in 2005. HP's "stock lost about 62% during this period, far steeper than the negative 25% slide in the Nasdaq Composite," senior editor Charles Brady said.
What were HP's bottom-line results? Rocky. In fiscal 1999, HP's profits were $3.5 billion. They rose to $3.7 billion in 2000, plunged to $408 million in 2001, climbed to $3.5 billion by 2004, but then dipped again to $2.4 billion in 2005.
That $2.4 billion profit was still a fraction of its $86.7 billion in revenues, as the bottom line was consistently stung by restructuring charges from the merger—the majority of the profits driven by HP's printer business.
That $2.4 billion in profits also came to just 6% of its $37.2 billion in stockholders' equity (total assets minus liabilities), not a good sign for a thriving computer and printer business. The workforce, though, grew to an estimated 150,000, and the Fiorina campaign says Carly saved 80,000 jobs.
Fiorina's strategy, though, was continued by HP CEO Mark Hurd, who stayed on the integration and cost-cutting path Fiorina had launched, which drove sales and the bottom line higher, to $91.7 billion and $6.2 billion, respectively (HP's board later ousted Hurd after a sexual harassment claim, for which he was exonerated. The board then said it found expense account padding).
Tom Perkins, founder of the venture capital firm Kleiner Perkins Caufield & Byers, was an HP board member at that time. He wrote in a recent New York Times editorial: "Some board members wanted to micro-manage the company, hand picking friends and allies to run divisions. This is no way to run a global company and Carly had the strength of character and courage of conviction to stand up to it and ultimately she lost her job because of it."
Patricia Dunn, an HP board member who was chairman of HP from 2005 to 2006, was quoted at that time: "Carly was brought in to catalyze a transformation of HP. She did that in a remarkable fashion." After Fiorina left, seven of the 10 top executives at HP who succeeded her only lasted about a year.
Today, HP is a company valued at $46.1 billion, still making lots of money selling personal computers, printers and servers, among other things. It ranks 19th on the Fortune 500 list—the same ranking it had in 1999, though it slipped to 28th in 2002.
However, HP has been struggling to digest its acquisition of Electronic Data Systems. It now plans to split into two companies, one company for printers and computers, the other for high-tech products. The company is also expected to lay off another 33,300 workers on top of 55,000 layoffs announced earlier this year, in a workforce estimated at 320,000.