Carl Icahn Urges Fed to Raise Rates, Keeps Touting Trump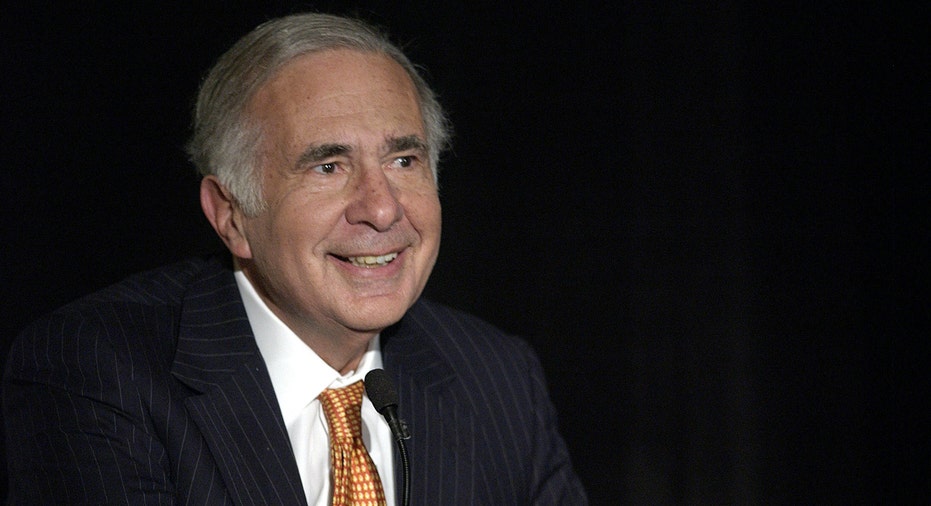 Billionaire investor Carl Icahn is urging the Federal Reserve to throw caution to the wind and raise interest rates on Thursday.
"We are building a huge asset bubble by keeping interest rates down here. So I think they have to," he told FOX Business.  "You can't keep interest rates at this level and have a balance sheet of four trillion. But I do think the Fed did a great job in '08 in saving the country so I'm not really saying I'm against the Fed but I think now they've gone too far the other way, by far."
The U.S. central bank was widely expected to hike rates for the first time in nine years at its September meeting. However, recent current events in the global-market landscape -- including worries over growth in China's economy, and surprise devaluation of the nations' currency -- have forced many Wall Street heavyweights to push back rate-hike forecasts until later this year or into 2016.
2016 Race for the White House
Ahead of Wednesday's second GOP debate, Icahn said he believes presidential candidate and front runner Donald Trump has "hit a very important nerve" for American voters.
"I think a lot of what [Trump] says has to be done in this country or we're going have real problems. We may have them anyway," Icahn said.
Although the billionaire investor does not agree with Trump on every issue, he said he wanted to see "someone out of the bureaucracy of politics" win the Republican nomination.
"The argument that he's not a politician works in his favor, not against his favor," Icahn said.
The activist investor also reiterated that he does not want to serve as Trump's potential treasury secretary, a position that Trump offered to him on television. Instead, Icahn said he plans to give a "whole presentation" about what he thinks about what needs to be done, to whomever wins the GOP nomination. Corporate inversions -- a tax strategy in which a company would re-incorporate itself abroad -- is among the issues he would cover in his presentation.
Icahn's change of heart about serving in a Trump administration come on the heels of a tweet he sent following the first Republican debate on Fox News Channel. In the message, he told Trump he would accept the offer to serve as his treasury secretary should Trump with the nomination, and then the election.
Ichan in on the Ride-Sharing Revolution
Icahn's comments came as he attended an event announcing a new partnership between ride-sharing service Lyft and Didi Kuaidi, the dominant ride hailing app in China. Icahn is an investor in Lyft.
The partnership between Lyft, Uber's smaller American rival, and Didi, Uber's arch rival in China, also featured a $100 million investment by Didi in Lyft. It was part of a fundraising round that was led by Rakuten earlier this year. Icahn, Alibaba (NYSE:BABA) and Tencent also participated.
Jean Liu, president of Didi Kuaidi, called the deal "a brand-new era for the global ride-sharing industry."
Didi and Lyft will share technology that allows users on the Lyft app to seamlessly access rides on the Didi app in China without leaving Lyft, and vice versa while Didi users are in the United States. Nearly 5.7 million U.S. residents traveled to China last year, according to the International Trade Administration. More than 2 million people traveled from China to the U.S. Didi is currently valued at $16 billion.
"We believe this is the first global joint force to tackle the challenges in the transportation industry," Liu said at the press conference. Neither company would disclose the terms of the deal. "We intend to work together for a long time," Lyft president John Zimmer told an audience of investors and journalists.
This move comes as Uber is spending aggressively to gain more traction in China. Beiing-based Didi currently eclipses Uber in China, controlling 80% of the ride hailing market. Didi is in 360 Chinese cities and says it provides three million rides per day.
Liu displayed confidence in the Chinese economy, despite the slowdown in economic growth. "More than 800 million people live in urban areas of China and less than 20% have cars," she said.