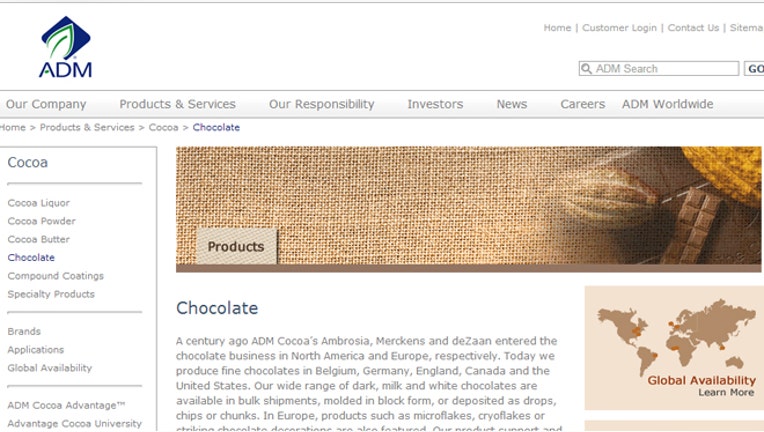 Commodity merchant Cargill Inc said on Tuesday it was buying Archer Daniels Midland Co's global chocolate business for $440 million in a move to expand its production capacity in North America.
The deal includes three North American chocolate plants and three in Europe and is the biggest yet in Cargill's effort over the past year to increase its chocolate making footprint.
Late last year, Cargill announced plans to double capacity at its biggest European chocolate facility in Belgium to meet growing demand in Europe.
The deal is a "major milestone in Cargill's chocolate growth strategy," said Bryan Wurscher, president of Cargill Cocoa and Chocolate North America.
It comes as the cost of cocoa, a key ingredient in chocolate, has jumped more than a third in the past year, hitting a three-year high of $3,272 per tonne on ICE Futures last week. U.S. dairy prices have also soared.
For ADM, the sale marks a refocus on a business that makes cocoa butter and powder used in chocolate that has been one of the industry's largest for almost two decades, competing with Barry Callebaut, Cargill and other big cocoa traders Olam International Ltd and Ecom Agroindustrial Corp.
The sale of the chocolate business will allow ADM to "redeploy capital for higher-return investments," ADM Chief Executive Patricia Woertz said.
ADM's stock rose 1 percent to $50.37.
The deal comes just over four months after ADM said it was ditching plans to sell its cocoa and chocolate business after long-running negotiations collapsed.
Cargill had been in final-stage talks to buy the combined operation, sources told Reuters last year.
Combining ADM and Cargill's cocoa operations would have created a company big enough to compete with Barry Callebaut, the world's largest maker of industrial chocolate products, and would have raised regulatory concerns, particularly in Europe, market participants had said.
Along with dealing in chocolate, ADM and Cargill are two of the world's top grain traders.
"You're just tossing it from one big boy to another," Jack Scoville, vice president of Price Futures Group in Chicago, said about the sale of ADM's chocolate business.
About 700 employees are set to transfer to Cargill from ADM as part of the transaction, which is expected to close in the first half of next year, according to the companies.
ADM will end cocoa processing operations at a plant in Hazleton, Pennsylvania, resulting in the elimination of about 90 jobs, the company said.