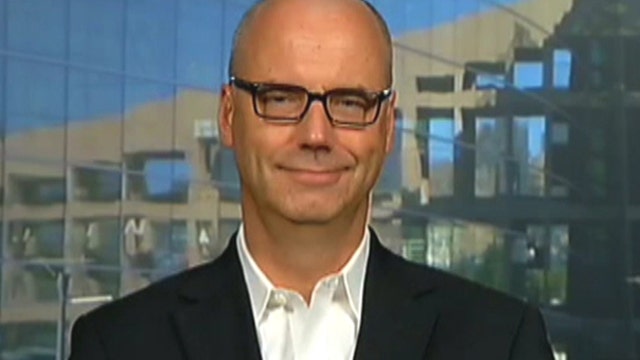 As chief executive of Ancestry.com, Tim Sullivan has learned a lot after nearly ten years with the family history firm, but it wasn't always a career destination for him. It wasn't until 2005 he realized the keys to his career success were deeply rooted in family history.
An Animated Career
An early career man, Sullivan went to work for the Washington Redskins at 14-years old where he would spend two summers at training camp handing out towels to the team's players.
It was an early start that taught him a lot about working with others and the importance of a good work ethic. But before he took his newfound workingman skills to the big leagues, he had to finish up high school before heading to the University of North Carolina where he graduated with a degree in political science in 1985. Six years later he completed his Master's degree at Harvard.
After starting a video production company right out of school as a stop gap to wait for his then-girlfriend to graduate and become his wife, Sullivan transitioned to Walt Disney (NYSE:DIS) where he worked as a senior financial analyst. His time with the entertainment giant taught him skills he'd need later on in his career at Ancestry.
Shortly after joining Disney, Sullivan helped launch an office in Asia before being promoted to managing director for the region. But it was right before the Asian economy turned suddenly south and video piracy skyrocketed.
Sullivan said that experience so early in his career taught him how to deal with trying circumstances.
"One, be very careful about making investments and hiring people because you really don't want to ever have to unwind those investments," he said. "It's much easier to move a little more slowly and be a little more conservative. The other thing is, I think, being a little more cautious about optimistic forecasts and really trying to under-promise and over-deliver whenever possible."
It's a skill he transitioned to the online dating world of Match.com, which he led for three years before moving to Ancestry in 2005. At that time, the idea of searching for family history online was really beginning to take off as the debris from the dotcom boom and bust settled.
Sullivan decided with investors to take the popular website public in 2009 to allow its users to feel more connection with the company, but he faced a challenge in the Great Recession.
Yet because Ancestry wasn't a business that tended to track with the economy, the recession wasn't the biggest problem they faced at the time.
"The bigger questions I think we dealt with going public were trying to convey to our people a sense of how large the market opportunity was. And at time that was difficult to communicate to young 20-something portfolio managers or analysts -- why a family history would attract millions of people."
Facing those challenges, the timing proved to be off just enough to put Sullivan in a unique position: a CEO who led the company through the challenges of going public, and then taking it private just three years later. Ancestry ended up selling to European private equity firm Permira for $1.6 billion as the Great Recession took its toll on investors.
But, as he did with every curveball his career threw at him, Sullivan rolled with the punches, and took away lessons instead of standing by and letting the events of the times take over his career.
"It's always been about developing a vision of where you want to take the business: Getting the right people in place to execute on that vision and deliver results. And always focusing on the subscribers and our mission to help everyone discover, preserve, and share their family history," he said.
Equipped with a diversified career portfolio and a record of overcoming challenges, Sullivan said his best advice to a younger generation of business-minded people in a sometimes unpredictable job market is just keep pushing.
"I think there's a simple measure and that is do you enjoy what you're doing and do you enjoy it enough to work hard at what you're doing. I've been fortunate to have a number of incredibly exciting positions with wonderful, consumer-facing businesses, but I think it's what I've gravitated to."
In the end, he said what it really comes down to is working hard, and letting the rest take care of itself.