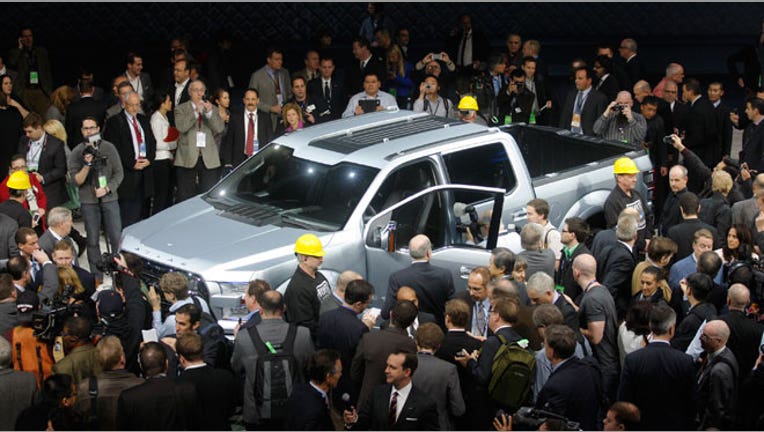 Car makers at the North American International Auto Show in Detroit are rolling out the red carpet for their newest models, right on the heels of some positive sales figures for the industry in 2012.
Companies like General Motors (NYSE:GM), Ford (NYSE:F), Toyota (NYSE:TM) and Volkswagen descended on Detroit this week to unveil a slew of new vehicles and concept cars that continued to indicate a trend toward lighter and more fuel-efficient automobiles.
Just this week, GM said its sales rose 2.9% with 9.2 million vehicles sold in 2012. Volkswagen also saw an increase in sales, reporting group deliveries of 9.07 million cars to top 2011 by 11%. Meanwhile, Toyota is poised to sit atop the industry with sales estimates of 9.7 million vehicles.
GM revived the Stingray when it introduced the next generation of the Chevrolet Corvette that is set to hit roads next January. The 2014 Corvette Stingray's base model will have 450 horsepower and a V-8 engine with 6.2-liters of displacement. It goes from zero to 60 mph in less than four seconds.
"The car we think is so dramatic, so special from a design standpoint, but also technology and performance," Mark Reuss, president of GM North America, told FBN's Jeff Flock. "This was a big deal inside the company, and we rallied around it."
Also from GM, a plug-in hybrid Cadillac was on display. The 2014 Cadillac ELR uses the same technology as the Chevrolet Volt and, as a luxury car, is expected to be priced higher than the $40,000 Volt. Production of the ELR will begin later this year.
Ford has begun a $1 billion effort to reinvigorate its Lincoln line, preparing its first Super Bowl commercial and rolling out redesigned models. Lincoln customers average 65 years old, and the Lincoln MKC is a smaller sport-utility vehicle that Ford hopes will attract younger buyers. The MKC is on pace to make it to market next year.
One of the top-selling cars in recent years, the F-150 pickup truck, is also in line for an upgrade. Show goers got an up-close look at Ford's Atlas concept, which is expected to be the F-150 by 2015. When the truck goes into production, it will feature the company's direct-injection, turbocharged EcoBoost engine and an extensive use of aluminum. Ford announced in July that its F-150 would be overhauled to shave pounds off the truck, putting the focus on fuel economy.
In an interview with FBN's Liz Claman, Ford president and CEO Alan Mulally said the truck's Internet connectivity and fuel efficiency are features that will help fuel sales.
"I think it will be a while before we get there," Mulally said when asked about F-series trucks returning to sales that near the 2.5 million trucks sold in 2005. Ford sold 645,000 F-series trucks last year.
Meanwhile, the Dearborn, Mich.-based company is bringing the style of the Shelby Mustang to a new 2013 Shelby Focus ST, which follows the release last summer of Ford's high-performance 2013 Focus ST. Ford also displayed the 2013 Shelby Ford Mustang GT 500 Super Snake, a wide-body version of the classic muscle car.
Volkswagen showed off a concept SUV that is designed to challenge SUV models, such as Ford's Explorer and Chrysler Group's Jeep Grand Cherokee, in the U.S. market. Europe's largest car maker expects the SUV, called the Crossblue, will help the company increase its market share.
Chrysler took the covers off a reboot of its Jeep Grand Cherokee. Jeep president Mike Manley told   FBN's Jeff Flock that the car's diesel engine will allow the Grand Cherokee to achieve 30 miles per gallon. Manley also said Jeep struck a deal to build cars in China.
Toyota introduced its Furia concept, a new design for the compact Corolla sedan. The company is banking on a sportier design to bring younger buyers to the Corolla.
"It's a styling execution of the next generation of Corolla," Toyota USA CEO Jim Lentz told Flock. "It's known for quality, dependability, reliability and value, but not necessarily for design. This car changes all of that."