Car Makers Keep Momentum as Demand Stays Strong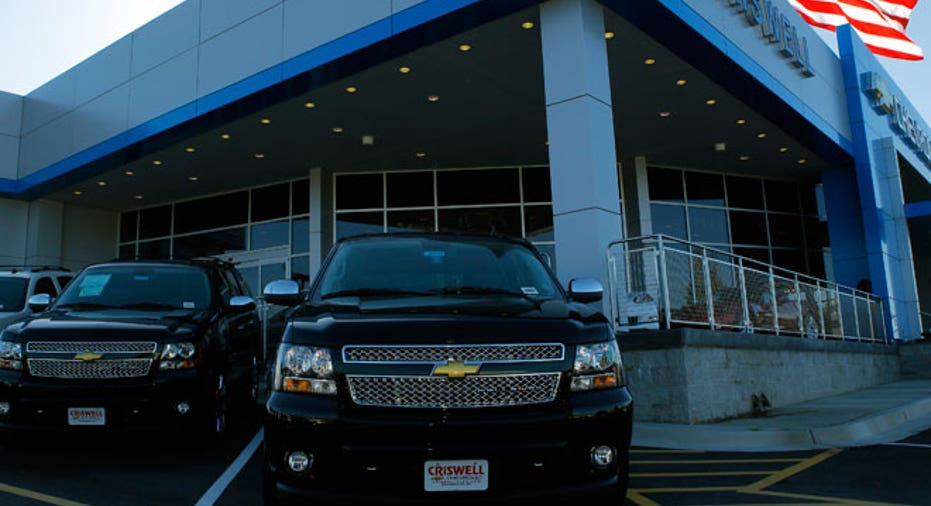 Automakers continued to see strong U.S. demand for pickup trucks and other vehicles last month, with General Motors (NYSE:GM) leading the pack in total new-vehicle sales.
Car website Edmunds expects overall U.S. sales for June to rise 6.3% year-over-year but fall 5.3% compared to May sales.
Meanwhile, Kelley Blue Book said transaction prices remained on an upward trend last month. The estimated average transaction price for light vehicles in the U.S. was $31,663, up nearly 1% from May and up 1.2% over the year-ago period.
"Consumer confidence continues to be a strong factor, along with pent-up demand and for now, low interest rates, bringing shoppers into the showroom to purchase a new vehicle," said Alec Gutierrez, a senior market analyst at Kelley Blue Book.
For GM, sales topped projections by climbing 6.5% compare to last year, as Cadillac posted another month of rising sales to outpace other brands. Edmunds projected sales to rise just 1.3%.
"We have good momentum heading into the second half of 2013: the economic outlook is solid and our launch vehicles are performing well in the marketplace," Kurt McNeil, vice president of GM's U.S. sales operations, said in a statement.
GM sold a total of 264,843 vehicles in June, the company's highest monthly sales since September 2008. Sales also rose 4.7% compared to the 252,894 vehicles sold in May.
Cadillac's luxury vehicles continued to attract more drivers, with sales rising 15% year-over-year. Chevrolet posted 7.4% growth, and GMC sales rose 4.5%. Buick was the lone GM brand to post a decline, falling 4.1%.
The results were also fueled by continued demand for large pickup sales. Sales of the Chevrolet Silverado and GMC Sierra increased 29% and 33%, respectively. Both trucks are in the middle of a refresh this summer. GM said dealers delivered more than 6,000 2014 crew cab models in June.
The company's deliveries to retail customers offset weaker fleet sales, which dropped 9% due to the timing of deliveries. Retail deliveries were up 14%.
Inventory at GM dealers in the U.S. edged 0.1% lower from the prior month.
June had 26 selling days this year, one less than last year.
In May, GM said its first-quarter profit slipped 11% amid weaker North American demand and continued losses overseas.
GM shares were trading six cents higher at $34.06 in late afternoon trading Tuesday.
U.S. rival Ford (NYSE:F), which has expanded its vehicle portfolio with refreshed F-series pickup trucks, posted a 13% increase in sales for June on strong consumer demand for small cars. Edmunds was looking for sales to rise 12%.
Shares rose 2.6% to $16.15 on the news.
The automaker sold 235,643 vehicles in the U.S., up from 207,759 a year ago and 4.4% below May's total of 246,585.
Truck sales were up 20%, while car sales rose 12% and sport utility vehicles saw 7.5% growth.
Small cars had a particularly good month, as sales of the Fiesta, Focus, C-MAX and other small cars soared 39%. That reflects Ford's best small-car performance for June in 13 years.
Ford's namesake brand had sales growth of 14%, while Lincoln sales were down 1%.
Amid an effort to cut back on incentives, Ford reported in April a first-quarter profit that rose 15% on record performance in North America. Ford also saw lagging demand in other regions.
Chrysler Group led off Tuesday's slate of auto sales reports with 8.2% growth in June, as the U.S. automaker continues to ride a wave of demand for pickup trucks and Dodge vehicles.
Edmunds projected stronger performance for Chrysler, anticipating growth of 10% compared to the year-ago month.
Chrysler said Tuesday morning that it sold 156,686 vehicles, up from 144,811 a year ago but 5.9% below May's total of 166,596.
Car sales were up 11% over last year, while trucks recorded growth of 7.2%.
Sales at the company's Ram Truck brand rose 23%, leading all other Chrysler brands. Dodge sales climbed 12%, and Jeep trailed the pack with a slight 0.2% gain.
The Jeep Wrangler, Jeep Compass, and Jeep Patriot SUVs each posted record June sales, while the Chrysler 200 mid-size sedan, Dodge Dart compact sedan and Dodge Challenger also recorded their best sales for the month.
Dodge's Durango full-size SUV saw sales jump 39%, the best performance by any Chrysler vehicle.
"Last month Chrysler Group set seven individual vehicle line sales records and achieved our 39th-consecutive month of year-over-year sales growth," Reid Bigland, Chrysler's head of U.S. sales. "The fundamentals for continued industry gains in new vehicle sales remain intact."
In April, Chrysler reported a first-quarter profit that fell 65% on higher costs related to the pending launch of the 2014 Jeep Cherokee and other new models.
Toyota's (NYSE:TM) preliminary sales report shows a 9.8% increase last month, beating an estimate from Edmunds for 7% growth.
Sales totaled 195,235 vehicles, down 6.1% from May.
"The auto industry led the economic recovery through the first half of 2013, kicking off a strong summer selling season, which we expect will carry into the second half of the year," Bill Fay, Toyota Division group vice president and general manager, said in a statement.
Toyota tripled its net profit in the last fiscal year, thanks to better U.S. sales. It expects to record 42% growth this year, continuing its rebound from a massive recall and natural disasters in 2011 that crippled production.
Fellow Japanese automaker Honda (NYSE:HMC) also posted strong sales, reported 9.7% growth to narrowly beat estimates.
Toyota shares were up less than 1% at $124.10, while Honda rose 29 cents to $37.83.