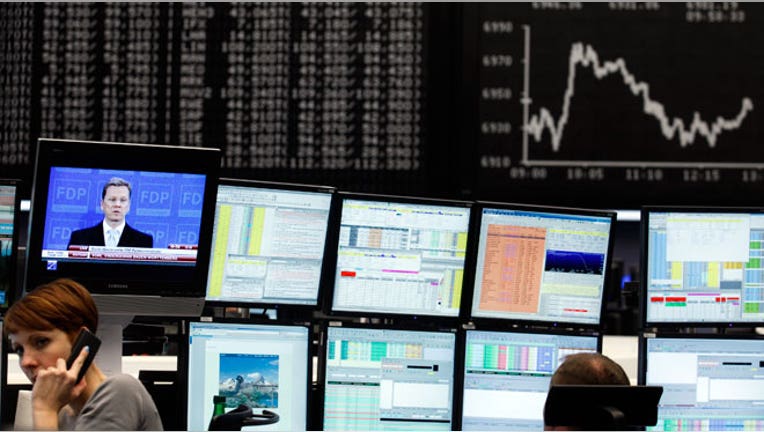 Car makers helped lift European stock markets on Tuesday after upbeat data on the auto industry, with investors largely shrugging off weaker-than-expected German investor confidence data.
The Stoxx Europe 600 index rose 0.3% to 346.41, after losing 0.5% in the prior session amid escalating violence in Iraq from Sunni militants. Read: Obama to deploy 275 combat-ready troops to Iraq
Car makers posted some of the biggest gains in the index after data showed the European auto industry continued to recover in May for a ninth straight month, although car registrations grew at the slowest pace in six months. In Paris, Renault SA --whose group sales jumped 19% last month--put on 1.1%, while Peugeot SA advanced 1.2%.
And in Frankfurt, shares of Daimler AG gained 0.8% and Volkswagen AG climbed 0.6%.
German investor-confidence data, however, weren't as upbeat. The ZEW economic sentiment indicator dropped to 29.8 points in June from 33.1 points in May, marking a sixth straight month of declines. Consensus was for a 35 reading.
The assessment of the current economic situation in Germany was more optimistic, rising by 5.6 points to 67.7 points.
Germany's DAX 30 index traded 0.5% higher at 9,930.45, buoyed by the bench mark's car makers. Siemens AG (SIEGY) also rose, up 0.6% after the industrial conglomerate just before the close on Monday said it had officially bid to buy the gas turbine business of French rival Alstom SA . The bid from Siemens and partner Mitsubishi Heavy |Industries Ltd. values Alstom at EUR14.2 billion ($19.25 billion), according to Dow Jones Newswires.
Alstom shares dropped 1.3% on Tuesday.
France's CAC 40 index added 0.3% to 4,521.87, while the U.K.'s FTSE 100 index advanced 0.2% to 6,764.38.
The investing mood in the U.K. was partly lifted by weaker-than-expected inflation data, which eased pressure on the Bank of England to hike interest rates. Inflation fell to 1.5% in May from 1.8% in April, missing consensus estimates of a 1.7%-1.8% print. The pound (GBPUSD) slipped after the data, trading at $1.6976, down from $1.6983 late Monday.
"It will go some way to abating the aggressive calls for a rate hike from the Bank of England this year," said Alex Edwards, head of the corporate desk at UKForex, in a note.
BOE Governor Mark Carney last Thursday said the first interest-rate hike could come sooner than markets currently expect, triggering several banks to change their expectations for a rate increase by the end of this year.
On Wednesday, the Monetary Policy Committee releases minutes from the June meeting, which will be closely scrutinized for other clues on monetary tightening.
Among notable stock movers in London, shares of Whitbread PLC added 2.9% after the hotel and restaurant operator reported a 6.9% rise in first-quarter comparable sales, boosted by strong customer demand at both its Premier Inn and Costa Coffee divisions