Can you Apply for a Business Card -- Before you own a Business?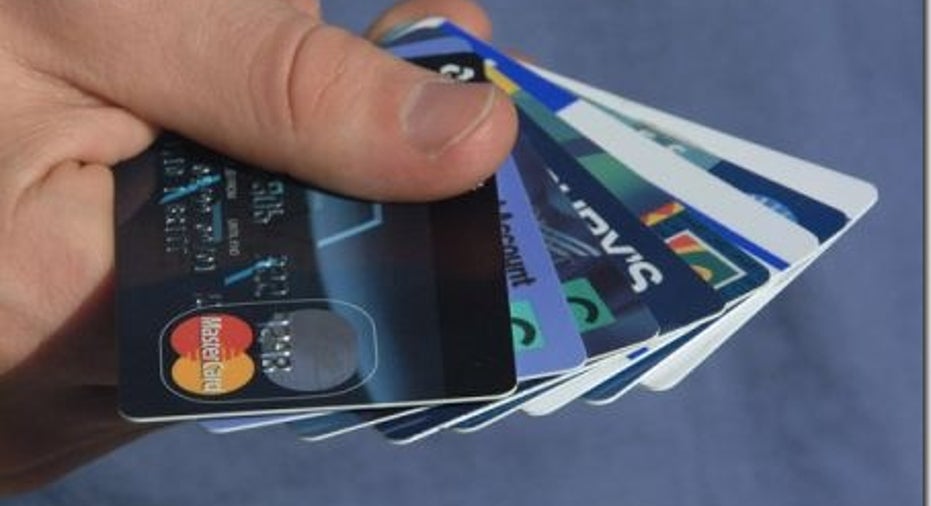 If you've ever checked out the sweet perks that come with small-business rewards cards, you may be tempted to apply, even if you're not a business owner. But can you?
The rewards are certainly alluring. You can earn 50,000 bonus points when you sign up for the American Express Business Gold Rewards card or Chase's Ink Bold Business card and spend $5,000 in the first three months. On a Capital One Spark for Business card, you'll earn 2 miles per dollar on every purchase.
"The credit card companies want to get in with businesses when they are very small," says Brian Kelly, who runs The Points Guy website.
Applying for the cards may be especially tempting if you happen to spend a lot on services that might be used both at work and at home. The SimplyCash Business Card from American Express OPEN, for instance, offers 5% cash back on services from wireless phone providers. Chase's Ink Bold offers a similar reward, throwing in a 5 points per dollar reward for Internet and cable TV expenses too.
"You're not necessarily getting more rewards -- you're getting rewards in categories tailored more toward business," says Kevin Fleming, president of Hero World Media and founder of CreditForums.com, an online community that offers advice on topics like maximizing credit card rewards
Should you apply even if your business is still the germ of an idea or a very small enterprise, like a tiny eBay shop?
There are three main issues to consider: What the cardholder agreements say, how much consumer protection you want and your financial record-keeping needs.
Are you following the cardholder agreement?  
Kelly says the card issuers tend to be "very lenient when it comes to approving offers." And to some extent, that seems to be true. Say you're a sole proprietor. You can get an American Express, Chase or Capital One business card with a Social Security number -- something most Americans already have -- rather than a Federal Tax ID (also known as an Employer Identification Number), with which other types of businesses must apply.
You don't even necessarily have to prove you have a sales stream. "Businesses with no established revenue or credit history may apply -- and be considered -- for a Spark small-business credit card," a Capital One spokeswoman said in an email.
However, business credit card applications typically require you to agree that you will use the card for business. And, if you don't run a business or intend to build one, you would not, in many cases, be able to get one without submitting false financial information. Both American Express and Chase say they may ask you to provide information about your business's revenues to get a small-business card. At American Express, you may also be asked to provide financial statements if you ask for a larger credit line.
While credit card issuers aren't likely to report you to the authorities for fudging an application, there can be consequences down the line.
Say you talk a card issuer into giving you a credit line that's sized more for the cash-flow needs of a business. If you're not disciplined about your spending, you may be tempted to borrow too much and fall behind on payments. This, in turn, may hurt your chance of getting additional credit that you need later on. Unsurprisingly, at American Express, a spokesman said that a delinquent account will affect your chances of getting an increase in your credit limit.
Some attorneys warn that falling too far behind may, in a worst case scenario, even lead a card issuer to close your account. "If you fall delinquent and the credit card company sees that you have 'suspicious' charges -- as in they don't seem business related -- they may ask you to justify those charges," says Melville, N.Y.-based attorney Leslie Tayne, who advises small businesses on credit and debt. "If you are not able to give a valid explanation, they may choose to either close the card or switch it to the personal card, in which case you will lose the [business card] privileges."
If an account does get closed, it's not just inconvenient. It can hurt your credit score. According to Joel Winston, a New York City attorney who specializes in consumer financial products and was the deputy attorney general for New Jersey, closing an account has the potential to reduce an individual's credit score by 50 to 200 points. The size of the ding depends on factors such as account history, amount of available credit and changes in your utilization of that credit. "For any given individual, depending on what card you close, it can impact your score differently," he says.
30% of your FICO personal credit score depends on your credit utilization ratio -- how much total debt you have versus how much credit you have available. If one card represents a large part of your available credit and it gets closed, your available credit decreases and your utilization rises, negatively affecting your score.
You may also lose the rewards points you have accumulated if your account is closed, Winston says.
How much consumer protection do you want? It's also important to remember that business credit cards aren't covered by the Credit CARD Act of 2009. That means if you fail to pay the balance on time, the penalties you suffer in higher interest rates and fees can be substantial. "It really varies by card," says Kelly.
To get an idea of what you'll pay, check out the "terms and conditions" area of the business card application.
If you make a late payment on the the American Express Business Gold Rewards Card, a charge card for which the balance must be paid in full each month, you will be charged $35 or 2.99% of the past due amount, whichever is higher. The interest rate on a Capital One Spark card can jump to 29.4% if you pay late, from a current APR of 22.9%.
You'll also miss out on other protections you'd get under the CARD Act for a consumer card. Research by the Pew Charitable Trust in 2011 found that 80% of business cards have a clause in cardholder agreements that let them change the terms of the card at "any time," and 84% apply your payments to balances with low interest rates first. These practices are not allowed for consumer cards, thanks to the CARD Act. Pew also found that annual fees and penalty fees were lower for consumer cards than business cards.
Will your use of the card complicate your tax record keeping -- or lead to credit-card abuse? If you already have a small-business card and are looking to build up more points, you may be thinking of making a few personal purchases on the card.
However, this can make it hard to keep track of your expenses at tax time. "In the interest of tax reporting and building business credit, cardholders should only charge business expenses to their Spark card," the Capital One spokeswoman said in her email.
At companies where several employees or partners have small-business cards, allowing personal purchases on them can open the door to abuse, warns CPA Tony Kiene, director at global X, a Cleveland firm specializing in tax strategy and execution. Staff may love racking up points by putting their vacations on the card and reimbursing you,  but that can create a nightmare for the person who needs to sign off on the reimbursements.
"The owner of the account should really have internal controls in place that would prevent any malfeasance or any unauthorized use of the cards," says Kiene. He recommends that a company's employee handbook spell out what types of purchases an employee can make on a card, and that the controller receive a copy of the employee's credit card statement at the same time the employee gets it.
"Enforcement is important," he says. "If one person gets away with it, then everyone is going to start doing it."
See related: Multiply reward points with prepaid and reload cards, If you close a credit card, you often lose your points immediately, Small-business credit card comparison chart