Can We Ever Just Savor the Moment?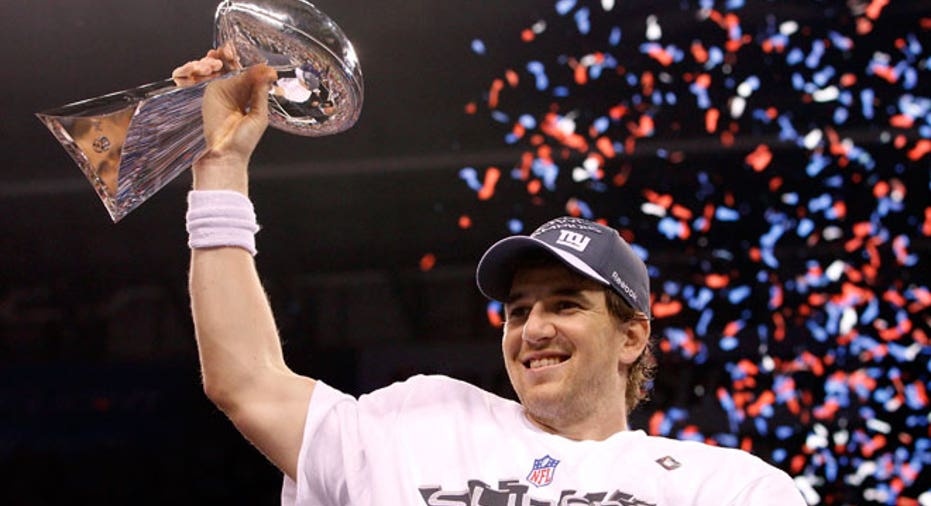 When Dan Patrick talked with New York Giants owner John Mara mere seconds after he was presented with the Lombardi Trophy Sunday night after the Super Bowl, my reaction went from smiling to utter disbelief.
"The confidence that you talked about with your relationship with [head coach] Tom Coughlin during the year, it had to be pressure-filled to a certain degree," Patrick said to the man holding the shiny hardware. "You said you got letters, you got phone calls, you got emails saying, 'Are you going to make a coaching change?'"
Say what? Let me reach for a Q-Tip because surely I need to clean out my ears.
Can we be in the moment, ever, in this country? Enjoy what we're experiencing for a blessed second? Or, heaven forbid, a full minute?
This is akin to going to a wedding, congratulating the happy couple and then reminding the groom in front of the whole reception crowd about the massive brawl he had with his new wife a few months ago. Haha. Remember that fun-tastic time when you were thinking of ditching her?
Maybe, just maybe, there's a place for going backward in the context of a post-game press conference. But do we need the hard-hitting question on the field during the trophy presentation? Hello, over kill. Hello, buzz kill.
This isn't really about the Super Bowl or even football or even sports. It's about what it all reflects back to us about ourselves.
How do you not process that you're standing on a platform in the middle of a stadium with radiantly happy, exhausted athletes and pure bedlam and extract from these joyous people what is going through their minds right then? There are millions of people living vicariously through them all over the world in that moment and all they want is a piece of the magic. You have the privilege of being their voice and your assessment of what they want to hear is a reminder of all the hate mail the owner got back in the fall?
This brought to mind another unsettling post-Super Bowl moment. After the Giants won in 2008, a sideline reporter walked up to quarterback Eli Manning and asked how they were going to top this next year. Because, of course, toppling a heralded, undefeated team just moments before in one of the best endings in Super Bowl history wasn't worthy of discussion.
If we can't be in the moment with a football player who just stared down all odds to emerge a victor, don't we need to step back and examine that? This is about capacity for joy and the ability to not always be thinking about the next thing. Why strive to achieve a goal and then not take time to savor it?
Even as a fan, whether it's of a sports team or an artist who's won a Grammy, don't we want to be with that beautiful moment and bask in some glory, even if by association?
When my brother and I were discussing the Super Bowl the day after, he said he'd been listening to what is usually civil sports radio. And yet there were Giants fans ripping on the people in the media who didn't count the team as a contender earlier in the season. Why dwell on that? Why do you root for a team if not to have them win the Super Bowl? That happened just the day before. What's the problem?
Relax, people. Put your feet up. Raise your arms in the air. Give somebody a high five. You got your wish. For a few days, you get to smile at the person putting cream in his coffee next to you at Starbucks and have an instant connector. Or give a thumbs up to the other guy in line at the grocery store wearing the Manning jersey.
A friend was telling me about her co-worker who insisted despite her excitement that the Giants hadn't played well. Wow, thanks for sharing. So, using this logic, reaching the pinnacle of our respective fields isn't enough. Our expectations have become a tad high, don't you think?
That same friend, a season ticket holder, asked me to be her guest at the Lexus Club at MetLife Stadium for the Giants post-parade celebration. My agenda that afternoon was filled with work projects, so when she invited me I hesitated. The rules follower who lives in my head got in there and started messing with my fun girl side, but the latter knew she was going to win. She had to win.
Like the Clint Eastwood Chrysler commercial that stirred up so much wild projection, as part of the "50-something" club I've likely passed my halftime. I'm acutely aware that being present in joy whenever possible is crucial for my quality of life. I accepted the invitation for that reason.
And because, hey, sometimes it is about football.
Nancy Colasurdo is a practicing life coach and freelance writer. Her Web site is www.nancola.com and you can follow her on Twitter @nancola. Please direct all questions/comments to FOXGamePlan@gmail.com.