Can Peyton Manning Beat Al Jazeera?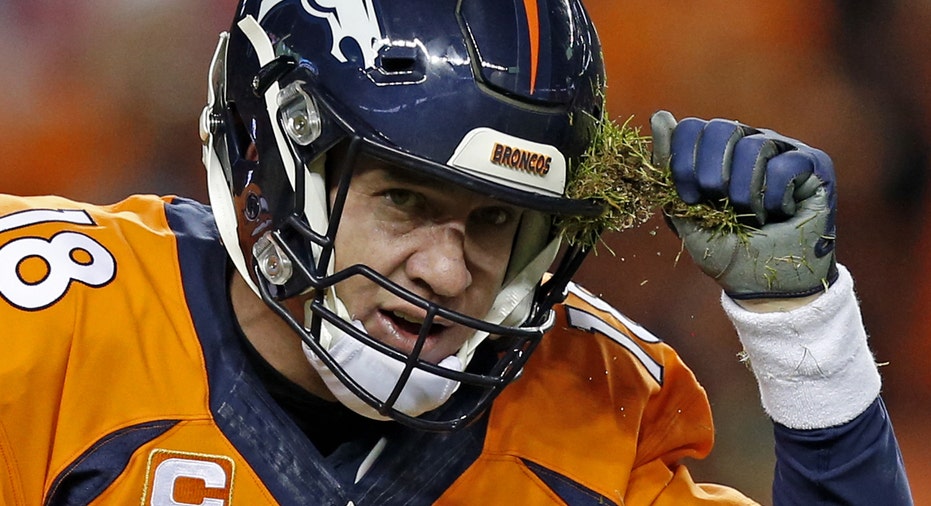 Denver Broncos quarterback Peyton Manning has yet to decide if he will sue Al Jazeera for defamation after the network accused his wife, Ashley, of receiving shipments of performance-enhancing drugs. But legal experts say Manning and the other high-profile athletes named in Al Jazeera's report will face an uphill battle if they attempt to win a case against the network.
Major League Baseball stars Ryan Howard and Ryan Zimmerman on Wednesday became the first athletes to take legal action against Al Jazeera. In separate defamation suits, the men accused Al Jazeera of reckless and false reporting. Al Jazeera reporter Deborah Davies, who spearheaded the report, and British hurdler Liam Collins, who went undercover to secretly record a key source, were named as co-defendants. Both men are suing the network for unspecified damages.
Manning told the media he won't decide whether to sue Al Jazeera until after the current NFL season. But Manning, Howard and Zimmerman are all considered public figures – they would have to meet a higher legal standard than an average citizen to win a defamation case.
Any defamation suit would have to prove to a court that Al Jazeera acted with "actual malice." To do this, their legal teams would have to establish that Al Jazeera reported information they knew to be false, and that they acted recklessly by publishing the information, without a proper journalistic process, said Dan Werly, a leading sports attorney and editor-in-chief of the "White Bronco" sports blog.
"Defamation cases [involving] public figures are exceptionally difficult to win, from Peyton's perspective," Werly said. "The protections for journalists are very strong. The law is set up to give journalists even more protection against public figures. Very rarely do public figures or public officials win defamation cases, but it has happened before."
In Al Jazeera's documentary, entitled "The Dark Side," former pharmacy intern Charlie Sly, a one-time employee of an Indianapolis-based anti-aging clinic called the Guyer Institute, was recorded telling an undercover reporter that he provided shipments of "Delta 2," a performance-enhancing drug, to Manning's wife, Ashley, Green Bay Packers star Clay Matthews and several other prominent athletes.
Later, Sly recanted his testimony, stating that his comments about the athletes were lies and that Al Jazeera had secretly recorded him. Manning, Howard, Zimmerman, Matthews and other athletes named in the documentary have all denied receiving or using performance-enhancing drugs. Davies has stood by the report and remained adamant that Sly is a credible source. Manning, Howard and Zimmerman have downplayed or utterly denied their ties to Sly.
Ultimately, any defamation case may hinge on whether the athletes can prove Al Jazeera knew – or could have reasonably determined – that Sly wasn't a credible source, but published its report anyway, according to Robert Boland, a former NFL agent and director of the MBA and master's sports administration program at Ohio University.
Boland drew a parallel to the 2004 incident in which CBS News failed to properly authenticate documents that criticized the military record of eventual President George W. Bush. News anchor Dan Rather resigned as a result.
"Defamation really turns on the facts and the context of how something is said," Boland added. "I think the best chance of him having a case of any kind would be if there's something about Sly that was easily discovered."
Aside from the various legal hurdles, a defamation case would inevitably lead to intense scrutiny of Manning's personal life and link the veteran quarterback to Al Jazeera's damning report for months. Further damaging accusations or information could come to light during the legal proceedings.
Manning will have to weigh whether clearing his name is worth risking additional damage to his reputation. He earns more money through off-field endorsement deals than any other NFL player, according to Forbes. A lengthy legal battle could have a negative impact on his image as a wholesome ambassador for companies such as Papa John's Pizza (NASDAQ:PZZA) and Nationwide Insurance.
"He's worked very hard throughout his career to maintain a reputation that is very strong, as a virtuous athlete, as a role model, as someone whose name is above the title in the sport of football," Boland said.