Call of Duty World League Champs Take $800K Prize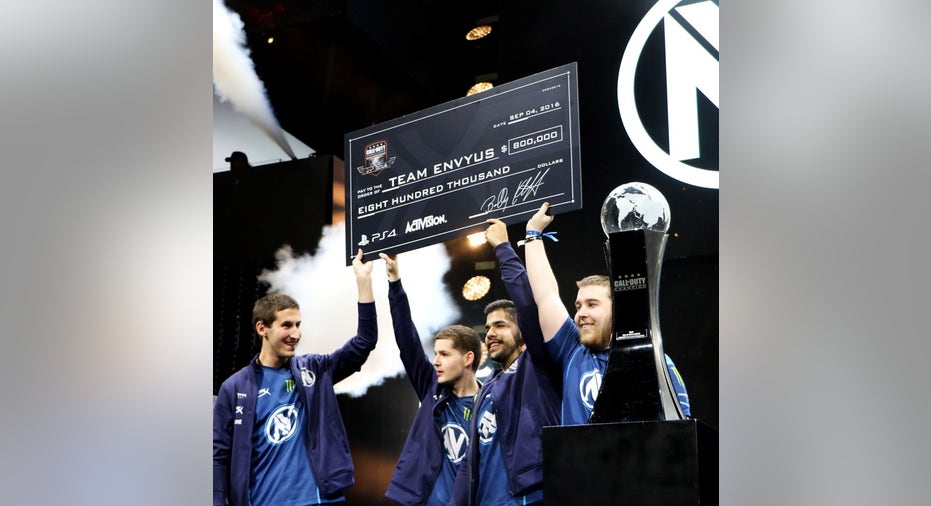 Activision's ongoing bet on eSports helped it pack the Fabulous Forum in Inglewood, California (just outside Los Angeles) for its Call of Duty XP fan festival and competition.
The video game giant capped its biggest event yet over Labor Day weekend with a concert by Snoop Dog and Wiz Khalifa; Snoop famously lent his voice to a content pack for Call of Duty: Ghosts in 2014.
The show followed the championship match where the four-man squad of Team EnVyUs took down Europe's top entry, Splyce, in the final. The winner's take as the first Call of Duty World League Champion? They split an $800,000 check out of a total $2 million purse--EnVyUs indeed.
"Winning this event, in front of this crowd is a dream come true," Jordan "JKAP" Kaplan, Team EnVyUs team captain told FOXBusiness.com.
It also shows how the sport has blown up over the past few years, with 32 teams from eight nations competing in the three-day Call of Duty World League Championship. It's a far cry from the stereotype of a few guys on headsets playing multi-player games out of their basements for bragging rights.
The battles were broadcast by Activision's Major League Gaming unit, Amazon's Twitch, and on YouTube. While viewership numbers for this weekend's event weren't made available for this story, the company claims Call of Duty fans had logged more than 1.1 billion minutes of content through 100 million tune ins prior to the XP event.
The Fabulous Forum: From Fast Breaks to Flag Capture
The Forum gained notoriety as the home of the "Showtime" LA Lakers of "Magic" Johnson, Kareem Abdul-Jabbar, James Worthy, et al running fastbreaks and entertaining crowds on their way to multiple NBA Championships. The team moved in 1999 to the Staples Center in downtown LA.
Call of Duty is the best-selling franchise in video game history, selling more than 250 million copies, and it is in the vanguard of the industry's mission to take professional eSports into the mainstream.
"If you love basketball, you play pickup with friends and watch the NBA. Our fans and their friends love playing Call of Duty and watching the pros and learning from them," Rob Kostich, executive vice president and general manager for Activision's Call of Duty franchise, told FOXBusiness.com.
Some ten thousand gamers answered Activision's "call" to sell out the XP event and watch the championships live. "It's the biggest fan celebration we've ever had, the content we have for our fans, it's eSports at a whole new level," said Kostich.
Fans onsite were able to play portions from the forthcoming release of Call of Duty: Infinite Warfare and other previews for unreleased game content, there was a VR experience from sponsor Sony PlayStation 4 as well as other game packs and updates as well as real-life fun ziplining and laser tag.
"The whole thing is inspired by our fans and the games we create," Kostich said, adding, "It's literally an amusement park that came out of one of our games and we're trying to create that in digital and physical form."
Newzoo forecasts that the global eSports market will grow to $1.1 billion by 2019. Activision bought Major League Gaming earlier this year to add a broadcast arm, and brought in former ESPN and NFL Network executive Steve Bornstein for his sports broadcasting expertise.
1,000 teams entered the Call of Duty competition, with the top 32 qualifying for the finals that led to EnVyUs's victory. The team's captain, "JKAP" Kaplan declared, " We all want to see Call of Duty eSports grow and thanks to the support from Activision and developers, we are seeing that growth."
Activision (NASDAQ:ATVI) shares touched a record high heading into the weekend tournament.