California Restaurants Still Using the F-Word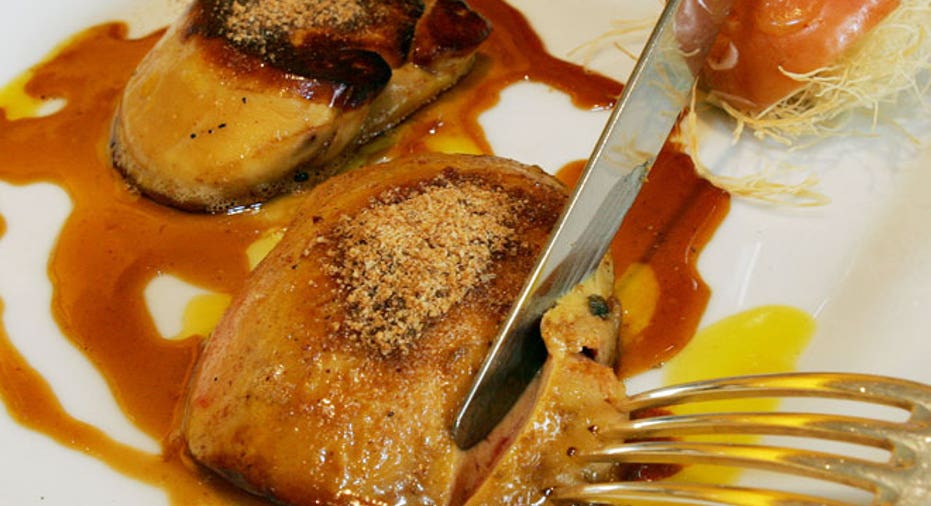 Look for foie gras on Café Mimosa's menu and you won't find it anywhere.
Ask owner Antoine Price for some "fancy bread," though, and you might just get a little something extra.
Price, who opened Café Mimosa in San Clemente, California five years ago, is a staunch opponent of the Golden State's foie gras ban and doesn't care who knows it. On July 2 – just a day after the ban went into effect – he hosted a six-course dinner for 36 guests where every dish contained the French delicacy (dessert was foie gras in cotton candy). He charged $150 a head with wine pairings.
"I didn't do it legally and it was my protest to the California ban," Price says. "I even got 'Foie Gras 7-2' tattooed on my arm."
Price may be more brazen than others in his business, but he's hardly alone in being irritated and confused about the ban, which prohibits the production and sale of foie gras in the state of California. At least one lawsuit has already been filed against the state alleging the law is unconstitutional and vague. The plaintiffs are expected to ask the state to freeze the law until its terms can be battled in court.
Foie gras (French for "fat liver") comes from ducks or geese that have been force-fed, a practice that has long been met with criticism by animal rights activists in the U.S. and overseas. Violators of California's law face a $1,000 fine, although it remains to be seen whether or not the law will be strictly enforced.
While restaurants have had to make adjustments to comply with the law, many of them are still finding ways to bring the forbidden delicacy to the table.
At California pop-up restaurant LudoBites, French chef Ludo LeFebvre said that while he can no longer sell foie gras directly, he's been asked by guests if they can bring in foie gras from other states and have him cook it for them. (Possession and consumption of foie gras are still legal.) He says he'll do it for free, charging only for the ingredients used to prepare it.
"Foie gras is a very important thing in my culture," he says.
LeFebvre says the three foie gras dishes he used to have on the menu made up 20% of his total revenue before the ban.
Price at Café Mimosa is also on board to cook foie gras his customers bring in, though he still has some of his own "fancy bread" on hand, as he says. He began doubling up on his foie gras orders three months before the ban and has the invoices to prove it, should anyone question him.
"I don't believe California can tell me to throw away the food I purchased legally," he says. "I don't think it's a high priority for the sheriffs in town to come after me when there are a billion different things to go after."
Not all restaurant owners share that sentiment. William Rolle, who has been running Café Rolle in Sacramento since 2002, says he didn't want to chance breaking the law and cleared his foie gras stock before the ban. In the days since, he's received five or six mysterious phone calls from people asking if he's selling foie gras outright; he doesn't know where the calls came from, but they're enough to keep him wary.
"A $1,000 fine is not worth it," he says.
Lucky for Rolle, foie gras wasn't a major revenue driver at his restaurant, mostly because of the location – Sacramento isn't full of the "big city people" that regularly indulge in that sort of delicacy, he says.
Still, while Rolle added some new pâtés and regular duck liver to his menu, he was sad to see foie gras go.
"Foie gras is like eating butter," he says. "You just can't replace it."